There was a time in the not-too-distant past when bars, clubs and coffee shops might be reliable go-tos for singles ready to mingle. Now the internet brings first meetings directly to our fingertips.
As the online dating game evolved, a diverse selection of apps emerged. Are you only interested in casual meetings? Friendships? Flings? Hookups? Or are you looking for that special someone for a long-term relationship? There's an app for all of these.
Methodology
BeenVerified analyzed the dating-app ecosystem to find the top 15 dating apps and the five worst dating apps.
To determine our rankings for best dating apps, we leaned on those who know best: the app users themselves. Ratings are based on the app store score of iOS and Google Play versions of each app. In the case of tie scores, the winner went to the app with the most overall reviews.
We also note the individual scores of each software version of the app (you'll notice Google Play scores are consistently lower—which either means Android users are more discriminating, or perhaps the dating apps spend more time developing iOS versions, as iPhones account for nearly 55% of smartphones in the US, according to StatCounter).
Scores were current as of November 29, 2022.
Top 15 dating apps by user rating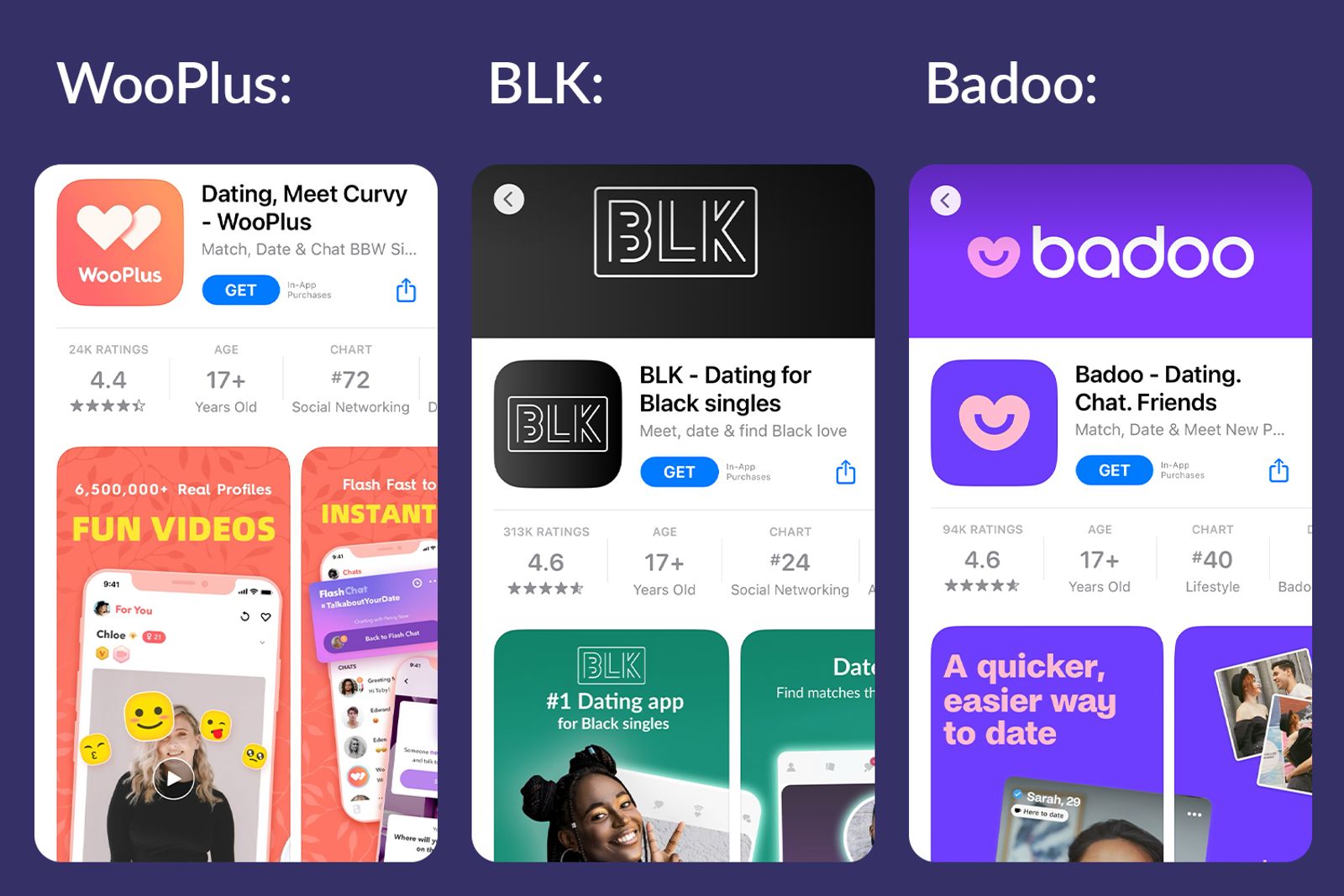 1. WooPlus
User rating: 4.4 (iOS 4.4/Google Play 4.4)
Marketed for "big beautiful women" and "big handsome men," WooPlus is a dating app for plus-size individuals looking to find love without the fear of being body shamed. Free users can use the app to search for matches, post photos and message people they may be interested in. However, premium features (on the WooPlus VIP tier) include searching for people using location, getting read receipts if someone has seen your text and going back into your match history.
Cost: 1 month for $18.99, 3 months for $58.99, 12 months for $98.99
2. BLK
User rating: 4.35 (iOS 4.6/Google Play 4.1)
BLK is a dating app specifically for black singles. It promotes making connections through having similar interests, even if it means just making some friends. The platform offers an easy-to-use matchmaking and messaging experience that's completely free. With a premium subscription, users can get boosted on the app for a limited time or pay for "Really Likes," which will notify another user that indicates that you are actively interested in them.
Cost: Subscriptions starts at $9.99, with 1-month, 3-month and 6-month packages
3. Badoo
User rating: 4.3 (iOS 4.6/Google Play 4.0)
Available in 190 countries, Badoo is one of the world's most actively used dating hubs. Its freemium model allows individuals to search for users and contact each other through the app without paying. With the Super Powers subscription service, individuals can view who liked them, highlight specific messages and browse the site anonymously, plus a bevy of other features. Badoo also uses credits for specific features, such as paying for the first entry shown in a search result or getting placed into the app's featured tab.
Cost: 1 month of Super Powers for $13.99, 3 months for $24.99, 6 months for $39.99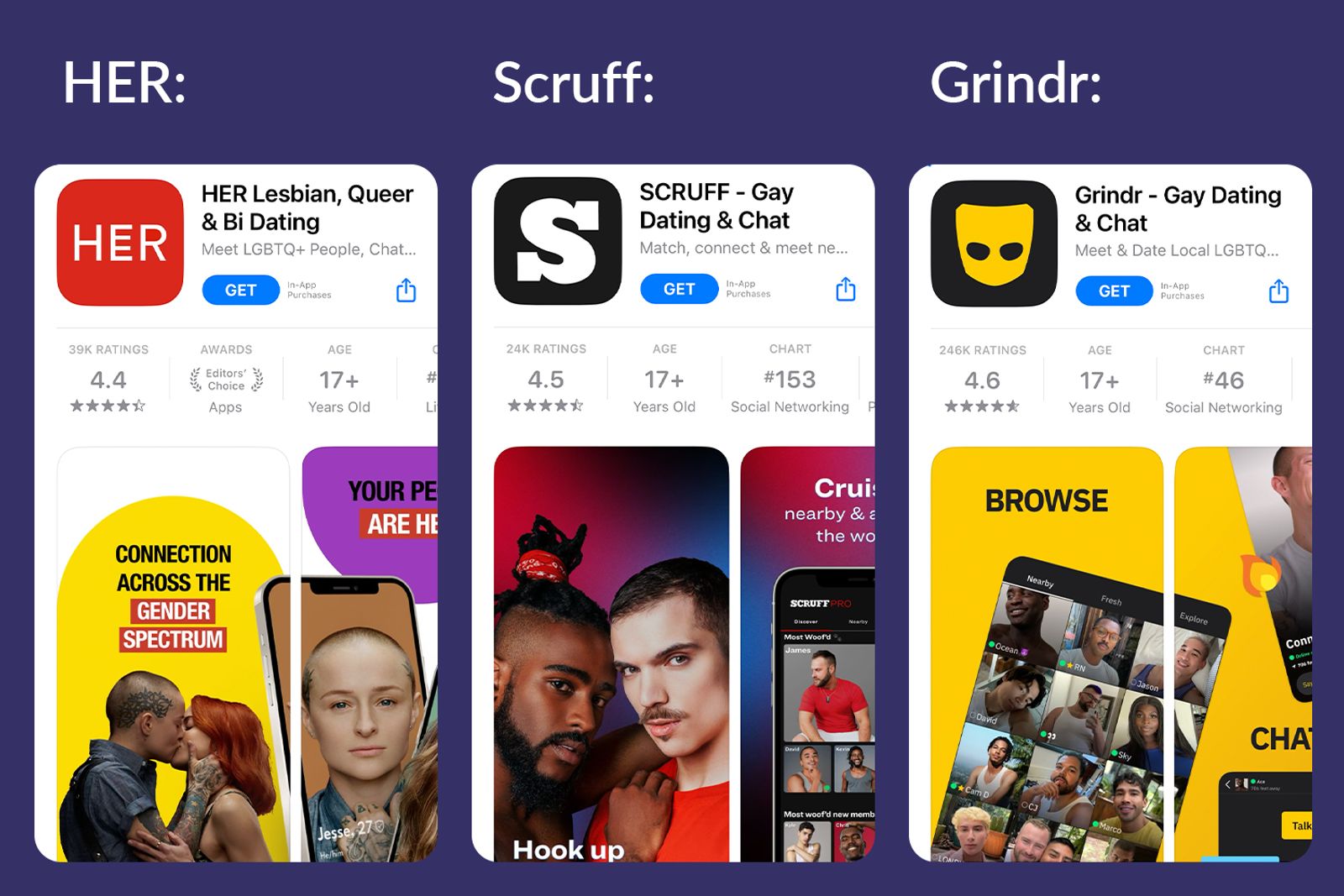 4. HER
User rating: 4.3 (iOS 4.4/Google Play 4.2)
HER is an app that provides a space to socialize primarily for women and gender nonconforming individuals. It serves as more of a social hub than a dating app, with news and events related to the LGBTQ+ community being shared in your area. Those who would like to use the app for free can make a profile and message others, while those willing to pay can see who has liked their profile, along with unlimited swipes while browsing the app.
Cost: 1 month of Premium for $14.99, 6 months for $59.99, 1 year for $89.99
5. Scruff
User rating: 4.25 (iOS 4.5/Google Play 4.0)
Scruff is a dating app for gay men used by over 15 million users worldwide. Like other platforms, Scruff allows individuals to create a profile, though you can browse the site without making an account at first. Users can also send and receive messages, with a feature that indicates how often someone responds to any messages they get. For the premium version, individuals will not see any ads, enjoy enhanced searching filters and can look through profiles while remaining anonymous.
Cost: $16.99 per month, with 30-day, 90-day, and 1-year subscription plans
6. Grindr
User rating: 4.15 (iOS 4.6/Google Play 3.7)
One of the first popular dating apps targeted for gay men, Grindr has since expanded its scope to market itself toward other members of the LGBTQ+ community. Grindr has a basic messaging system that also allows for group chats. Grindr Xtra allows for an ad-free experience that enables push notifications for mobile app users. It also allows users to favorite or block anyone compared to other apps that cap at a certain point. Grindr Unlimited includes these features and exclusive messaging, allowing you to see who has viewed your profile and when someone is typing you a message.
Cost: 1 month of Grindr Xtra for $19.99, 1 month of Grindr Unlimited for $39.99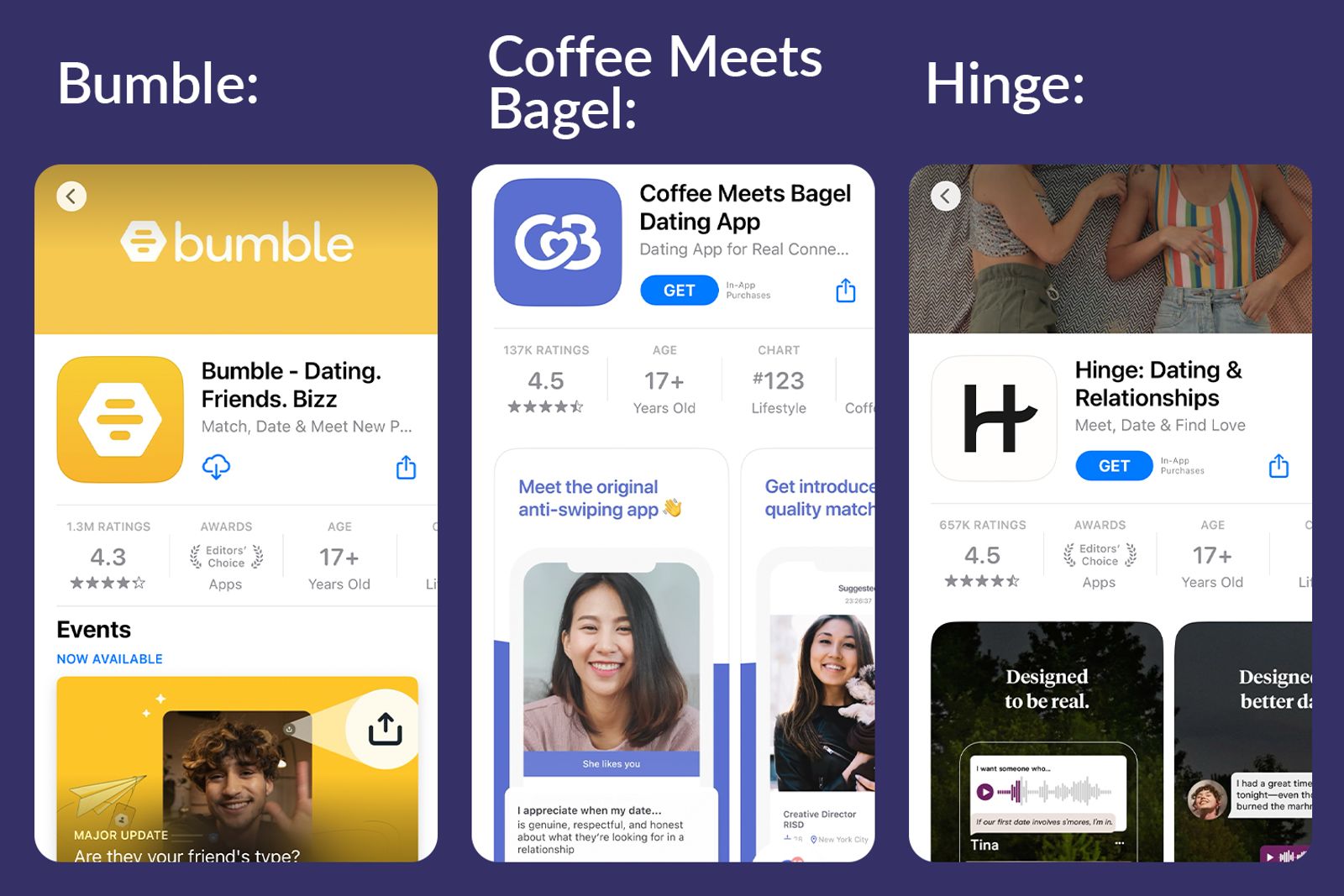 7. Bumble
User rating: 4.1 (iOS 4.2/Google Play 4.0)
Founded by a former executive of Tinder, Bumble is unique in that women must contact men first. While Bumble is a free app, there are numerous paid tiers. Bumble Boost allows for extended chat sessions with matches and the ability to restart a chat with an expired match. Bumble Spotlight will feature you prominently for people in your area for a limited time. Bumble Premium includes all the Boost features, plus the ability to see who has swiped right on your profile.
Cost: Bumble Boost packages range from $8.99 to $54.99
8. Coffee Meets Bagel
User rating: 4.1 (iOS 4.5/Google Play 3.7)
Made by three sisters in New York City, Coffee Meets Bagel is a dating app focused on pairing people who want to be in a serious, long-term relationship. Coffee Meets Bagel leans into quality, not quantity, so you will only get a small selection of matches, but each match is someone you might seriously consider. Premium offers additional ways to interact with others, such as the ability to reach out to someone that doesn't necessarily line up with your preferences. There is also an in-app currency called Beans that can be used to purchase enhancements.
Cost: 1 month of Premium membership for $34.99
9. Hinge
User rating: 4.0 (iOS 4.5/Google Play 3.5)
Another app geared toward people looking for a long-term relationship, Hinge targets a younger demographic. Many of Hinge's features are free, including the ability to post videos and poll prompts in messages. With a Preferred membership, users can send unlimited likes (compared to the 10-per-day limit on the free app) and see everyone who liked their profile displayed on a single page.
Cost: 1 month of Preferred membership for $29.99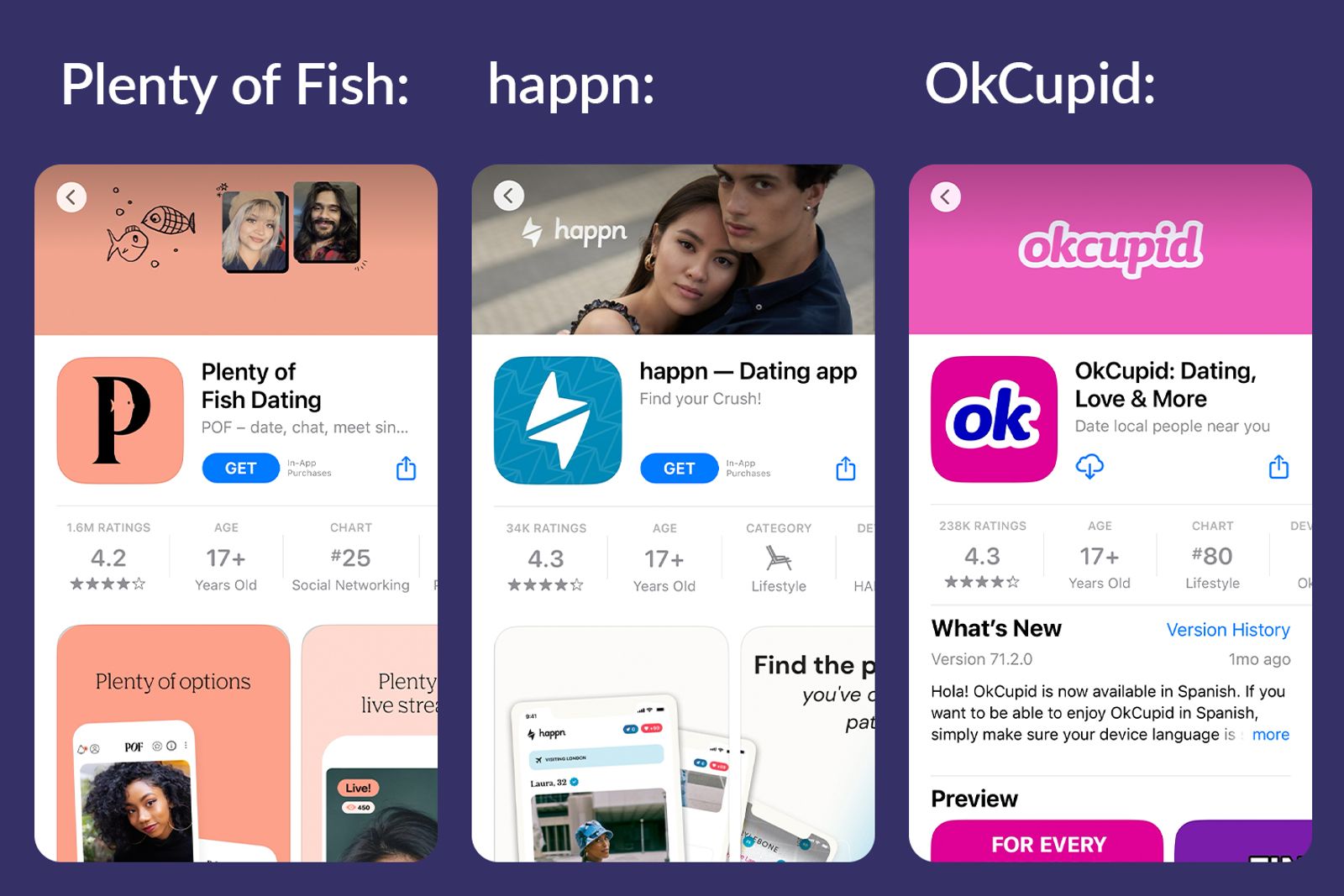 10. Plenty of Fish
User rating: 3.95 (iOS 4.2/Google Play 3.7)
With over 90 million users, the Canadian-based Plenty of Fish strives to make the online dating experience as fun as possible. One of its key features is a game called Cue'd Up, which gives people prompts that allow its users to get to know each other better. You can also see if the app thinks you are a perfect match for someone through its Compatibility Predictor test. Paid features for Upgraded users include getting a prominent spot in the app's "Meet Me" section and accessing even more information about other users. The app also has its own currency, called Tokens, which can be used to boost your profile.
Cost: $19.99 for 1 month as an Upgraded user
11. happn
User rating: 3.9 (iOS 4.3/Google Play 3.5)
Those who feel like they missed their opportunity to start a conversation with someone they saw recently may prefer a dating app like happn. This social app is able to connect you with people that also have the app that have been in similar locations as you. The free version allows users to send likes and view profiles, but it has a limited chat feature. The Premium subscription offers enhanced chatting, but is still somewhat limited, which is where happn credits can be purchased to send more messages. Boosts are also available for your profile.
Cost: 1 month of Premium for $24.99, 6 months for $89.99, 1 year for $119.99
12. OKCupid
User rating: 3.9 (iOS 4.3/Google Play 3.5)
OKCupid is all about getting enough information for its users to find a perfect match. This is done through an extensive survey after creating your account, used to tailor your experience of finding people to talk to. Many of the site's features are free, including unlimited messaging and the ability to see all profiles you like. Premium offers include an ad-free experience with advanced search options and an auto-boost to your profile daily.
Cost: Premium packages start at $9.99 for 1 month, $23.99 for 3 months, $29.99 for 6 months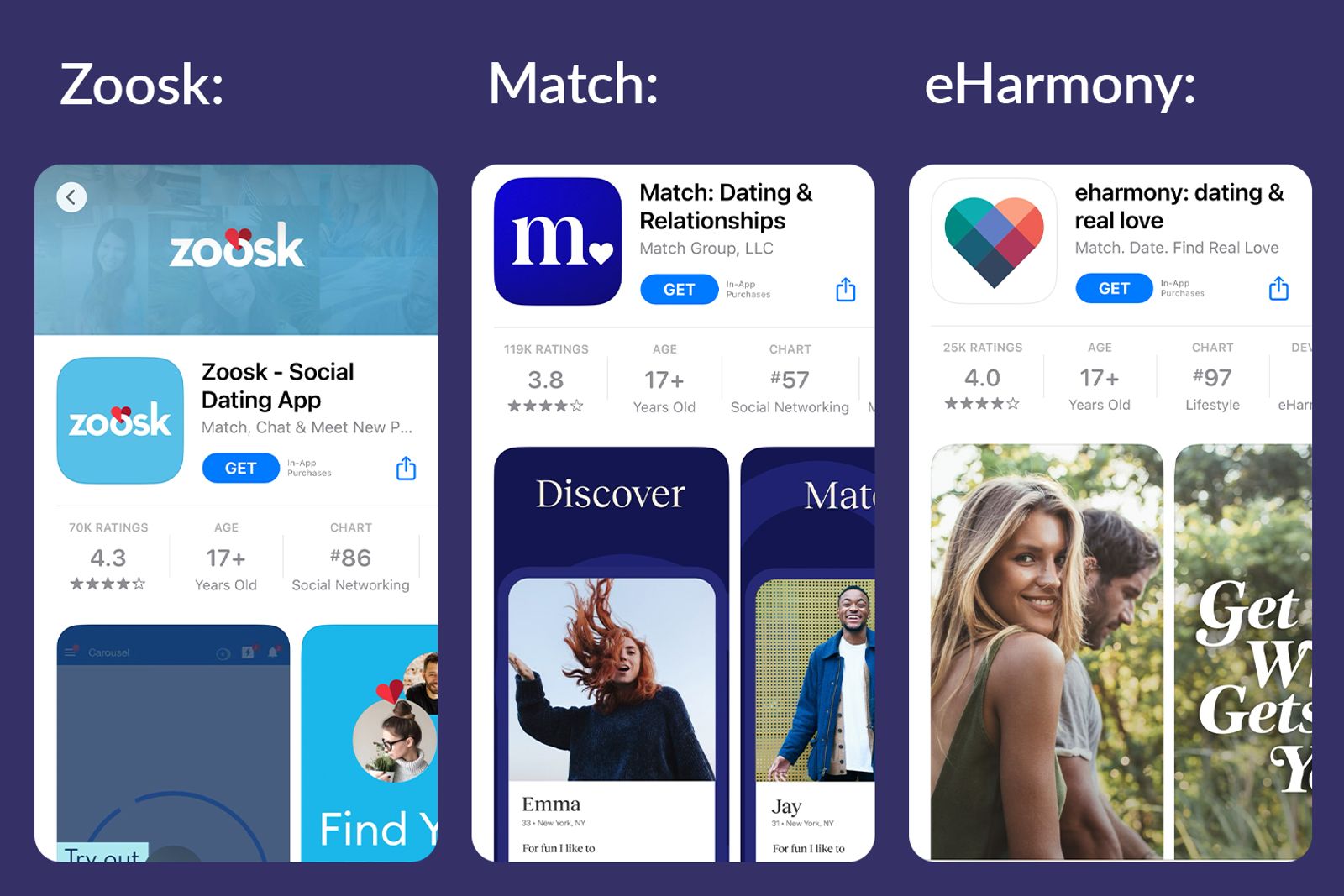 13. Zoosk
User rating: 3.85 (iOS 4.3/Google Play 3.4)
Zoosk markets itself as a fun dating app without all the games that the competition has on its platforms. After creating a free account, users can immediately use Carousel, the matchmaking service that allows people to flip through potential matches and either like them or swipe them away. To message someone, however, you'll need to upgrade to the premium subscription. In addition to getting the ability to chat with potential matches, Zoosk will use SmartPick for even more accurate matches than those in Carousel. Coins can also be spent to use premium features temporarily.
Cost: 1 month subscription for $29.95, 3 months for $59.95, 6 months for $79.99, 1 year for $119.99
14. Match
User rating: 3.55 (iOS 3.8/Google Play 3.3)
Match is one of the longest-running dating platforms, having launched in 1995 and continues to serve over 50 countries. The app is designed to be simplistic for users, with a search tool that gives you various ways to find people, from newer members to those who use the app frequently. There are two paid plans for Match: Standard allows you to message people through the app and see who has recently viewed your profile; Premium allows users to call each other through the app, plus a few other exclusive features. Boosts can also be purchased.
Cost: Match subscriptions range from $49.99 to $179.99, with different price points offering different features and plans
15. eHarmony
User rating: 3.55 (iOS 4.0/Google Play 3.1)
Another longtime dating service, eHarmony, continues to be one of the more recognizable names in the matchmaking industry. The website employs a compatibility quiz that new users take to determine who they may be interested in. While the free version has limited interaction, individuals can send "smiles" to people and add profiles to their favorites. Premium offerings include being able to see more photos of a person, as well as seeing all the people who either viewed or favorited your profile. There is also a messaging and video call service for those who subscribe to Premium.
Cost: Prices range from $59.99 to $349.99 for Premium
Top 5 worst dating apps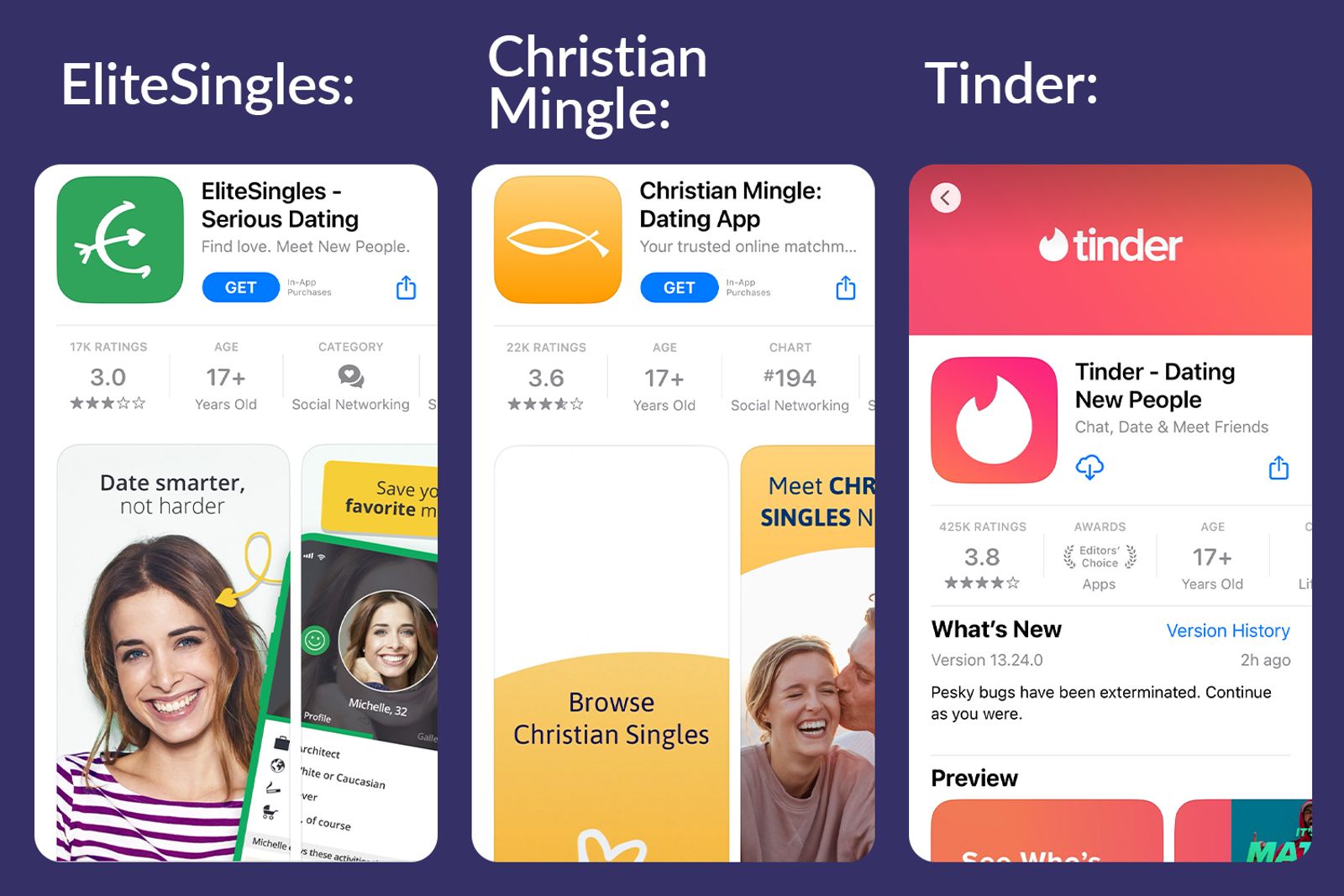 1. EliteSingles
User rating: 2.45 (iOS 3.0/Google Play 1.9)
EliteSingles seems to care a lot about their users' education, as that is on the forefront of their marketing. The dating platform claims that 85 percent of its user base has an "above-average" education. Signing up is free and includes a questionnaire to help find like-minded matches. One of the biggest criticisms for EliteSingles is that premium services are a bit more pricey than competitors. The lowest tier only adds messaging, while higher tiers add the ability to see all the photos on a profile and everyone who has visited.
Cost: 3 months of Premium for $57.95 per month, 6 months for $44.95 per month, 12 months for $31.95 per month
2. Christian Mingle
User rating: 2.6 (iOS 3.6/Google Play 1.6)
Christian Mingle's target audience is those of the Christian faith looking to meet other Christians. Once you've signed up, you can go to the LookBook and see who the algorithm has matched you with, very similar to other dating apps. The Premium version adds a messaging service, the ability to appear offline when you aren't and other features. Because of its niche market, there are not a lot of users on the app and a handful of profiles that are scams.
Cost: Basic subscriptions range from $29.99 to $89.99, premium subscriptions range from $49.99 to $149.99
3. Tinder
User rating: 3.35 (iOS 3.8/Google Play 2.9)
Tinder has become a massive name in the dating app, mainly for its popularity among people looking for a casual relationship. With the rise of the platform, swiping left or right has become a well-known way for users to identify people they like and don't like. They can communicate through the app only when two people swipe right on each other. There are three premium-membership tiers, each offering more features and flexibility in how to contact other users. The two knocks against Tinder seem to be the amount of catfishing accounts and the lack of a search feature.
Cost: Tinder Plus starts as low as $0.99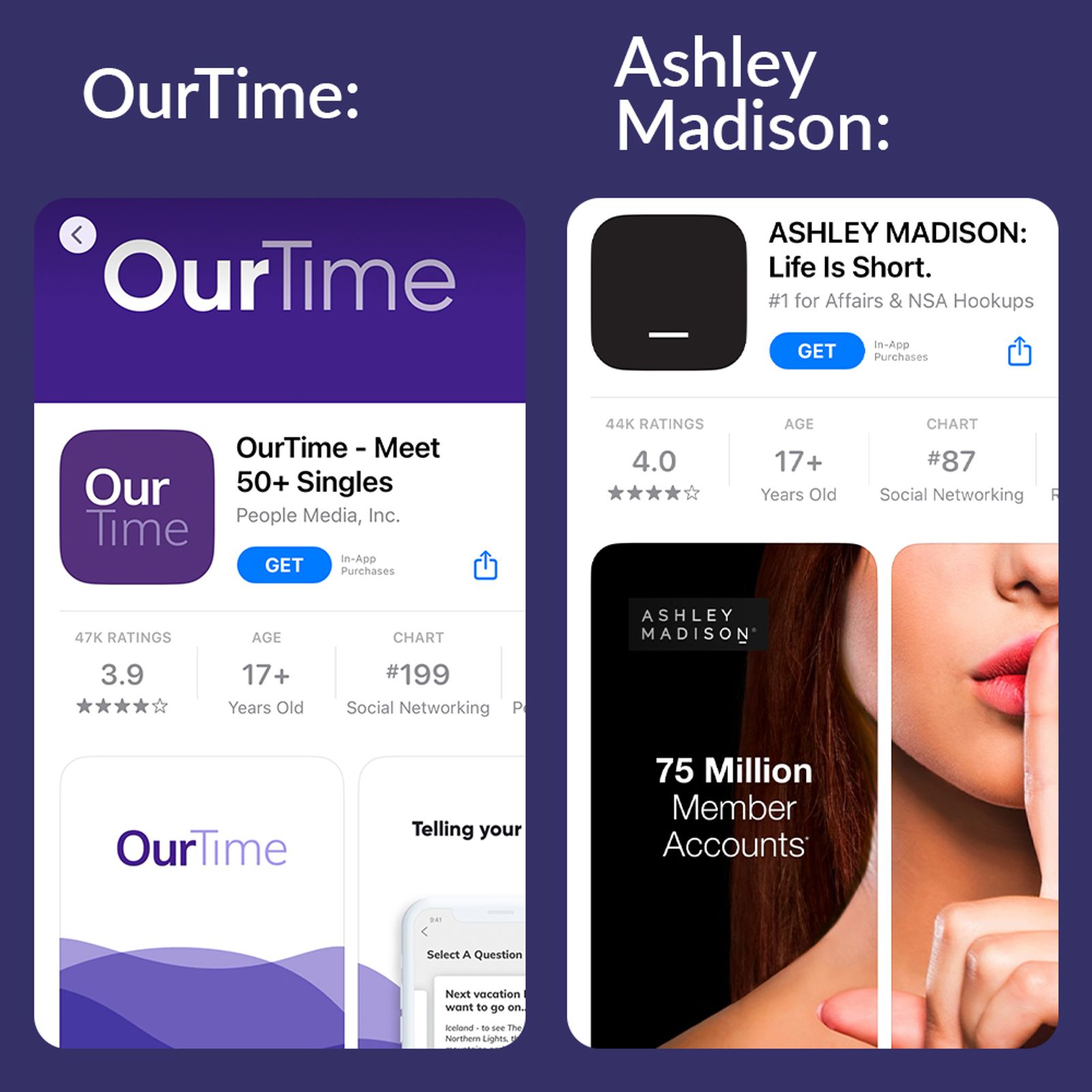 4. OurTime
User rating: 3.45 (iOS 3.9/Google Play 3.0)
OurTime is for those 50 and older who are looking to spend the rest of their lives with someone. However, the lack of features when using the free platform can be disappointing. Searching for a match after creating a profile is the only other aspect of the app that can be done without paying. With the standard plan, features like chat open up, including ConnectMe, which is essentially a phone call that can be made to another individual. The value plan only adds the ability to get a read receipt and color changes to your profile that can make you stand out. Tokens can be purchased to give virtual items and get a boost.
Cost: Subscriptions start at $37.99 and offer 1-month, 3-month and 6-month packages
5. Ashley Madison
User rating: 3.5 (iOS 4.0/Google Play 3.0)
One of the more controversial dating platforms, Ashley Madison prides itself in being a place for those who want to have affairs in their current relationship or marriage. It is free to make an account and use the search feature to find people. You can also send "winks" to individuals and use a photo feature that keeps things discreet. Unlike other websites, Ashley Madison does not have a subscription model. Instead, users can purchase credits that help boost their profile and send messages. Concerns over the website's 2015 data breach still linger, and the number of fake profiles is abundant.
Cost: The Introductory Package of credits costs between $64.99 and $84.99