Are you on the hunt for the best dating apps? Just curious which dating apps satisfy the most customers? We combed through the details, expert notes and user reviews to help select the best dating apps for you.
What are the best dating apps out there?
There was a time in the not-too-distant past when bars, clubs and coffee shops might be reliable go-tos for singles ready to mingle. Now the internet—especially during the pandemic —can bring first meetings directly to your fingertips.
As the online dating game evolved, a diverse selection of apps emerged. Are you only interested in casual meetings? Friendships? Flings? Hookups? Or are you looking for that special someone for a long-term relationship? There's an app for that—all of that.
To determine our ranking for best dating apps, we leaned on those who know best: the app users themselves. We rated based on the app store score of iOS and Google Play versions of each app. In the case of tie scores, the winner goes to the app with the most overall reviews.
We also note the individual scores of each software version of the app (you'll notice Google Play scores are consistently lower—which either means Android users are more discriminating, or perhaps the dating apps spend more time developing iOS versions, as iPhones account for nearly six in 10 smartphones in the US, according to StatCounter).
Scores and pricing were accurate as of December 2021.
Each app is free to download with premium payment options. Here is our list of some of the best dating apps, based on user scores: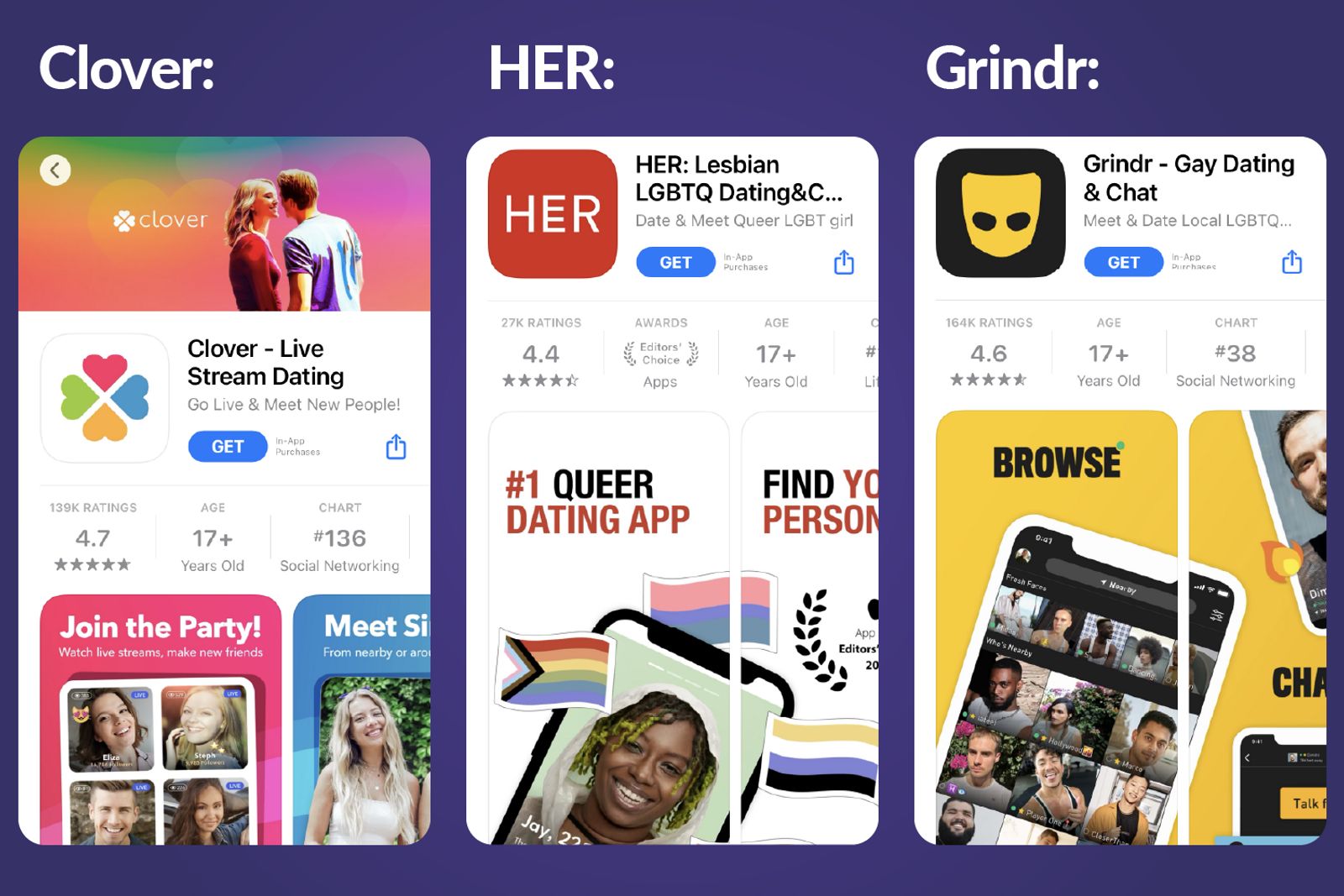 1. Clover
User rating: 4.3 (iOS 4.7 / Google Play 3.9)
Intended to feel more like a social network, Clover features community forums, live streams and other functions that sometimes make you wonder if you're on Clover … or Facebook. The app promotes community meetups and mixers where singles can mingle, and it also helps you schedule dates with your connections. Users can pick between romantic adventures, short-term and long-term relationships, among other specifications. One of the downsides: Some of the best features for the app—such as video chat—are behind the premium paywall, which starts at $19.99 a week—prices drop to $5.77 per week for a 3-month subscription, or $2.31 per week by signing on for a year.
2. HER
User rating: 4.3 (iOS 4.4 / Google Play 4.2)
HER focuses on women and gender-nonconformists, with an eye toward the lesbian, bisexual and queer. The app allows users to sign up via their social media profiles and also shares LGBTQ+ news, events in the user's area and community group chats. Claiming more than 8 million users, HER ranges from free profiles to pay features: premium memberships start at $14.99 per month up to $89.99 for the year that allow subscribers to see users online at the same time as them as well as filtering sexuality and other sorting tools.
3. Grindr
User rating: 4.25 (iOS 4.6 / Google Play 3.9)
One of the OG dating apps, Grindr is a place where gay, bisexual, queer and trans people can connect. The short profile-building process helps build algorithmic connections, and users can find like-minded community members in Grindr's "Tribe" feature. Grindr presents possible matches via location services, and the chat function allows users to share photos and talk. If users want to upgrade their subscriptions, they can pay one-, three- or 12-month memberships to eliminate ads, see more people, filter out incomplete profiles and more. The monthly subscription starts at $19.99 a month up to $99.99 a year.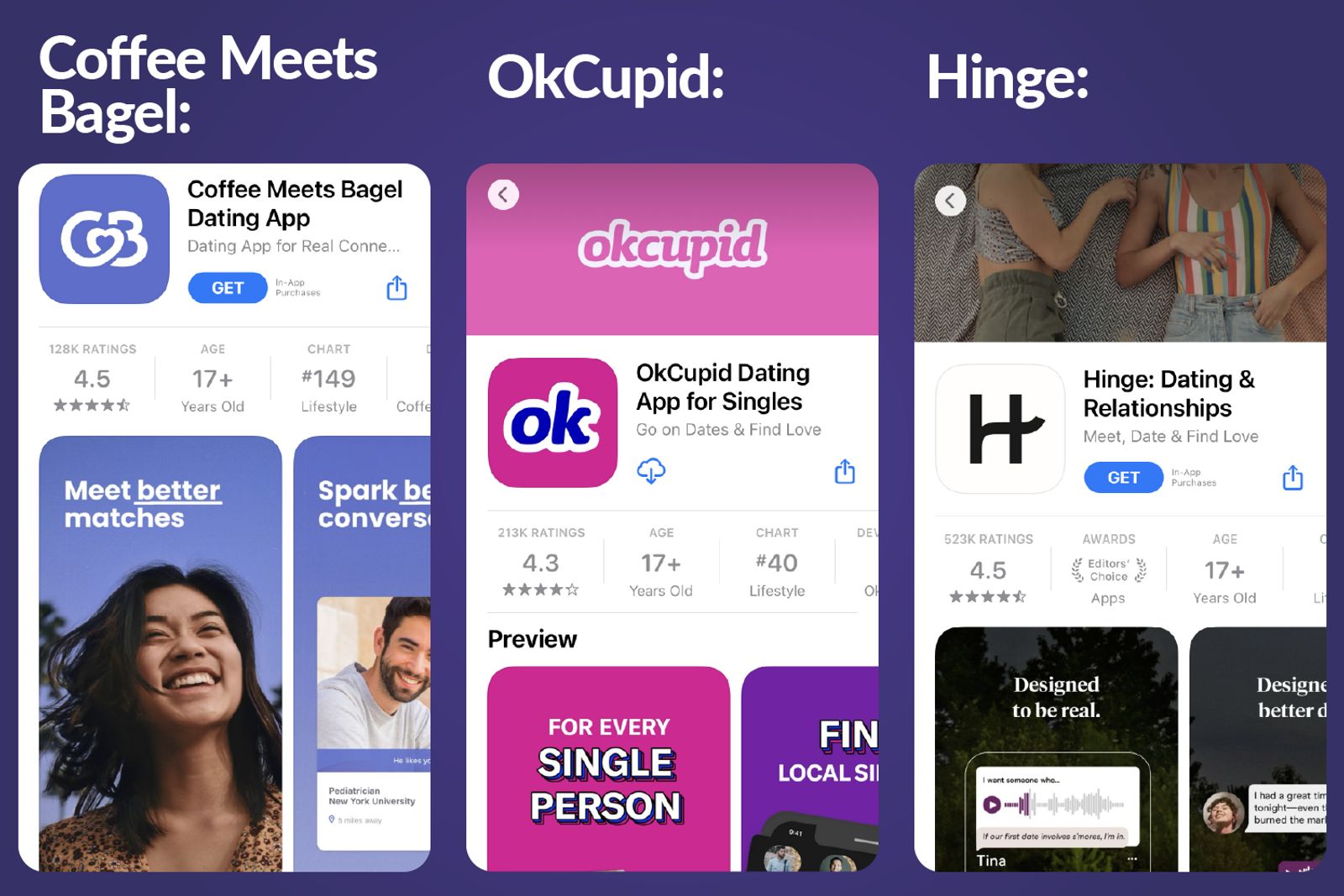 4. Coffee Meets Bagel
User rating: 4.1 (iOS 4.5 / Google Play 3.7)
Billing itself as the original anti-swipe app (those are fighting words!), Coffee Meets Bagel reports 93 million matches, and a heavy number (86%) of the site's CMB's users want serious relationships. The app sends users a batch of possible matches every day at noon with the goal of zeroing in on quality over quantity. To enhance the app's features, users can pay $34.99 for a one-month subscription, which offers read receipts, activity reports and some bundled deals for in-app items.
5. OkCupid
User rating: 4.0 (iOS 4.3 / Google Play 3.7)
Built around an algorithm that matches users based on a lengthy list of survey questions (with users ranking the importance of the topic), OkCupid claims more than 50 million users. The app introduces a messaging tool early in the connection that feels a lot like emailing each other, plus a video feature and other functions. OkCupid also allows users to specify dating preferences to better filter their searches. The premium options range from $9.99 for a month to $29.99 per month for six months, and users can unlock who has liked their profile before liking that user back, remove ads from the app and enhance their filters.
6. Hinge
User rating: 4.0 (iOS 4.5 / Google Play 3.5)
Known for its in-depth, eye-catching profiles, Hinge hammers home its objective: finding users the kind of relationships that allow them to delete their dating apps. Marketing language aside, the app used to base its matches on your Facebook (Meta) profile, aiming to connect users with friends, friends of friends and beyond. That isn't how it works anymore, but Hinge's profile-building functions set it apart from the other dating apps. Users can attach captions to their photos by choosing prompts such as "Dating me will look like" and "Don't show this to my mom."
To get the most out of the app, though, users need to pay via a Preferred Membership, which runs $29.99 a month up to $89.99 for six months.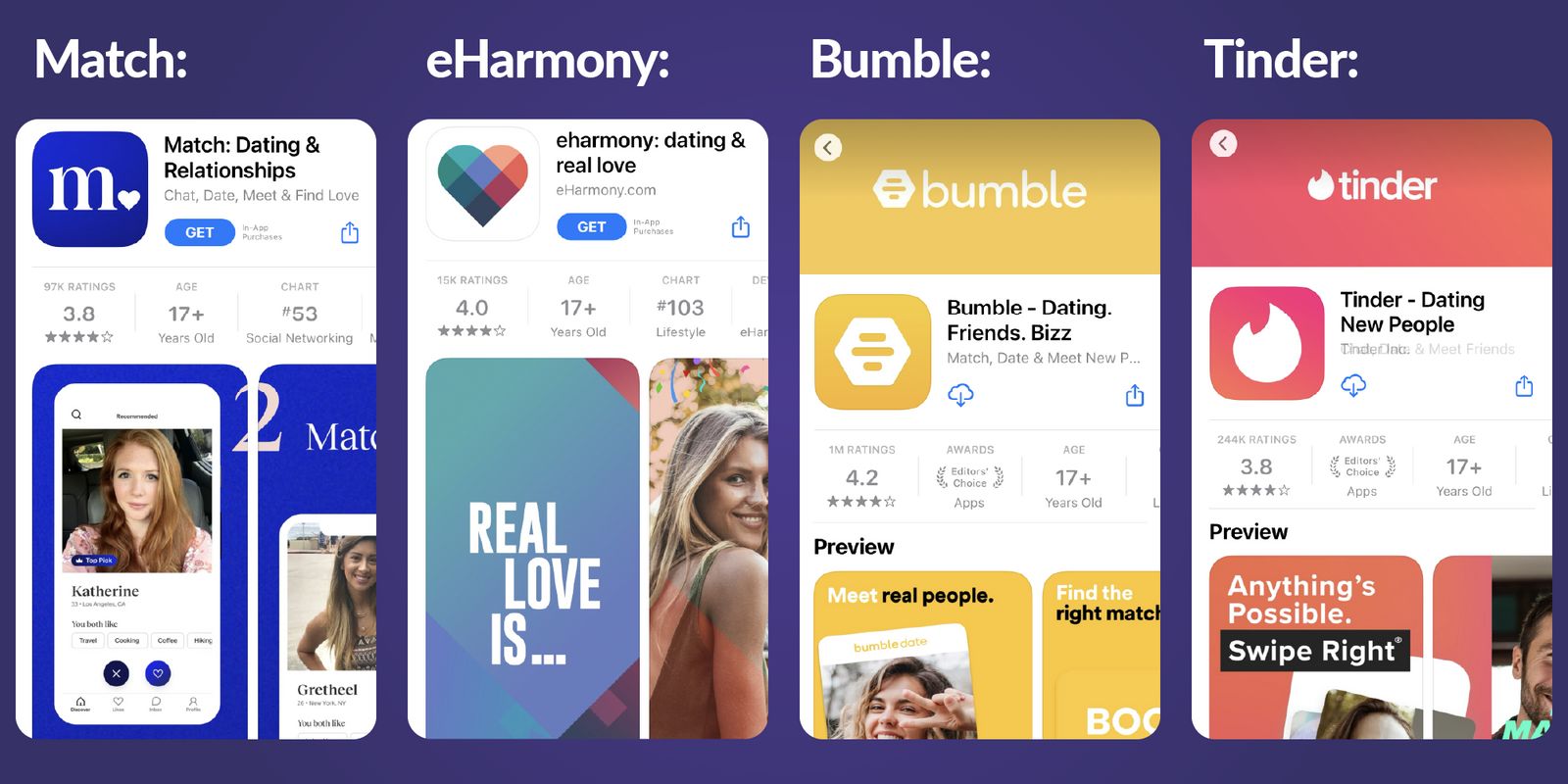 7. Match
User rating: 3.6 (iOS 3.8 / Google Play 3.4)
Marketing itself as the real matchmaker in the dating app game—and taking regular swipes at the swipe life—Match is considered one of the best apps for long-term relationships. Match is a fixture in online dating with 25 years of credibility. Users complete detailed profile questions that create a match algorithm, and new functions include video features and safety functions in addition to the original offerings of dating experts, custom searches and winks at potential matches.
A criticism (or a feature) of Match is the price for the best functionality of the app. Users can pay $44.99 a month to access full service, including receiving and sending emails and otherwise connecting with matches. Still, Match has been around for a long time for a reason.
8. eHarmony
User rating: 3.6 (iOS 4.0 / Google Play 3.2)
Ah, yes, the stuck-in-your-head commercials of eHarmony have long been a mainstay on your television, and the app has held a spot at the online dating table for some time. eHarmony presents new users with a wide-ranging survey, the Compatibility Quiz, which the site then puts through an algorithm to find matches. eHarmony expanded to offer same-sex matches in 2019.
As with most dating apps, eHarmony offers a premium service, which starts at $44.99 for one-month basic service a month.
9. Bumble
User rating: 3.55 (iOS 4.2/ Google Play 2.9)
An app built, among several other reasons, to empower women, Bumble offers many similar features to other dating apps, but the difference is when a man and a woman both acknowledge interest in each other, only the woman can initiate further contact. That doesn't apply to the app's same-sex connections, though in any possible match, users must initiate contact within 24 hours or lose the pairing. The app also stands out in its profile-building inclusivity: Users pick how they identify as opposed to choosing a gender.
Bumble built a friendship-seeking function as well as a networking option for users. And in an effort to expand the ways to interact with connections, especially during the pandemic, Bumble added video, with in-app game options. Users can enhance their visibility in a variety of ways by paying for premium services, with prices starting at $44.99 for one-month basic service and $3.99 for a Bumble Boost.
10. Tinder
User rating: 3.45 (iOS 3.8 / Google Play 3.1)
Tinder is so popular, it has become almost synonymous with online dating and dating apps. "Swiping," the quick act of affirming or denying interest in another user based on their photo and profile, climbed to cultural lingo status. The catch-all app boasts 30 billion matches and has worked in recent years to improve its safety options for users, including an alarm function (Noonlight) for meetups that don't feel safe. Fair or not, Tinder has a reputation as a hookup app.
Tinder Plus ($9.99 per month) and Tinder Gold ($14.99 per month) allow users unlimited likes, rewind options to undo previous likes or nopes, outside-your-area viewing and more.