Tired of blind dates? The dating apps for casual hookups? Or, specifically for our female readers, unwanted approaches from men on OK Cupid and Tinder? That's why Bumble was invented.
A former Tinder executive designed Bumble to empower women users—if a man and a woman both positively swipe to acknowledge their interest, the next step of reaching out is left up to the woman, who must contact the match within 24 hours. The site has more than 100 million users who access the app not only for dating but also for networking or even friendship-building.
Sound interesting?
Here's how to use Bumble.
What is Bumble? How is it different from other dating apps?
Bumble is a dating app that bills itself as letting women make the first move. As other dating apps grew more popular, so, too, did the amount of unwanted, unsolicited attention women users received. There was also the cultural expectation that men must be the first to initiate interest in a potential match. Bumble, founded in 2014, took aim at changing these matchmaking conventions.
Whitney Wolfe Herd, the 32-year-old CEO and founder of Bumble, started the app with the goal of putting women in charge of those initiations and interactions. On Bumble, both users can swipe to alert the other that they're interested, but the initiation of conversation is left up to the female user. There is no such rule in place for users interested in users of the same sex. But all users must observe the same time policy: The initiator must send a message within 24 hours of both swiping yes, and the other user must respond within 24 hours of receiving the initial advance.
These rules separate Bumble from other dating and networking apps, with the goal of cultivating a more responsive, active community of users.
How does Bumble work step-by-step?
Making a thorough, strong profile is the first step in making matches on Bumble. Don't skip past the basic information-gathering questions the app asks as you are creating a profile. If you have more than two photos of yourself that you like, use them. Bumble allows users to upload up to six.
Fill out as much information about yourself as you feel comfortable sharing, from work to interests. The more complete your profile is, the better odds of you showing up in the algorithm for potential suitors to see.
Pick which mode you want to use. "Date" is the traditional avenue for finding potential matches. "BFF" is a way to meet people you might want to befriend. And "Bizz" is the app's networking community.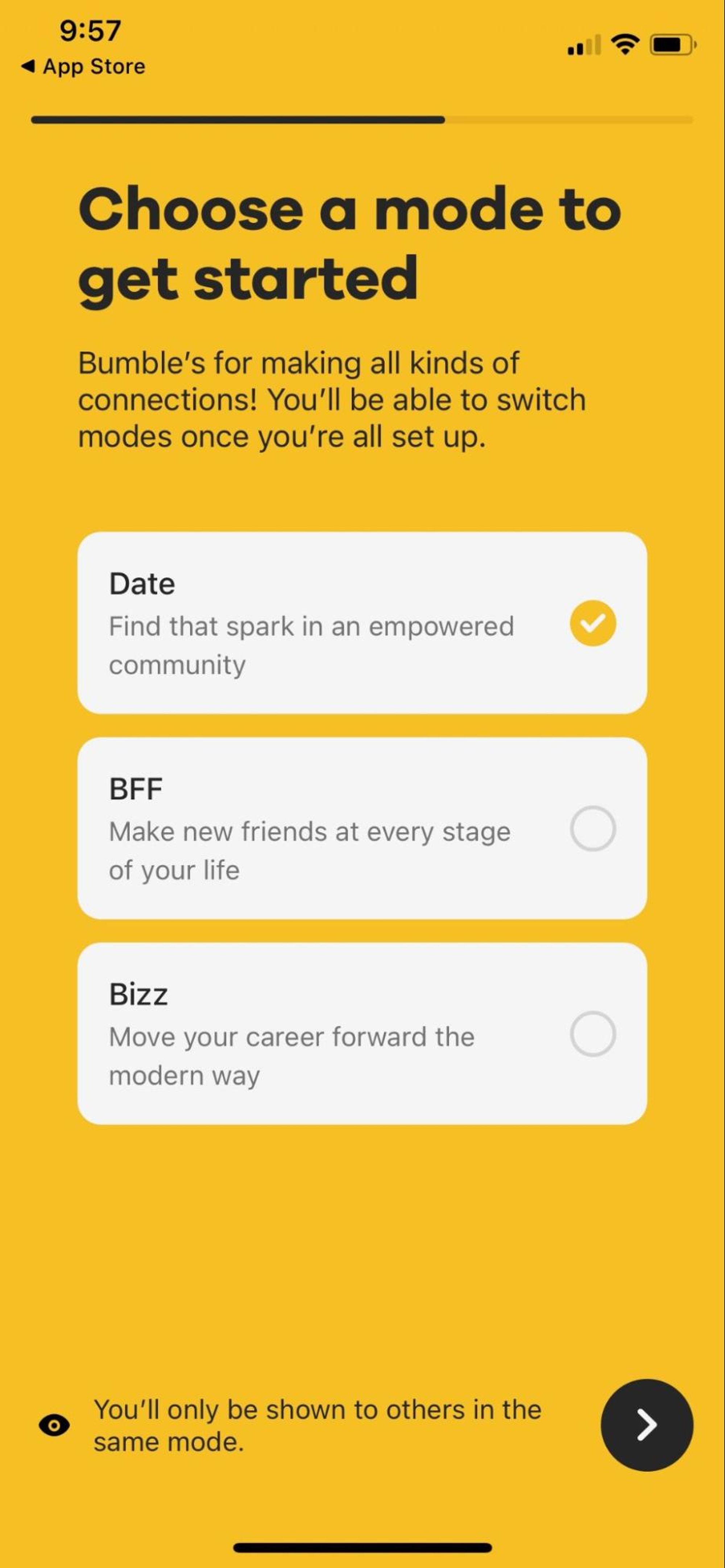 Choose "Date," and the next step is detailing which type of relationship you're interested in. If you want to change these selections later on, you can.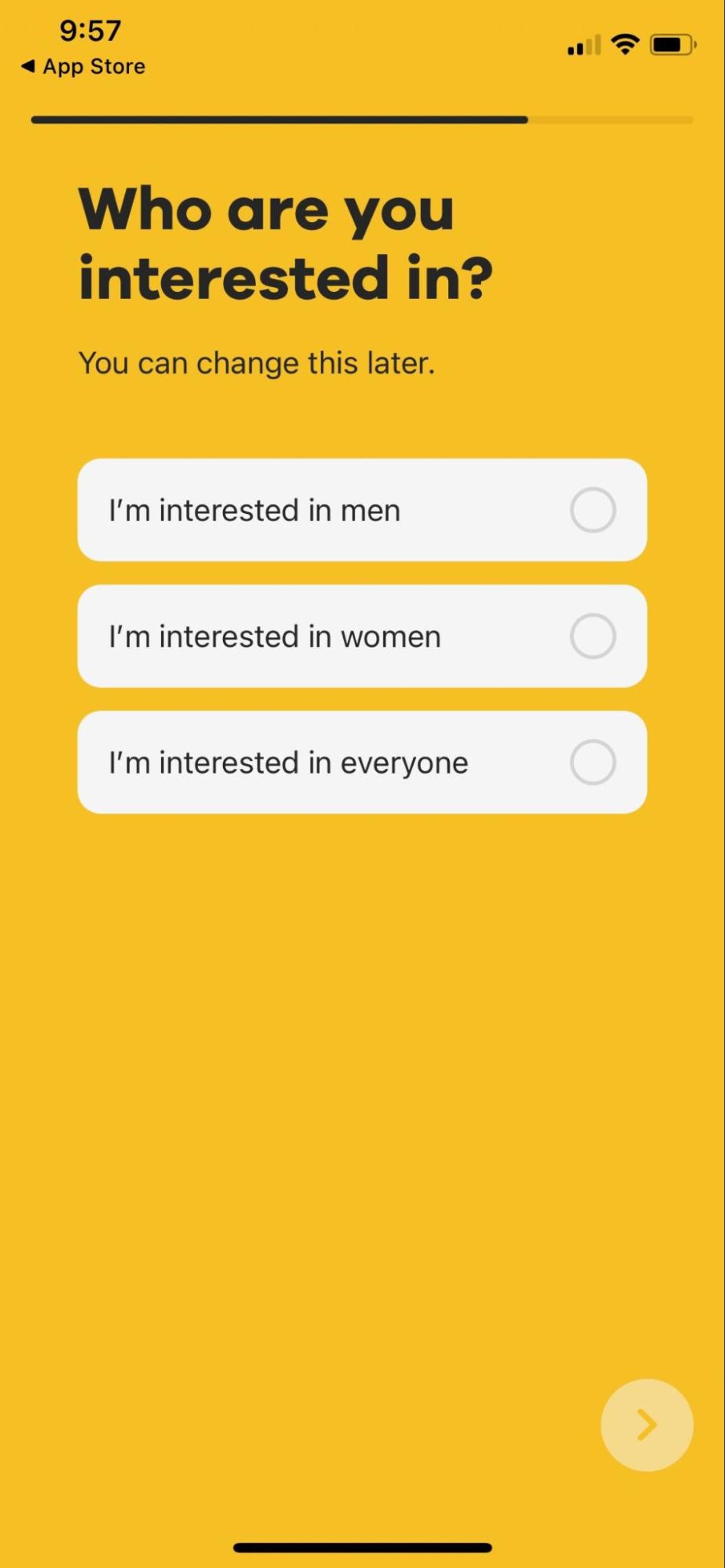 You can also tell Bumble what level of relationship interests you. This is where Bumble's survey of its users can help: More than 85% of users joined Bumble looking for marriage or a steady relationship compared to just between 1-4% of users who are looking for hookups. This app is primarily for serious dating prospects.
This is probably obvious, but make sure to turn on your phone's location settings to help facilitate matches with users in your area.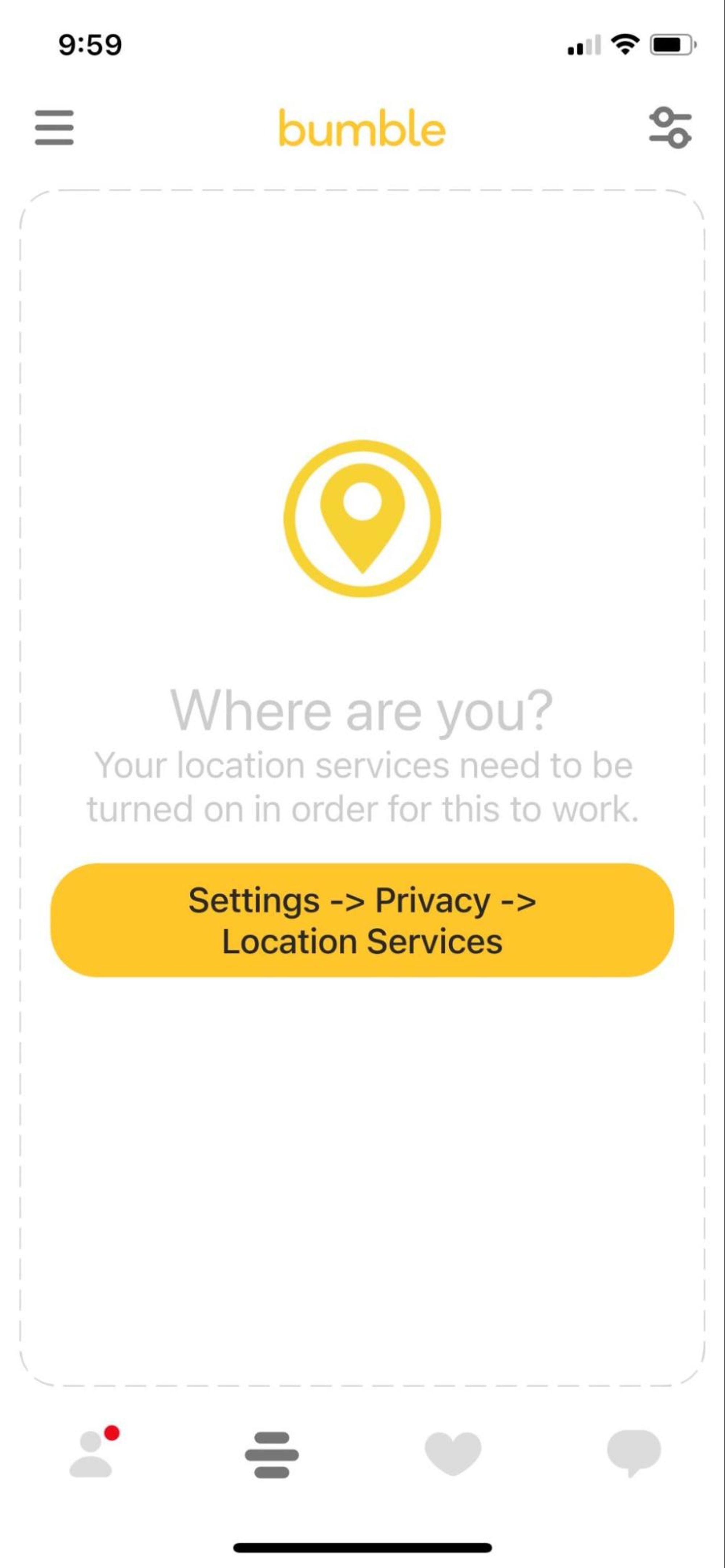 After working through all the profile-building questions, you should be ready to hit the swiping scene. But Bumble makes a point to encourage kindness and reinforce the policies that made the site popular enough to grow to a community of 100 million users.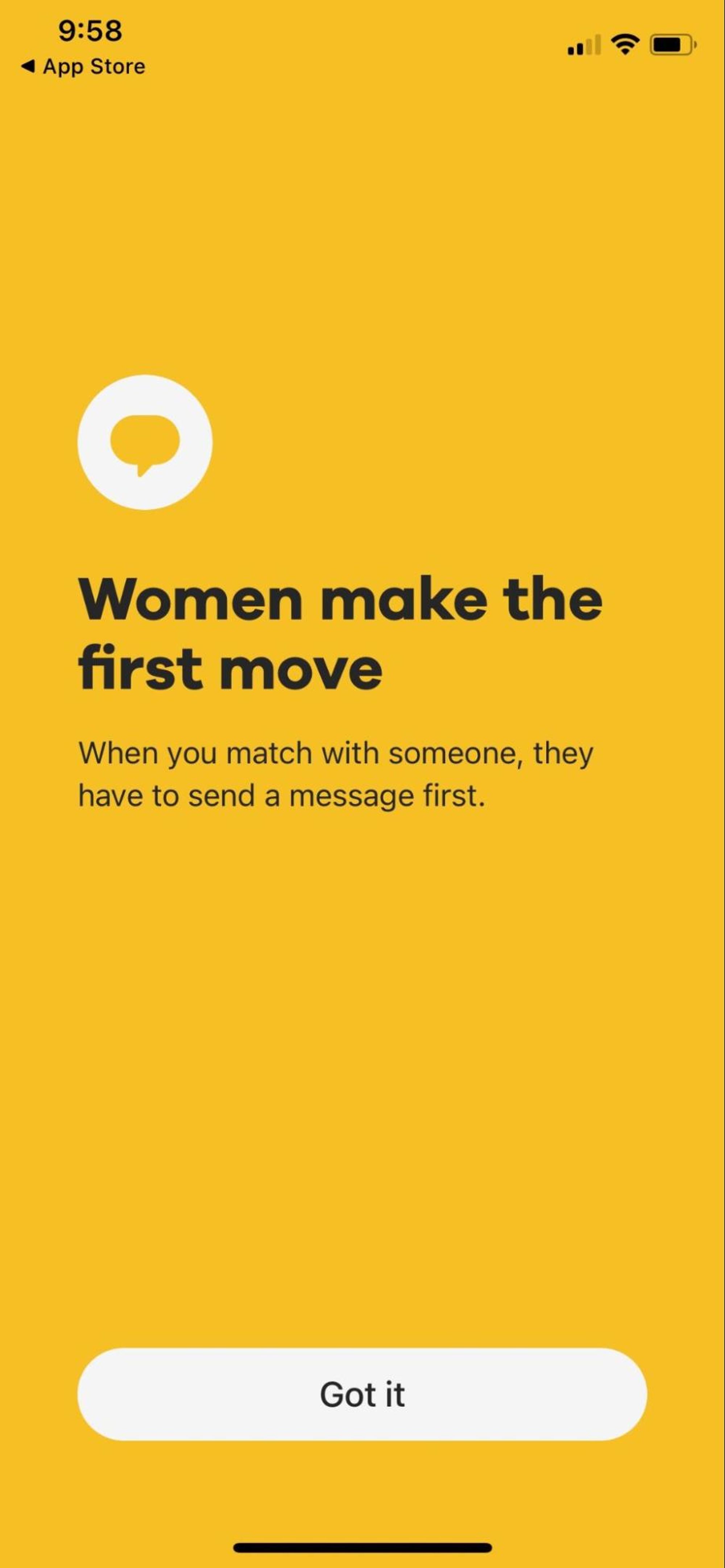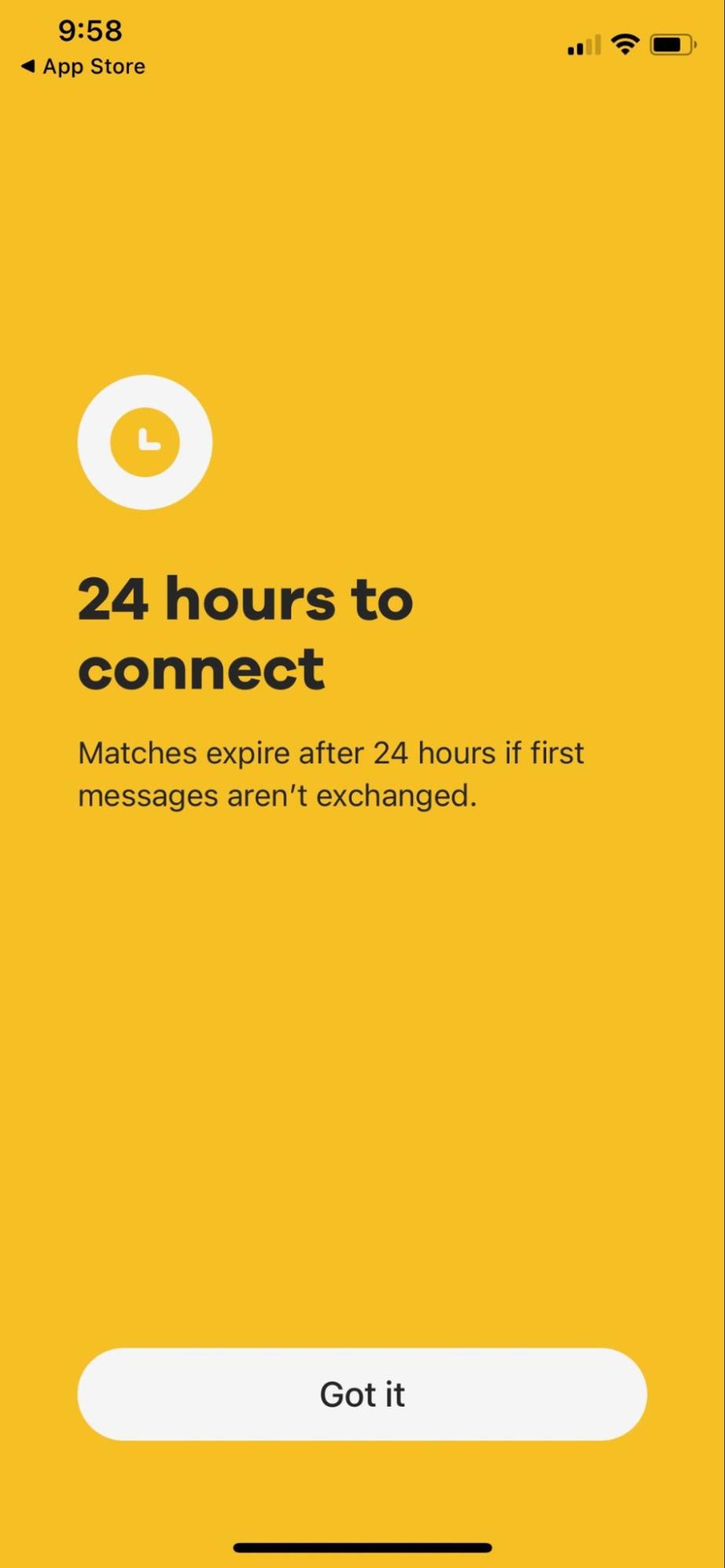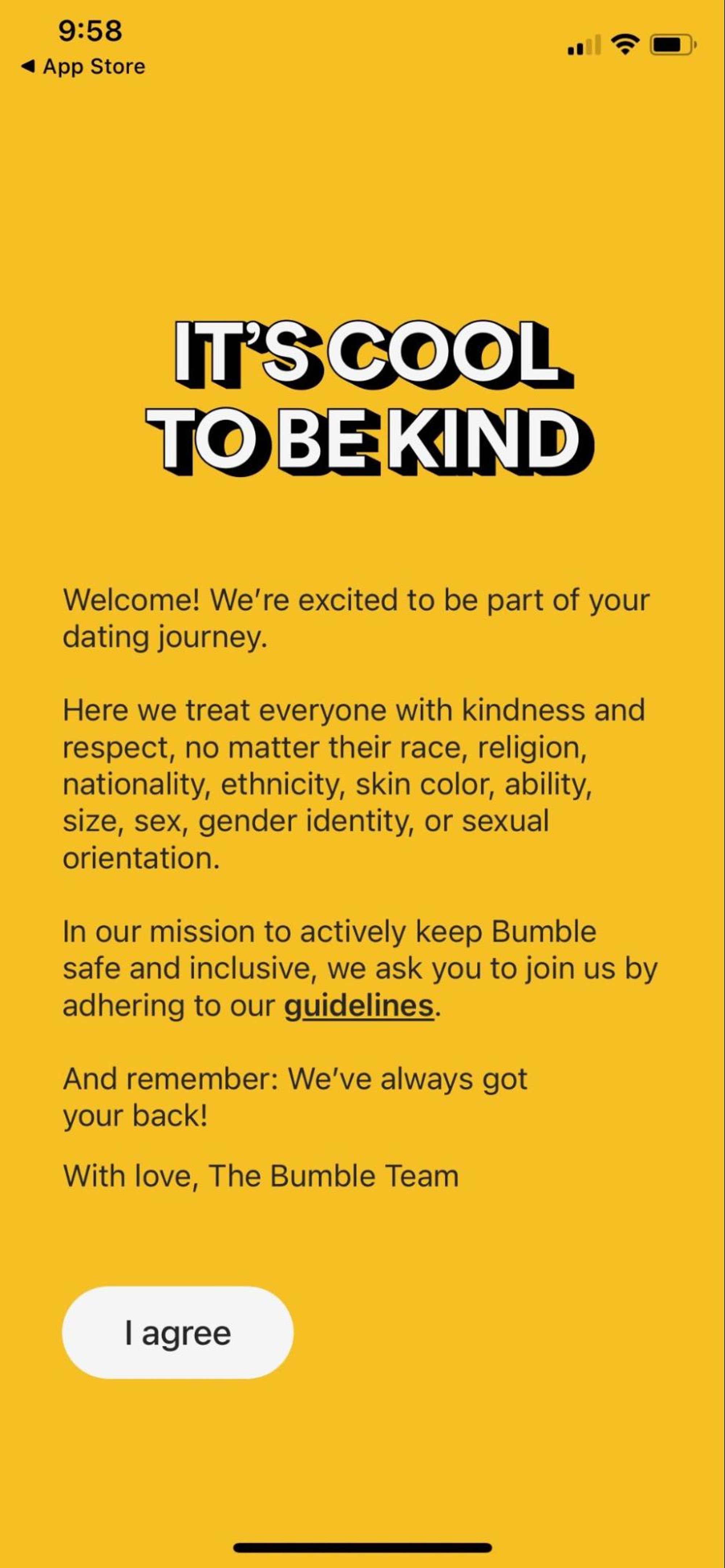 Users can click on the chat cloud icon on the bottom right of the app home screen to start perusing potential matches.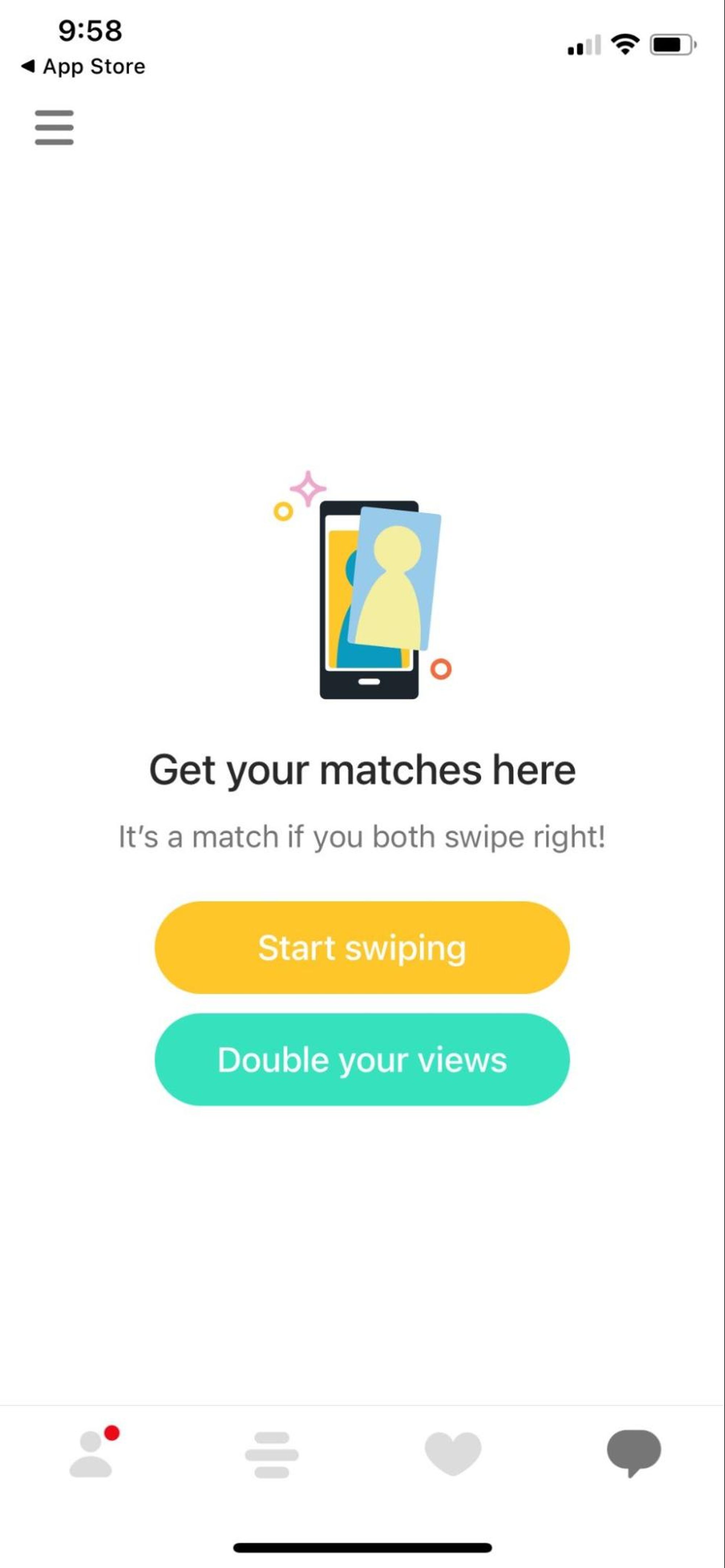 If you're a male seeking a female, your next step is swiping yes or no on prospective matches and hoping the interest is mutual. If you're a female seeking a male and both of you swiped to indicate your interest, Bumble prompts you to write a message to your potential connection. The chat platform is similar to text messaging and is straightforward to use. Although, there may be some online dating messages that work better than others when it comes to getting a response.
Best practices to get Bumble matches
So, what's the secret to success? How do you join the 25% of Bumble users who average at least one first date in the last month? Start with completing your profile and posting clear, fun pictures for your bio. Do you have a dog you love? Use one photo slot with your pup. Big skier? Hiker? Soccer fan? Use photos that show off your personality.
In the profile-building process, users can also add details about their habits and take advantage of the space given to really say who you are. Another tip from users: Don't just swipe yes on every single profile—only express interest in people who really do interest you.
The bottom line is, Bumble, like so many other dating apps, is what you make of it. The amount of attention you receive is very likely to be on par with the effort you put into creating your profile and the way you conduct yourself on the app. And once a match reaches out to you, be yourself in conversation.
Bumble premium features
In addition to the traditional work to build your profile, there are paid features on Bumble, such as Bumble Boost, that you can pay for with Bumble Coins, an in-app currency, to enhance your chances of being seen.
Boost gives users a variety of benefits for $15 a month, though there is a free week trial to start. Enhancements from Boost include access to the list of everyone who swiped yes (right), a 24-hour extension of matches, rematch opportunities with expired matches, backtracking (the ability to go back to a previous screen and change a selection you made), unlimited swipes and one "Spotlight" per week, which boosts your profile to other users without noting that you paid for the algorithmic nudge.
With Bumble, what you get out of it ultimately comes down to what you put into it, whether that's maximum effort on a free profile or increasing your visibility through options like Boost.