If you get a phone call or text message warning there may be fraudulent activity on your account, take a moment and pause: The fraud may very likely be the alarming call or message itself.
Fraudsters are hoping, in your panic, you will click on a link that can potentially download malware or trick you into revealing information such as your date of birth, Social Security number, passwords and other personal details that can be used to steal your cash or identity.
Fake callers pretending to be from legitimate businesses like Amazon, Apple and other name-brand companies was the top scam reported by users of BeenVerified's free reverse-call service that tracks potentially fraudulent spam call numbers. These business imposter scams account for 15.1% of all categorizable complaints we fielded this past year.
But romance scams are now on the rise—14.3% of complaints in 2022 were victims of romance scammers, up from 10% in 2021. It's an alarming trend: Victims of romance scams reported much higher monetary losses to BeenVerified compared to all other categories of phone and text scams. One victim revealed anonymously on our reverse-phone lookup platform the following:
This person got my email address from a dating site … took $97k and is still asking for more every month. Says will marry me when he gets back. Said [cash] got stuck as the bank held his money….
For this study, BeenVerified analyzed more than 165,000 scam calls and texts reported in the past three years. Our study shows 2022 saw a profusion of scam angles that dwarf the years that preceded the pandemic, in particular a growing number of cons that target the customers of peer-to-peer payment services and classified ad platforms that connect users directly with each other.
Users of Facebook Marketplace and P-2-P cash transfer apps Zelle and PayPal were among the fastest-growing targets of scams the past year, along with crypto and romance scammers that use WhatsApp, the popular phone and text messaging app.
"Scams that show fast growth are worth our attention, as they often become scams that dominate in years to come," said Robert Lowry, the vice president of security at BeenVerified.
Common tactics across scam types
No matter the new schemes and approaches that fraudsters develop, there are common themes and tactics used across phone and text scam categories:
Scammers depend on fear tactics. Many scams cause you to drop your guard and, in a moment of panic, click dodgy links or reveal personal information such as date of birth, account numbers and passwords.
Scammers also use greed and wishful thinking. We've seen a rise in free money, sweepstakes and other prize scams the past year, where winners are promised rich rewards but first must pay taxes or fees before receiving their winnings.
Scammers feed off the lonely. Romance scams saw the highest amount of cash stolen according to victim reports to BeenVerified.
Scammers follow the news. As the Biden administration introduced Student Debt Relief to qualified borrowers, a profusion of new scams promising bogus student-loan relief proliferated this year. Throughout the pandemic, scammers showed themselves to be avid followers of the news. During the early days of lockdowns in 2020, scammers quickly pivoted to delivery scams as the home-delivery industry skyrocketed. In 2021, when cryptocurrency value exploded, get-rich-quick schemes around Bitcoin began to proliferate.
Scammers often traffic in gift cards. If anyone asks for payments in gift cards, walk away fast—gift cards are often favored by criminals because of their difficulty to trace.
BeenVerified's Scam Call Complaint Monitor analyzed complaints from users who used our free reverse-number lookup tool and opted to self-report details of unsolicited calls and text messages. Complaints were recorded from all 50 states from Oct. 12, 2019, through Oct. 12, 2022.
The fastest growing scams in the past year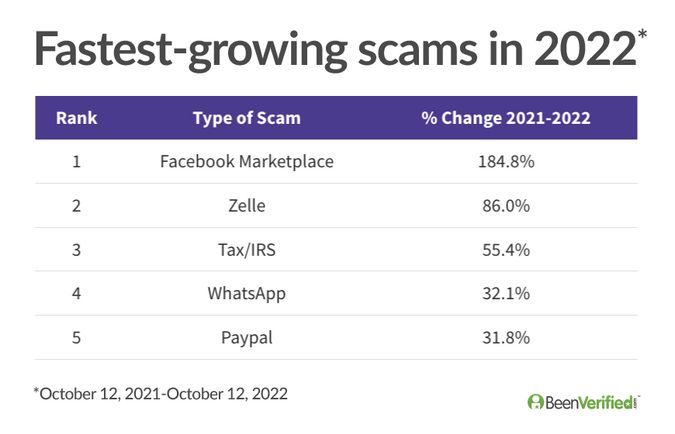 1. Facebook Marketplace scams
Reported Facebook Marketplace scams grew 184.8% the past year. There were many instances where sellers reported losing products to scammers who sent fake checks or other bogus cash for "payments," as well as buyers who sent full cash or deposits but never received the product.
Other common Facebook Marketplace scams reported were:
Google Voice verification scams. Gaining access to your Google Voice account—or creating a fraudulent account in your name—is the gist of the Google Voice scam. The scammer asks for your phone number and a six-digit one-time verification code, then potentially hijacks your account and personal information. Never trust anyone who asks you to share any one-time verification code.

From the BeenVerified Scam Call Monitor: Facebook Market listing. Tried to change my Google Voice account by asking me to verify a 6-digit code.

Rental scams. Fake owners list a property for rent, then take deposits or cash for "background credit checks." This number scammed $150 for application fees for a house I desperately wanted to better the lives of my kids. Using a

Redacted

name who is out of Georgia. Met on Facebook Marketplace
2. Zelle scams
User complaints related to Zelle scams grew 86% the past year, the second-highest rise. Zelle is an online digital payment service that allows you to transfer money to and from bank accounts. Zelle transactions are encrypted, making it difficult for anyone to hack an ongoing transaction. But as it's a peer-to-peer direct-payment provider, Zelle scam victims are unlikely to recover lost cash.
Rental scams. Rental scammers tend to bait victims with fake listings on Facebook Marketplace, then defraud them using Zelle as a common payment method. Scammer - pretended to rent an apartment - showed the apartment - took $3k [through] Zelle. Scheduled to meet at the apartment but no show. This person is stealing people's money by offering rental properties that he doesn't own. He unfortunately took $1790 from my husband and I via Zelle.
Pet scams. Like rental scams, criminals post pets for sale online only to dupe victims out of cash and deposits. I Zelled $700 to buy a pug puppy from Odessa, Texas. Once they verified they received the money they are no longer in contact with me. This phone number is related to a scam due to us sending $1000 through Zelle. We purchased two puppies and did not receive them.
3. Tax/IRS scams
Scams from bogus IRS officials claiming victims owe back taxes has been a perennial threat, but this year fraudulent tax claims grew 55.4% with a few new wrinkles:
Bogus tax-debt relief Capitalizing on pandemic-era government payments, we saw reports of scams that falsely claim a new Biden administration program promising tax-debt forgiveness. I got a voicemail from

Redacted

saying her name was Mary Lopez and talked about a tax debt program that was part of a Biden initiative. Note: I don't have and have never had any tax debt…

He states he is an agent with the Empowerment Program with the federal government. He wants to grant monies to people in need, but they need to pay a tax fee between $450 to $1000 and shipping costs prior to receiving the money.

False claims of owing taxes on recently purchased products Fraudsters typically bait victims with false claims of purchases of big-ticket items on their account. In a new update to an old script, this fraud uses small dollar claims of unpaid taxes to lure victims into clicking dodgy links.

Your parcel #YJL8876S containing the following products: 1.PS 5. Cannot be delivered until the outstanding tax has been paid. Current outstanding balance: $2.01. Additional info: Redacted

Did not click link... Your parcel #YJL8276S which includes the following products: 1.Samsung Smart TV. Cannot be approved for delivery until your outstanding tax balance have been paid. Current outstanding balance: $1.32. More info: Redacted
4. WhatsApp scams
Scams involving WhatsApp rose 32.1% the past year. WhatsApp, the internationally popular free phone and text messaging app owned by Facebook parent company Meta Platforms, Inc., appears to be a growing gateway for romance and sextortion scams, as well as fake cryptocurrency investment opportunities.
Sextortion In these scams, fraudsters initiate contact, sometimes prompting victims to share intimate photos, only to then be blackmailed to give money or they will release damaging information.

This person asked for a sugar baby relationship from TikTok and then progressed to WhatsApp. They stole 50 dollars from me and tried to blackmail me for more money.

Joined a dating site called Plenty of Fish. This person claiming to be named Linda contacted me. I gave "her" my number. We talked on WhatsApp. This number I searched is the number this Linda is using on the app to message me. I later received a phone call about someone acting as if they are with the police and that I was speaking to a 15-year-old. This person is a scammer using a spoof number. Don't give out phone numbers to people.

Related: What is number spoofing?

Romance scams

Victims groomed for romance scams often have conversations that start on one site then move to WhatsApp. Fraudsters often purport to be military and/or working overseas.

Started on Facebook and then WhatsApp and asked for money twice, asked for me to get them a phone, asked me to send it to Nigeria and then wanted me to make payments to help unlock their inheritance … I foolishly sent them $50 twice through cash app.

Only uses WhatsApp for communication and lied about being a veteran from the US Navy and scammed [me]out of sending fake checks to … an "orphanage." She claims to be Redacted but the police reports say that her identity is fake.

Claims to be ER doctor in the Army stationed in Aleppo, Syria. Is a scammer who keeps asking for Apple/iTunes gift cards… He uses this number on WhatsApp.

Crypto scams

Receive an invitation from the cryptocurrency Insider Discussion Group. Lead you to earn 1K-28K per day. Reply number '1' and click the link to join. Redacted
5. Paypal scams
PayPal-related scams grew 31.8% this past year. In some cases, victims reported scams where cash was sent by PayPal, but the product was never sent. But most victims cited bogus fraud claims and fake Bitcoin purchases related to PayPal.
Fraudulent charges

This man fraudulently billed $600 to my Paypal account - there is NO question about it.

Fake fraud claims

Received email from a fake account showing my name as sender. Bogus charge of $755. I don't have a PayPal account.

Got a text message from this number stating, "Your order worth $998 has been placed from Amazon using your PayPal account. If you did not place this order call PayPal on toll-free number 18886975042." I immediately checked my Amazon account and did not see any orders in that amount. I then checked my PayPal account and there were no charges that showed up.

Bogus Bitcoin purchases

Fake Paypal number - trying to get personal info to use paypal to buy Bitcoin

Received an email from PayPal that my order was confirmed. Item Bitcoin. $614.93
The most common phone and text scams in 2022
Delivery scams, which escalated when the pandemic hit in 2020, are in decline but have never disappeared. Business imposter scams remain the top threat, but watch out–romance scams have jumped near the top.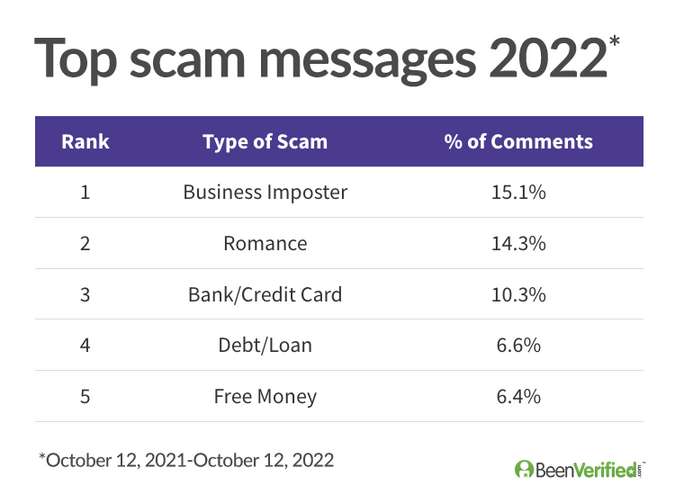 1. Business imposter scams
For the second year in a row, business imposter scams topped overall 2022 scams with 15.1% of categorizable comments, up a half point from last year. These scams largely feature bogus claims of fake charges and purchases from Amazon, Apple and others. Once you contact the "company," scammers try to get your real account information to make actual fraudulent purchases.
This number came up under a scam for Amazon customer service and is a fraud. They took me for $900.
2. Romance scams
Romance scams showed a large increase this year, growing from 10% of all complaints in 2021 to 14.3% this year. Of all the scam categories, romance scammers resulted in the largest cash losses reported by victims to BeenVerified.
Saying he is Redacted and works for the US military as a doctor; he has scammed my elderly ex-mother-in-law (she's 88) out of her entire life savings and retirement her deceased husband left her … He has had her send money on Apple Cards, savings depleted, … and loans she has taken out for this "man" who is supposed to have [gone] to see her and take care of her.
His name is Redacted. It started on Facebook then he would tell me to go to Viber. He romance [scammed] me for 5 months for wire transfer and gift cards. He scammed me a total of $14 thousand dollars.
This person is guilty of catfishing. Stay away from him. He cheated me out of $12,000. This is not a joke.
Sextortion

Tried to scam me for money and sent me naked pictures of myself and said if i didn't Apple Pay them $300 they'd post the pics on Twitter.
3. Bank and credit card scams
About 1 in 10 complaints to the BeenVerified Phone Scam Monitor were related to bank and credit card scams in 2022. Like business imposter scams, the bulk of victims in this category are lured by fake fraudulent purchases on their account, or claims their accounts or cards have been "locked."
Fraud txt saying Visa debit locked, call this # so they can steal from you.
I received an email with the title Invoice ID NBZ20220919VWJ, stating that my yearly product membership for NORTON FAMILY [ALL DEVICE] has been renewed and updated for $293.62. Instructions at the bottom to call this number if you wish to unsubscribe… Did not call as I assume it's phishing to get my credit card [number].
Scam saying debit card has been frozen due to fraud. Please call to follow up. I don't own a Wells Fargo debit card.
4. Debt and loan scams
This year we saw growing numbers of victims reporting debt and loan scams (6.6%, up from 5.3% last year). Many victims reported student loan scams, as well as being prequalified for "hardship loans" or bogus "debt forgiveness" offers. Also, false claims of being taken to court for bad debt were common.
Says my student loan case # was flagged for loan forgiveness but they can only hold my case for 1 day, so need to call them ASAP.
Calling about the student loan forgiveness program. I don't have student loans.
Spam used a local DG store number claiming to sue me for a debt.
Left me a voicemail saying I was being prosecuted for malicious intent to defraud a bank from a payday loan in 2010. Weird call.
5. "Free money" scams
While many scammers try to scare victims into revealing sensitive information, "free money" scams (6.4% of reported cons this year) lure people with dreams of riches. They traffic in bogus claims of winning lotteries and sweepstakes, but victims need to pay to have their "winnings" released. Publishers Clearing House sweepstakes, Powerball and Mega Millions lotteries are frequently mentioned.
Mr. Redacted called and said he was from PCH [Publishers Clearing House] and that I had $12.5 million dollars but I had to pay $800 in taxes that I would turn over to him … in the form of 2 vanilla Visa cards.
I got sweepstakes scammed by Redacted. They got piles of money from me. …. I lost $28000+. I'm heartbroken.
Publishers Clearing House scam - wanted my SS# & pre-pay the taxes on winnings.
Scammers change tactics over time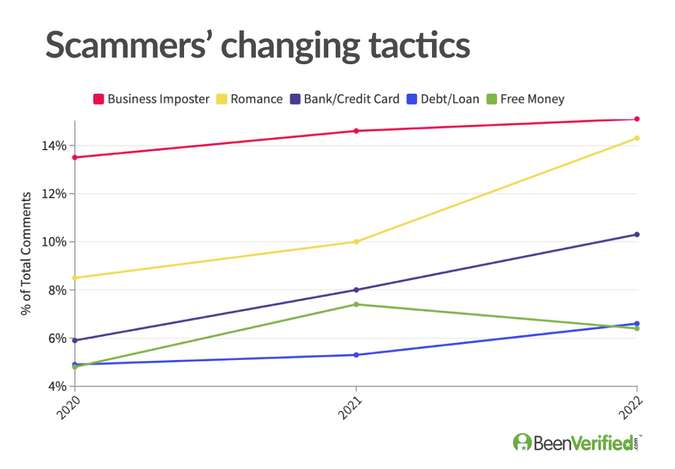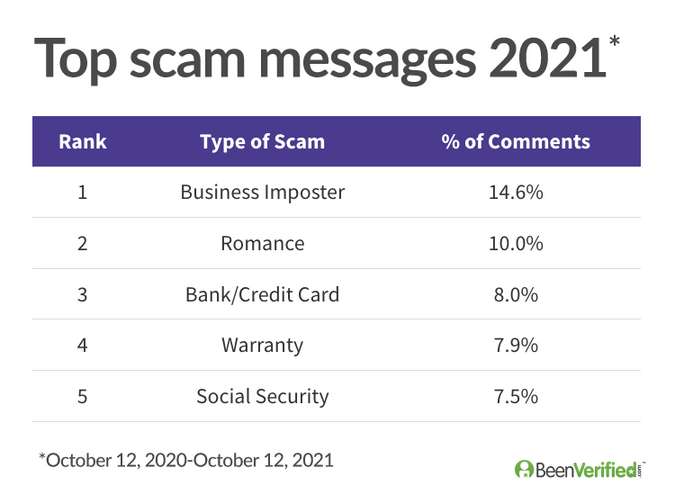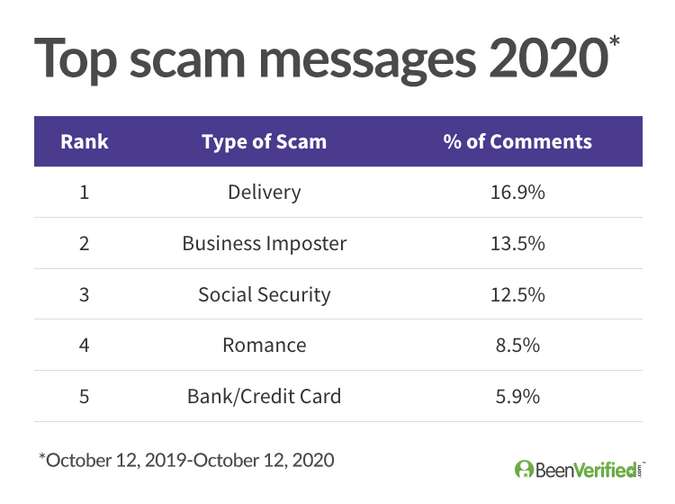 In recent years, we've seen scams rise and fall, often in time with current events. As America entered pandemic-related lockdowns in 2020, delivery scams with fake reports of errant packages from DHL, USPS and FedEx were the top scams. Once a top threat, fraudsters purporting to be from the Social Security Administration dropped off the past year, along with warranty scams.
How to protect yourself from phone and text scams
Here are some important tips to help better guard yourself against fraudulent phone calls, texts or emails:
Don't respond to the message. A response can draw attention from scammers who will attempt to convince you there's a "problem." Instead, directly call the company in question to check any fraudulent activity claims.
Don't click links. Links can potentially download malicious software, such as ransomware, spyware or a computer virus.
Don't provide personal information. Unless you have some previous dealings with the caller, be leery of providing any information—even the last four digits of your Social Security number.
Don't give anyone remote access to your device. Unless you contacted the company using a verified business phone number, don't hand over control of your computer.
Don't pay by gift cards. No legitimate business will ask you to pay by gift cards—it's a sure sign of a scam.
"If you receive a worrying phone or text message, the key thing is not to panic," said Lowry. "Fraudsters are counting on your fear to cause you to drop your guard and click on dodgy links or be conned into revealing sensitive information. Hang up and call the company in question directly."
Methodology
We analyzed call complaints logged on a free reverse phone lookup tool owned and operated by BeenVerified for the period of Oct. 12, 2019 through Oct. 12, 2022. For the purposes of the study, we refer to each year (2020, 2021 and 2022) for the 12-month period from October to October. Calls reported from victims outside the United States were eliminated from our analysis. The total number of complaints examined was 166,408 (2020: 29,085; 2021: 67,390; 2022: 69,933). The scam-topic percentages are based on the total number of complaints with categorizable comments (14,780 in 2022, or 21% of all complaints). Some comments used in the study were lightly edited for clarity.
For more information or press inquiries, please contact Kerry Sherin, kerry@beenverified.com or Erin Kemp (erin@beenverified.com).
About BeenVerified
BeenVerified's mission is to help people discover, understand and use public data in their everyday lives. BeenVerified and our associated websites curate dozens of public data sources and proprietary data sets to give people easy and affordable access to billions of public records.