Beware of alarming phone calls and text messages suggesting fraudulent charges on your account—they very well could be a scam.
The BeenVerified Spam Call Complaint Monitor found a spike this year in calls and texts claiming bogus charges on accounts and warning users their account may be closed unless they contact the number or link provided. This scam has opened the door to consumers losing millions of dollars.
As the holiday season approaches, we anticipate more victims will be targeted by these imposter scams—be they callers purporting to be from online businesses, delivery companies or government agencies like the Social Security Administration—as well as a host of other ongoing threats.
Top takeaways
Business imposter scams are the biggest threat this year. Impersonators claiming to be from fraud prevention departments have emerged as the largest number of complaints filed by Spam Call Complaint Monitor users, accounting for 17.3% of categorizable spam complaints from Jan. 1 through Oct. 15. Free money scams and bogus warranty offers each accounted for 12%, followed by delivery scams (10.4%) and Social Security imposter scams (9.7%).
Amazon and Apple are the top impersonated businesses for bogus charge complaints. By far, fake Amazon messages were the top threat, accounting for nearly 50% of all business imposter complaints so far this year, followed by Apple (24.4%), PayPal (7.7%) CashApp (5.5%), Craigslist (5.1%), Ebay (4.5%), Zelle (2%) and Facebook Marketplace (1%).
Free money and prize scams have been rising in recent months. Although business imposter scams were by far the largest this year, false touts of free cash or products eclipsed business imposter scams in September.
Delivery scams decline, but warranty and romance scams are on the rise. The top complaint in 2020, delivery scams fell to 10.4% from 31%. Meanwhile, bogus warranty offers have risen to 12% (up 400% from three years ago) and romance scam complaints inched up to 6.2%, from 4.2% last year.
BeenVerified's Spam Call Complaint Monitor analyzed spam complaints from users who used our free reverse number lookup tool and opted to self-report details of unsolicited calls. Complaints were recorded from all 50 states from Jan. 1, 2019, through Oct. 15, 2021.
Our analysis found these were the top topics of call complaints among those who left comments:
Business imposter top threat but free money scams growing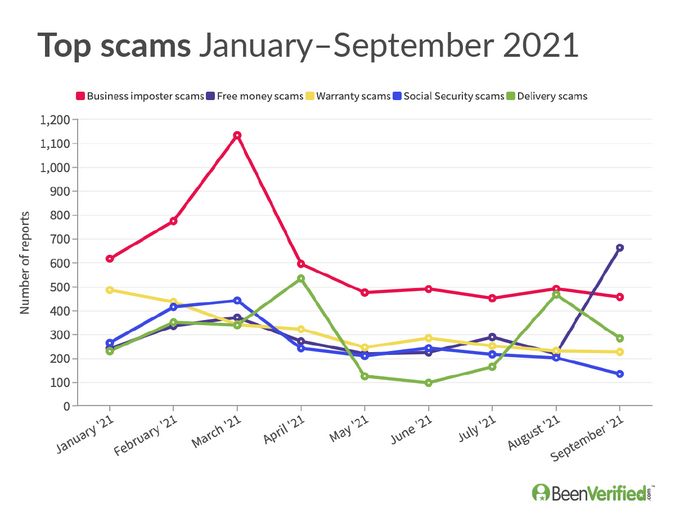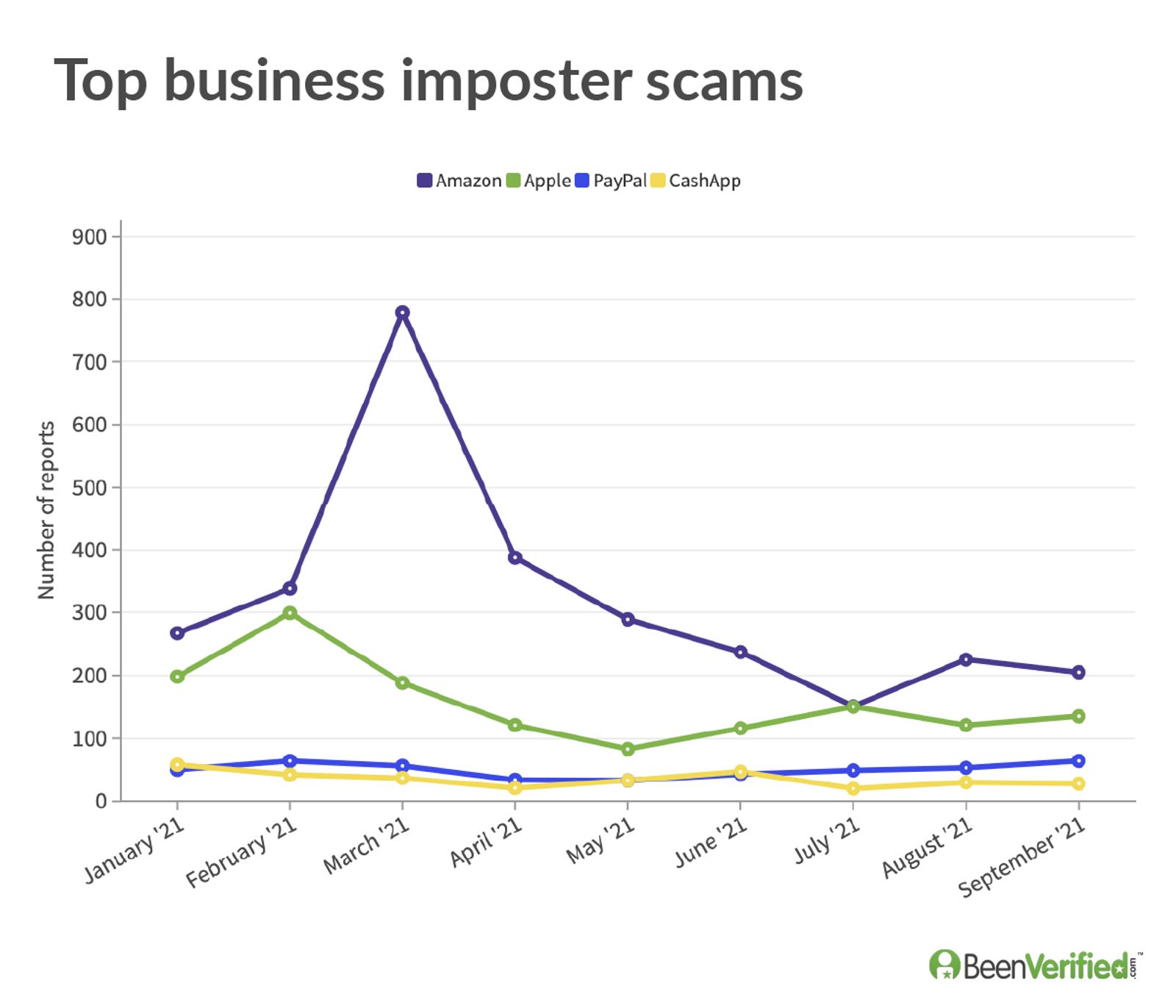 As noted above, business imposter scams were the largest fraud attempts in the past year. Claims from fake delivery scams briefly spiked in August, but in recent weeks claims of free money and prizes have spiked higher than all other fraud categories.
According to a recent report from the Federal Trade Commission consumers lost $27 million to Amazon business impersonation scams alone from July 2020 through June 2021, with a median individual loss of $1,000.
Amazon and Apple top business imposter scams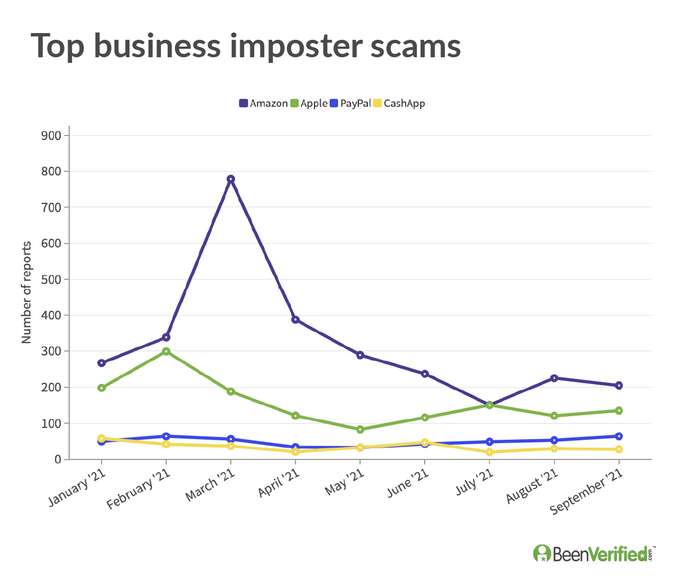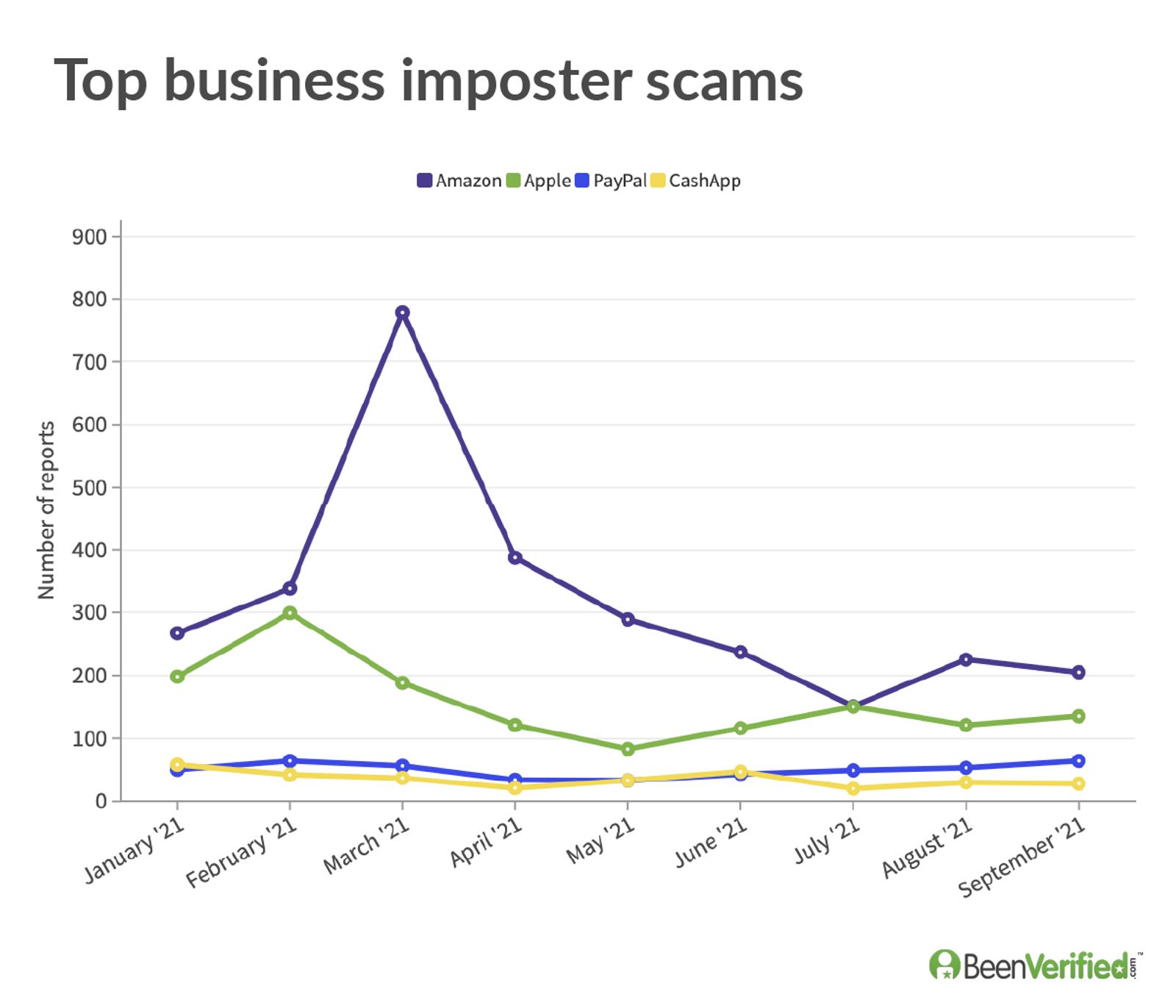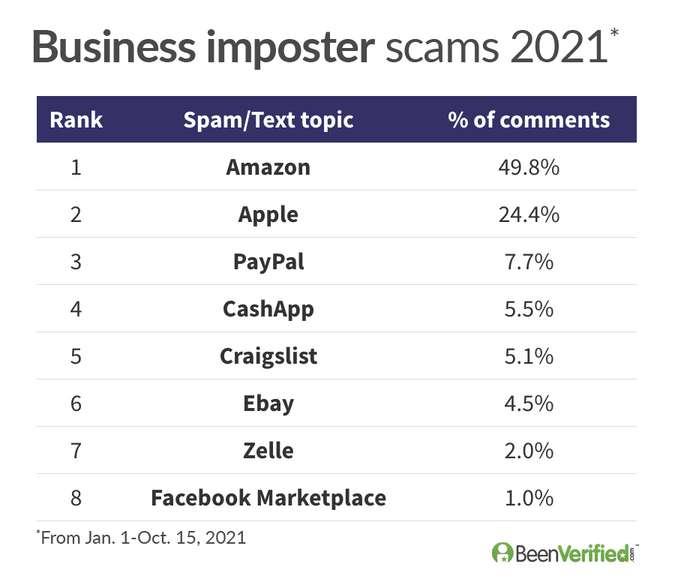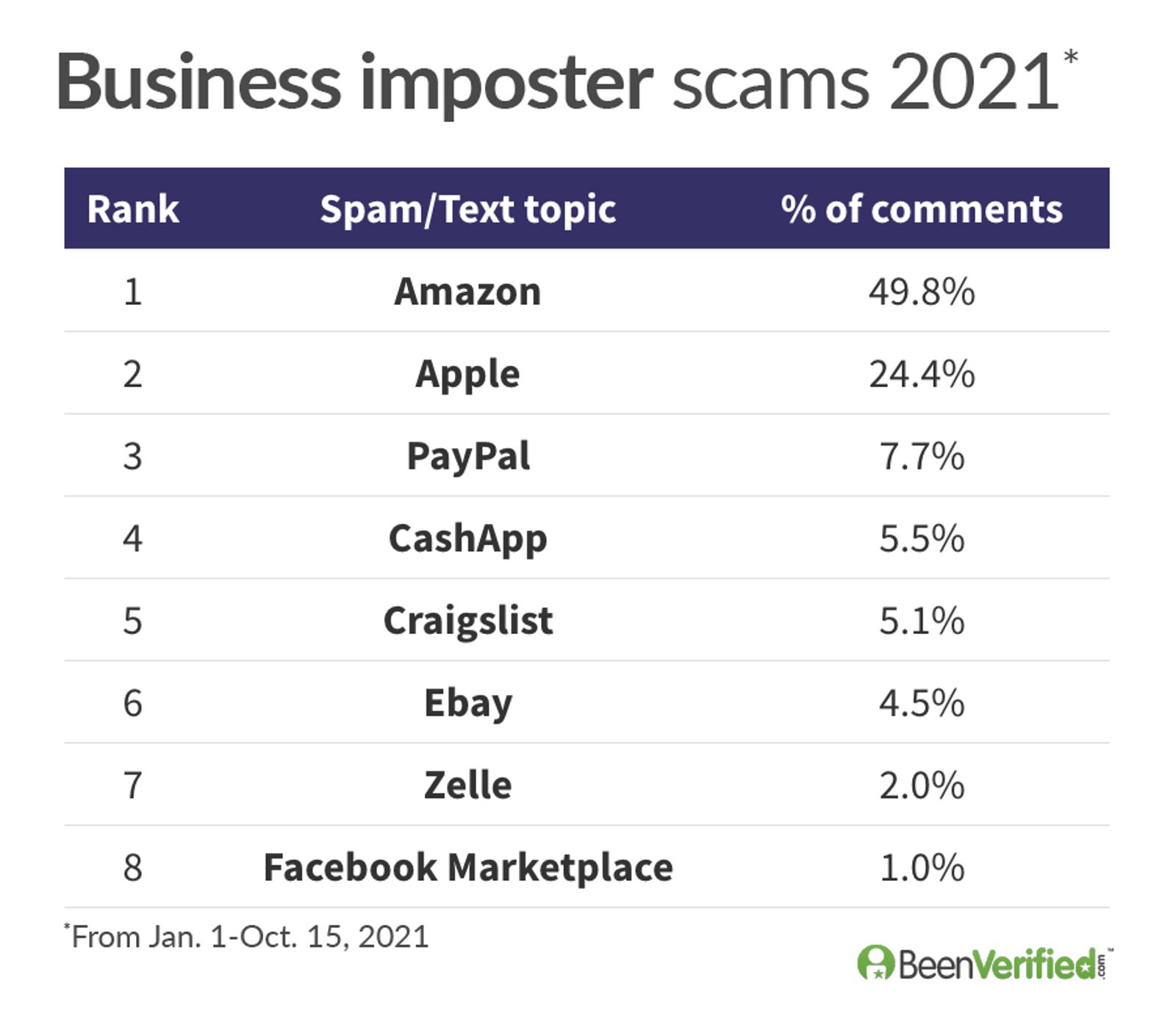 In these business impostor scams, fraudsters attempt to gain remote access to your phone or computer to purportedly help give you a refund after alerting consumers to fraudulent activity on your account. Once they've obtained sensitive personal information, they raid bank accounts or make phony purchases—often in the form of gift cards—in your name.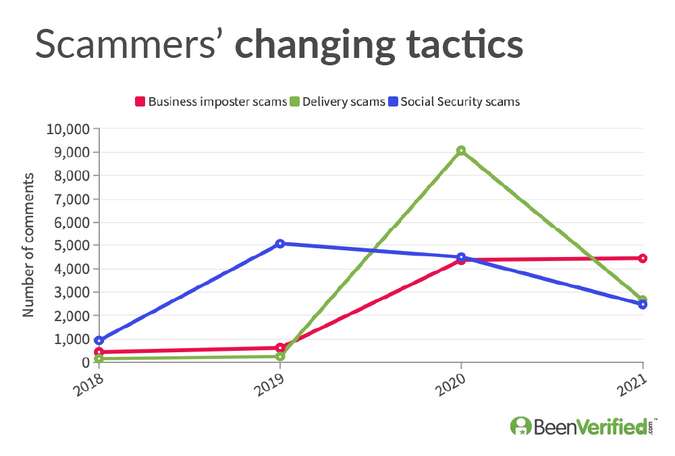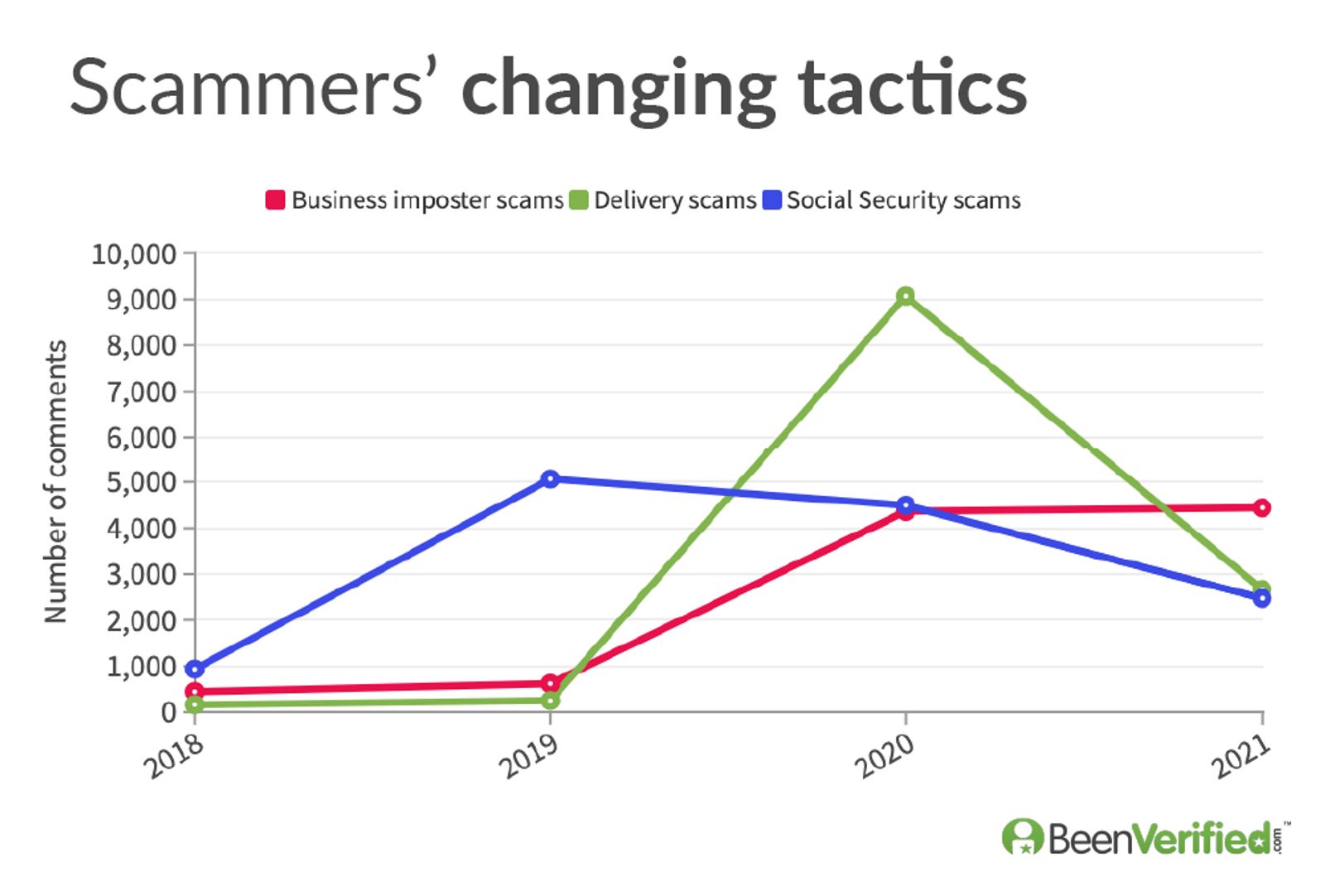 The business imposter scam is the latest wrinkle in a long line of imposter scams. As the tables show, consumers face a never-ending game of whack-a-mole as one type of scam falls, another rises.
Delivery scams—calls and text messages claiming to be from FedEx, DHL or USPS delivery companies—were the top threat last year but have overall declined. In 2019, bogus phone calls claiming to be from the Social Security Administration was the top threat.
Now fraudsters are using all three tactics to try to lull potential victims into revealing personal data or opening up their computer to hackers.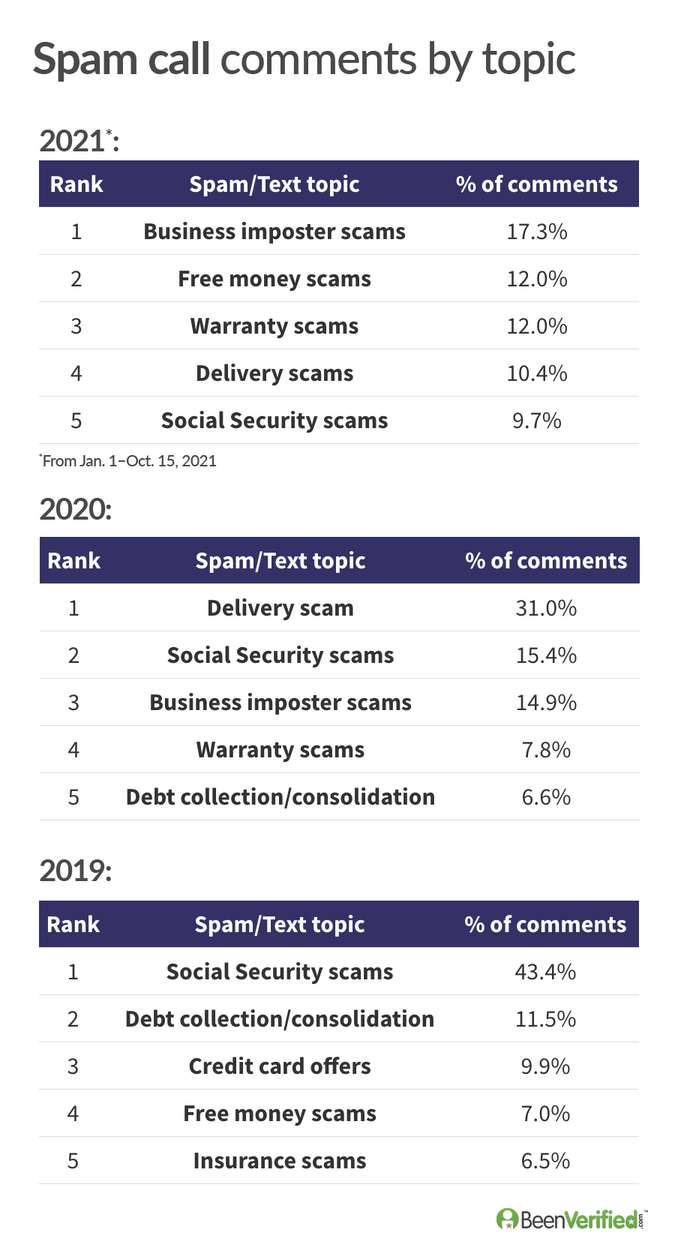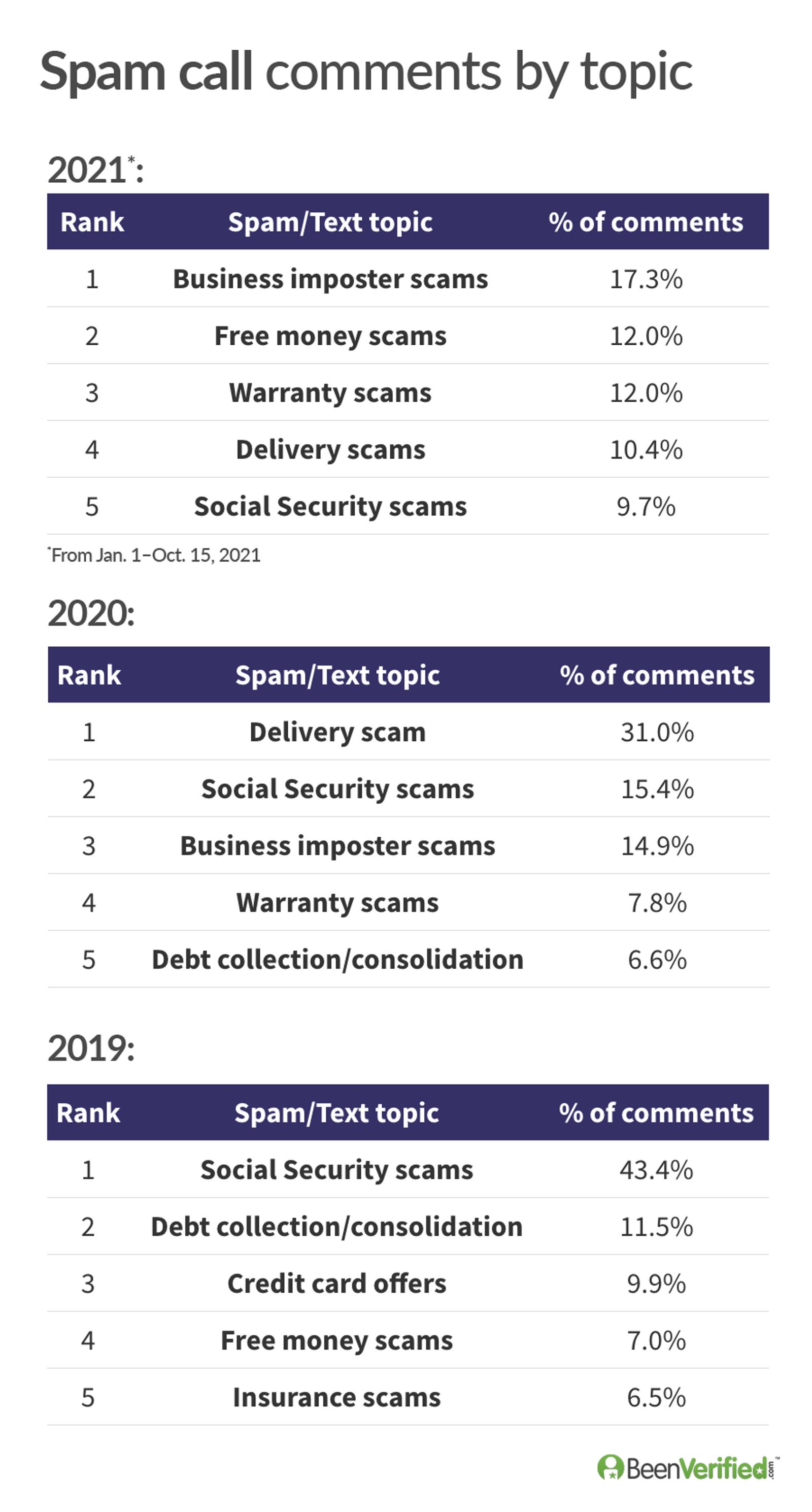 Scammers prey on human fears, use intimidation tactics
Fraudsters use principles of social engineering to ultimately reach their payday: tricking consumers to drop their guard and reveal compromising data.
In the case of business imposter scams, a frequent tactic is to let the fake "fraud prevention team" remotely take over the victim's computer or device—and that's when the trouble really begins.
The FTC reports people ages 60 and up were four times more likely to fall for business imposter schemes, with a median reported loss of $1,500 compared to $814 for people under 60 years old.
Some recent examples from the Spam Call Complaint Monitor below (some user comments were edited for clarity):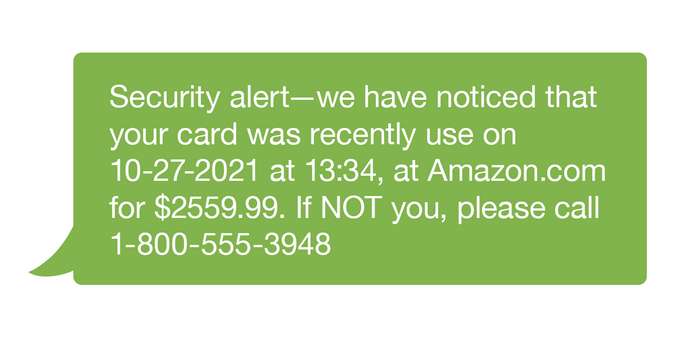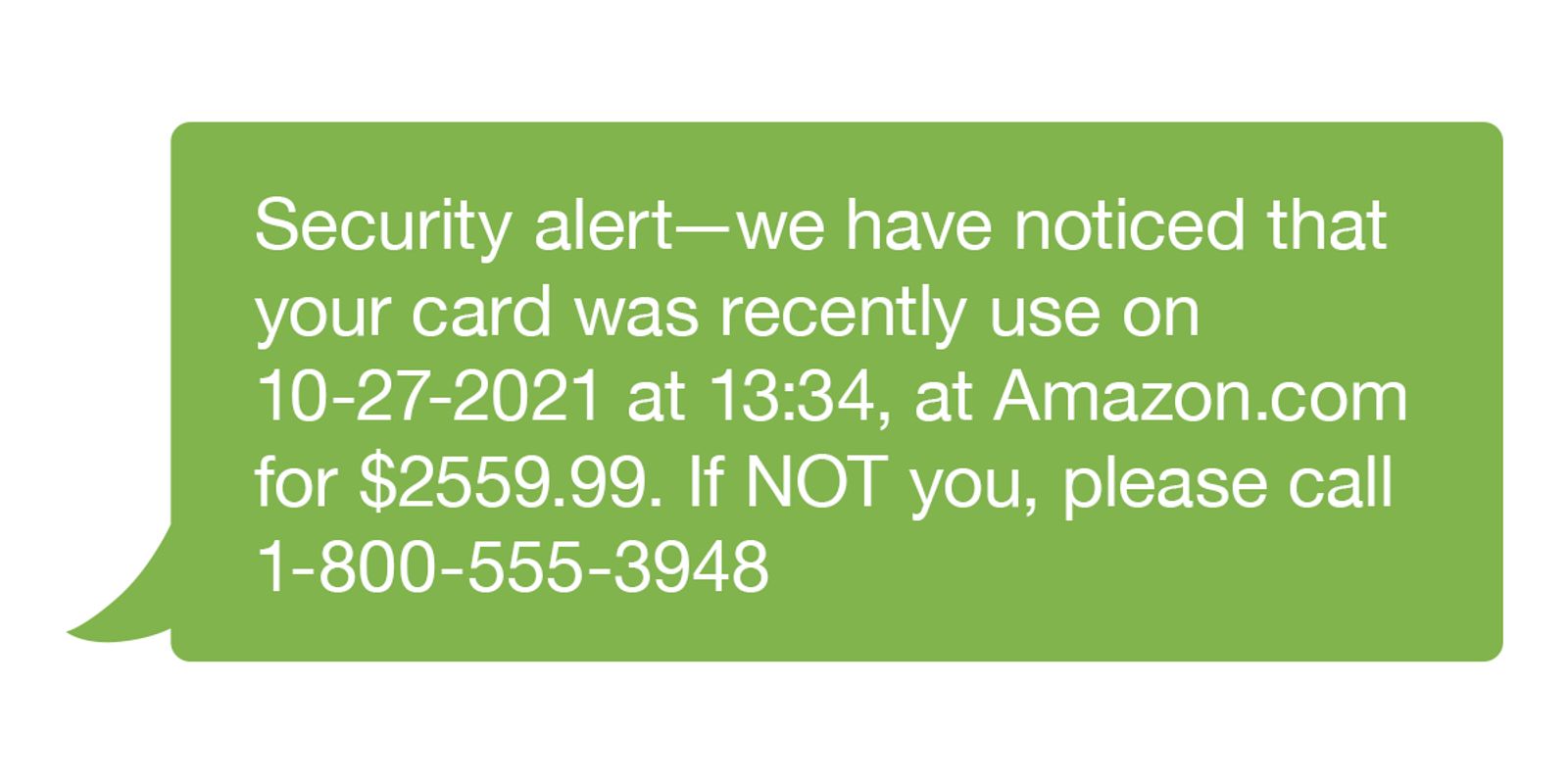 "Caller claims to be from Amazon, offers an account refund of $39.99. Claims I need to log into an Amazon account to claim. While on the computer, he hacked my entire computer. Foreign speaking, calls from a noisy room. After some time, I suspected a scam and hung up. He called my landline 12 more times, leaving lengthy messages that he has cleaned out my bank accounts. Left obscene messages on my computer."
"I received a call from this number about a possible fraudulent Amazon order for $749. They wanted to verify if the order was real or fake. First of all, I placed no order for that amount. I verified with the man there was no order placed for that money. He wanted me to open my computer so his 'techs' could search for any other problems and he wanted to send me paperwork to fill out and return. He began pressing me to follow his instructions, talking over me, calling me foolish, suggesting I would regret it if I didn't do what he asked. I chose to hang up. DEFINITELY A SCAM! BEWARE."
"BEWARE! THESE ARE SCAMMERS! Someone called from this number. Claimed another person had hacked into my Amazon account and charged an iPhone 12 for $799. It was due to be sent to a name I didn't recognize and their 'fraud department' was calling to see if it was something I authorized. They wanted me to log into my account through Chrome ... I told them I would check with Amazon fraud myself and hung up. When I called the Amazon number on their website, there was no such activity associated with my account and they said this phone number was not theirs."
"Call from supposed Microsoft support that wants to help you with a problem with your computer. Their scam is to allow them to get control of your computer to help you and then have you sign on to Amazon or Walmart and while they keep you occupied, they order gift cards from those accounts and take your money. JUST HANG UP!"
Try and protect yourself from phone scams
Some important tips to help better guard against fraudulent phone calls, texts or emails:
Don't respond to the message. A response can draw attention from scammers who will attempt to convince you there's a "problem." Instead, directly call the company in question to check any fraudulent activity claims.
Don't click links. Links can potentially download malicious software, such as ransomware, spyware or a computer virus.
Don't provide personal information. Unless you have some previous dealings with the caller, be leery of providing any information—even the last four digits of your Social Security number.
Don't give anyone remote access to your device. Unless you contacted the company using a verified business phone number, don't hand over control of your computer.
Don't pay by gift cards. No legitimate business will ask you to pay by gift cards—it's a sure sign of a scam.
Methodology
We analyzed call complaints logged on a free reverse phone lookup tool owned and operated by BeenVerified for the period of Jan. 1, 2019 through Oct. 15, 2021. The total number of complaints examined was 293,946 ( 2019: 56,246; 2020: 114,032; 2021: 123,668). The scam topic percentages are based on the total number of complaints with categorizable comments (66,611, or 23% of all complaints). Data from the Federal Trade Commission was also used in this report.
For more information or press inquiries, please contact Kerry Sherin, pkerry@beenverified.com.
About BeenVerified
BeenVerified's mission is to help people discover, understand and use public data in their everyday lives. BeenVerified and our associated websites curate dozens of public data sources and proprietary data sets to give people easy and affordable access to billions of public records.