What is Reverse
Phone Lookup?
In today's world, a call from an unknown number rarely turns out to be a pleasant surprise. Should you answer it or let it roll over to voicemail? If you don't know who's calling, it's hard to know what to do.
BeenVerified's Reverse Phone Number Lookup gives you the power to search billions of data points to potentially find out who's behind those unknown calls. You might even uncover useful information about your caller, such as their location and address, age, email address and social media profiles, to help you decide whether to call the number back.
A reverse phone search works with cellphones and landlines, even if the numbers are unpublished or unlisted. Want to take the mystery out of your mystery caller? A Reverse Phone Lookup could be the answer.
How Reverse Phone Number Lookup works
Have you ever searched a phone number on your web or mobile browser? If you're lucky, you might get some information about the number itself from published data. Usually, though, you won't find out who's actually calling you. That's because search engines only list information the owner has made publicly available. If the number is unlisted, unpublished or attached to a cellphone, you won't find much information.
BeenVerified's Phone Lookup searches billions of public records for information associated with the unknown number. You might learn information about your mystery caller such as:
First and last names or aliases the person has & used age
Current address and address history
Email addresses
Social media profiles
Associated phone numbers
Possible relatives
You can use a reverse phone number search on both personal and business numbers to get the details about who may be calling or texting you.
Reasons to use Reverse Phone Lookup
A reverse phone search report does more than just tell you who may be on the line or whether you should return a missed call. BeenVerified has run more than 32 million reports for our customers for other reasons as well. Recognize yourself in any of these situations?
You're meeting someone from an online dating site for the first time. People aren't always honest in their dating profiles, but if you have a phone number, a reverse phone number search could help confirm key details about the person's identity.
You want to reconnect with an ex or old friend. You've lost contact over the years, but you still have a phone number. A phone search might uncover current contact information so you can get in touch.
You're an online buyer or seller and want to protect yourself. Use a phone number lookup to search for information about a prospective buyer or seller before you make an offline transaction.
You think you've found the perfect vacation buddy, but you want to be sure. Before you commit to traveling and staying in close quarters with someone you don't really know, conduct a phone search to give you helpful insights about your in close quarters with someone you don't really know, conduct a phone search to give you helpful insights about your
You see a call or text at odd hours from an unrecognized number on your partner's phone. You could angrily confront your partner—or you could check first to see if it's something totally innocent.
Reverse Phone Number Lookup and telemarketing scams
A reverse phone search is a powerful tool that may help arm you against the rise in telemarketer calls, robocalls and phone scams.
A Congressional Research Service report showed that robocalls, most of which are illegal, reached a record 4.1 billion in May 2018, a 41% increase since August 2017. That means each person in the U.S. may receive an average of 13 illegal robocalls per month. Some people are targeted even more frequently.
Nationwide Robocall Data
JUNE 2018 - MAY 2019

14.4
Avg. Calls Per Person
Source: YouMail Robocall Index
Even if you're on the National Do Not Call Registry, you're still not safe from robocall scams. The Federal Communications Commission (FCC) warns that scammers use "neighbor spoofing," an illegal practice that masks the caller ID to mimic a local number so consumers are more likely to pick up.
A 10-digit U.S. phone number has three separate parts: a three-digit area code, a three-digit prefix and a four-digit line number. Your phone number functions like a street address. Think of the area code like a ZIP code, identifying your geographic region. The prefix is similar to the street name in a physical address; it narrows down your specific neighborhood. The line number is like the house number, pinpointing one specific person or house.
A scammer using neighbor spoofing falsifies the caller ID to show an area code and prefix that matches the number he's calling. If you get an unknown call from a number that looks like yours, you might think it's a neighbor or local business on the line and take the call. That's what the scammer is banking on, anyway.
Here are some popular robocall scams to watch our for:
0% interest rates on loans or credit cards

Problems with your credit card

Student loan forgiveness

IRS issues with your tax return and/or tax refund

Free travel award

A preapproved loan that needs additional information
The Robocall Index, which tracks robocall volume by area code, shows that phone numbers with the following big-city area codes are targeted by scammers most often: 404, 214, 832, 678, 954, 917, 310, 210, 819 and 901, among many others. You may want to be especially alert to robocall scams if your phone number begins with these area codes.
Top 10 Area Codes Flooded by Robocalls
These are cities scammers, robocallers, and telemarketers targeted the most in May 2019.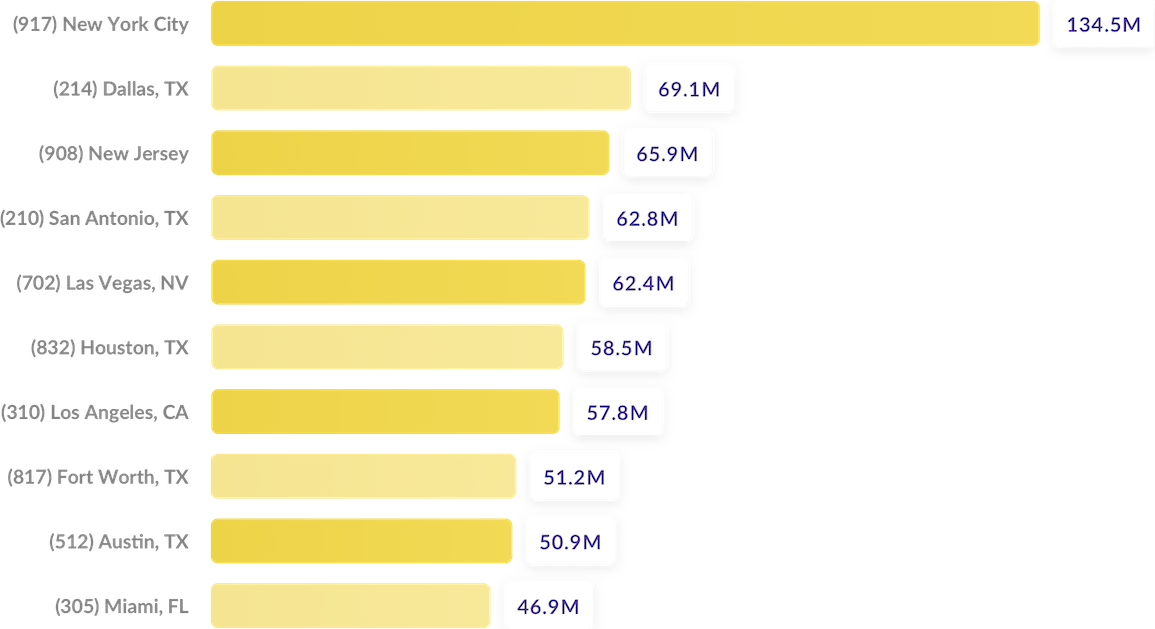 Source: RoboKiller
Prepare and protect yourself from telephone scams with Reverse Phone Number Search
BeenVerified regularly updates telemarketing and robocall data; an updated phone search report can potentially reveal if you're dealing with a scammer. If you are, you can flag the number to other users from your Reverse Phone Lookup report.
Unless you know and are certain who you're talking to, don't give out your personal information over the phone—and let BeenVerified help sniff out potential phone scammers.
How BeenVerified Reverse Phone Lookup can help
You need a phone number to do practically everything today—sign up for a store rewards card, make online purchases, apply for a credit card, enter a drawing or contest, and even download an app.
While you may not be keeping track of who you've given your phone number to, many businesses and telemarketers are keeping tabs on you. If you don't pay close attention to the privacy disclosures and opt-out procedures, businesses can—and do—sell your phone number and personal information to hundreds of different marketers. There's also the risk your personal data will be stolen by a hacker.
According to the Congressional Research Service report, there are roughly 250 million cell, landline and Voice over Internet Protocol (VoIP) phone numbers in the U.S. Consumers don't have the capacity to identify every incoming call and find important information about the people behind many of these unknown numbers.
But BeenVerified can help. You don't have to wonder who's behind every single one of those mystery calls you receive or if you're the target of a robocall scammer. Enter the unknown phone number and request a Reverse Phone Lookup report. With the right tools, you can take the guesswork out of an unknown caller and potentially uncover valuable information so you can better protect yourself.