If you're the proud owner of the latest iPhone or Android device, it's time to think about what you're going to do with your old phone. Sure, you could stash it in a drawer for "safe-keeping," but a much better idea may be to recycle your old phone so it doesn't end up contributing to the never-ending cycle of clutter in your home.
Wondering how to recycle old cell phones? The good news is there are a number of different ways to do so. Depending on which you choose, you could make some money or do a good deed for others in need. Here's everything you need to know about recycling old phones.
Why recycle your old phone?
Recycling old cellphones and similar electronics helps cut down on landfill waste. A 2017 United Nations report indicated that an astounding 50 million tons of landfill garbage is composed of "e-waste" (mainly discarded smartphones and computers), a practice that isn't just wasteful but dangerous as well. Electronic devices, such as smartphones, have parts that can leach chemicals when they sit in landfills. This can potentially filter into groundwater and surrounding soil. Electronic scrap accounts for 70% of the overall toxic waste currently found in landfills in the U.S.
Many companies and stores offer trade-in or recycling events for old cellphones, while others have drop boxes that accept items including phones and batteries. These are convenient ways to recycle old phones. Or, you could use one of the many websites that pays money for used cellphones (it's typically a nominal amount, but it's more than chucking your phone in the trash). Another option is to donate your used phone to charity, which lets you offload an unwanted device and helps someone in need at the same time.
Whichever option you choose, you'll want to make sure you wipe your phone clean before getting rid of it.
Before you recycle: Transfer your data
Smartphones carry a ton of personal information, so it's more important than ever to remove the data before recycling or donating it. "Even mobile devices that have been wiped can be hacked into by someone that knows what they're doing," said Joe Ferdinando, founder of HotHeadTech.com. "All your personal data could be exposed, like your Social Security number, bank account login information, credit card logins and more. You don't want that information in the wrong hands, so you need to take the proper steps before recycling a phone, tablet or computer."
Most cellphone users also store their contacts, photos and videos on their phones—all of which you'll want to transfer as well. If you've already purchased your new iPhone, Apple makes this process fairly seamless. You can use the Automatic Setup feature to transfer your old phone's data to your new phone, or you can back up data from your old phone using iCloud or even iTunes. Here's a helpful resource for how to do this.
Android users have a similar option for transferring data from your old phone. You can back up everything in Google Drive to switch data from one device to another. This step-by-step guide is a good way to ensure you don't miss any crucial steps.
How to wipe your smartphone clean
Now that you've successfully cleared all personal data off your smartphone, it's time to wipe it clean. How to wipe personal data off your smartphone depends on which type of phone you have—iPhone or Android.
How to wipe an iPhone
If you have a passcode on your iPhone (model 3GS or later), your phone is automatically encrypted for you. This is the first step in a successful data wipe of your phone," said Ferdinando. Go to the Settings app and tap "General" and then "Reset." You should see a warning message that your data will be erased.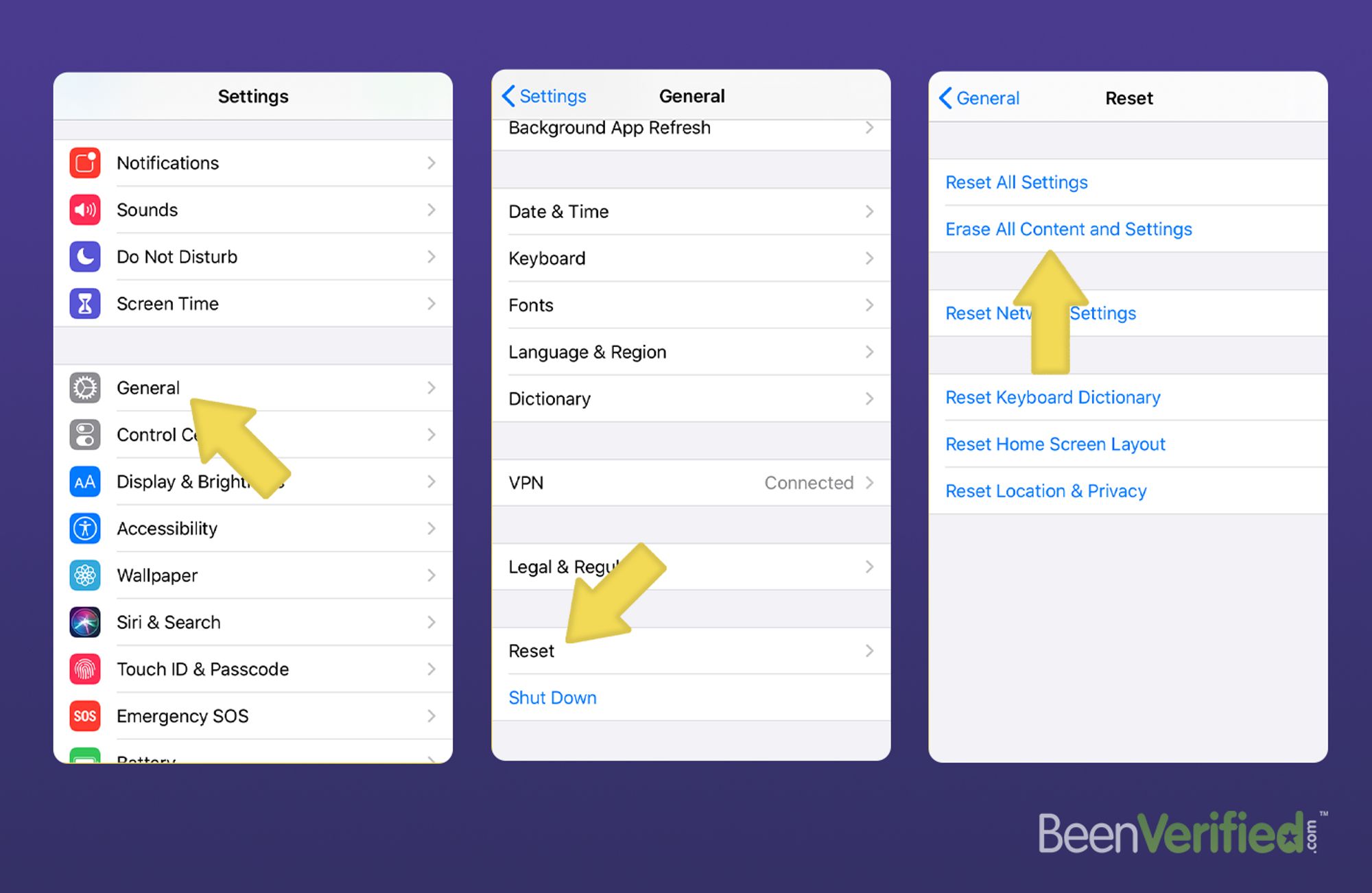 How to wipe an Android
Since Android phones don't yet offer encryption, you may need to purchase third-party encryption software for a full deletion of data from your Android phone. Make sure you have a PIN set, and then go to the Settings app. Tap "Security" and "Encrypt," and then you'll be presented with a warning screen that your device will need to be reset. Once your device is done rebooting, you'll have to enter your PIN to get back into your phone. Now, you can factory-reset your device and your phone is wiped.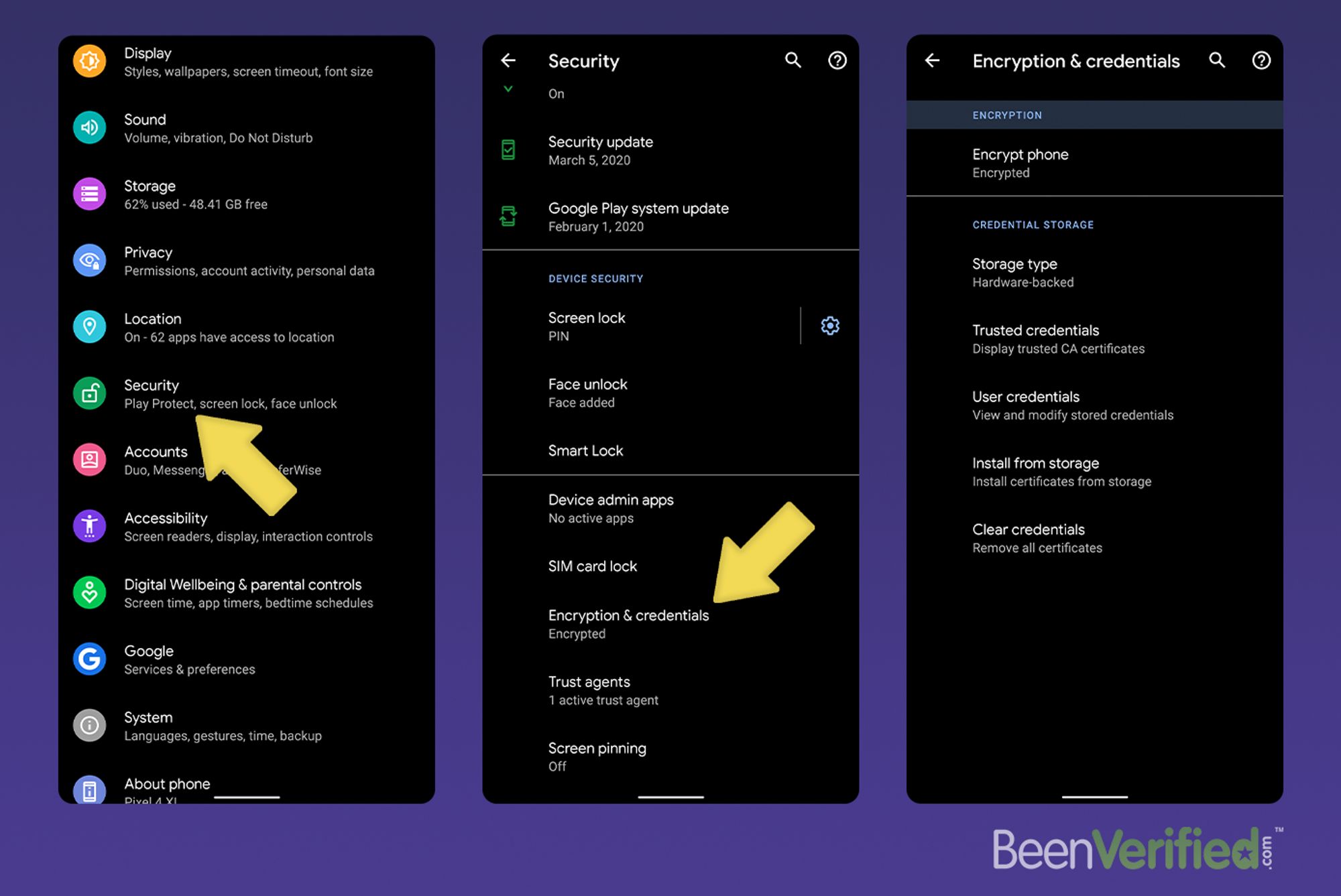 Can you donate your phone to charity?
When it's time to get rid of your old smartphone, the most altruistic option is to donate it to charity. Charities that accept smartphones include veteran's associations, domestic abuse and homeless shelters, and military establishments. Here are a few options to consider:
Secure the Call: This charitable organization takes donated smartphones, repackages them with a new battery and charging cable, then distributes them to members of the community who may need to contact emergency services. Typical beneficiaries include homeless or near-homeless residents and the elderly who live alone without a caregiver.
Second Wave Recycling: Depending on the age and condition of your phone, Second Wave will either recycle your phone for parts or donate the phone as is. Either way, it'll be used for good. The Wounded Warrior Project is the long-time beneficiary of this smartphone recycling program, which donates the proceeds from recycling phones.
National Coalition Against Domestic Violence: NCADV, which also accepts other electronics such as laptops, video games and chargers, is another charity that donates money received from its recycling program. According to the nonprofit, donations of old electronics raised $23,000 in 2018 alone.
Other ways to recycle your old phone
If you're hoping to make a few bucks off your used smartphone, there are several options from companies offering financial incentives to turn in your old device.
Apple Trade In Program: Looking to upgrade to a new iPhone? Apple will recycle your current phone for you and offer a credit toward your purchase of another Apple product.
Your mobile provider: AT&T, Verizon, T-Mobile and Sprint all offer credit for your old phone. A little bit of research can yield a decent price if you have a late-model trade-in.
Retail stores: Best Buy, Staples, Walmart and even GameStop will give you a store card for turning in your old smartphone or similar electronics.
TradeMore: An online service that offers cash for phones, TradeMore provides an online quote based on the specifications of your phone. A prepackaged box is sent to trade-in customers so phones can be shipped free of charge. Note: Offers tend to be slightly lower than those of retail stores and cellular carriers.
eBay: Of course, you could always sell your device on eBay, especially if you have a later model smartphone, which can fetch a decent price.
Conclusion
There are many ways to recycle old phones, so it's up to you to figure out which option makes the most sense for your device. Whether you decide to recycle, trade in or donate, there are companies and organizations that will take your old cellphone rather than letting the device wind up in a landfill.