The pandemic hurt many businesses, but for one industry, it has proven to be a boon: romance scams.
Romance scams initiated via text messages or phone calls in the 22 months after shutdowns began in March 2020 increased 197%, according to complaints logged into BeenVerified's Spam Call Complaint Monitor.
Romance scammers, who always prey on lonely people, are finding fertile ground for victims during the COVID-19 pandemic as social isolation measures increased and many American businesses and schools moved online. Some examples reported by victims since the pandemic started:
"Scammed out of $1,500—met on a dating site, then said she 'will teach me crypto (investing).'"
"Threatened me and my family. I had to pay $2,000 for 'bothering escorts.'"
"This is a scammer claiming they are [a famous porn star]. They have robbed me over $4,000…"
"I met Mr. Wilde on the dating site Plenty of Fish about a year ago. He charmed his way into my heart and before I knew him two weeks he was already asking me for money. Now, $52,000 later, I am destitute."
Romance scams are a growing threat
While there are more incidents of fraudsters claiming to be government officials from the Internal Revenue Service and Social Security Administration, or posing as well-known legitimate businesses such as Amazon, FedEx or Apple, the average losses from romance scams are much higher. The Federal Trade Commission reports that in 2020 the median loss from romance scams was $2,500, more than 10 times the median loss of any other type of scam.
BeenVerified's Spam Call Complaint Monitor uses self-reported data from victims who report suspicious numbers using our free reverse phone number tool. Users reported losses to romance scammers ranging from $100 to more than $50,000 since the pandemic began.
Top takeaways
Reports of romance scams have grown considerably during the pandemic: In 2020 and 2021, we received about 6,000 user complaints related to romance scams—more than double the previous four years combined.
Sex is most commonly mentioned in these scams, followed by dating sites and platforms, requests to meet up, sexting and text messages, escort services and threats from "pimps."
Tinder and Facebook are the most common dating sites or social media platforms mentioned in scams the past year, followed by Zoosk, Match.com and WhatsApp. Other sites mentioned include: Bumble, Plenty of Fish, Hinge, OKCupid, Grinder, eHarmony and BlackPeopleMeet.
When talk turns to money, gift cards are often requested as payment for these scams because they are difficult to trace.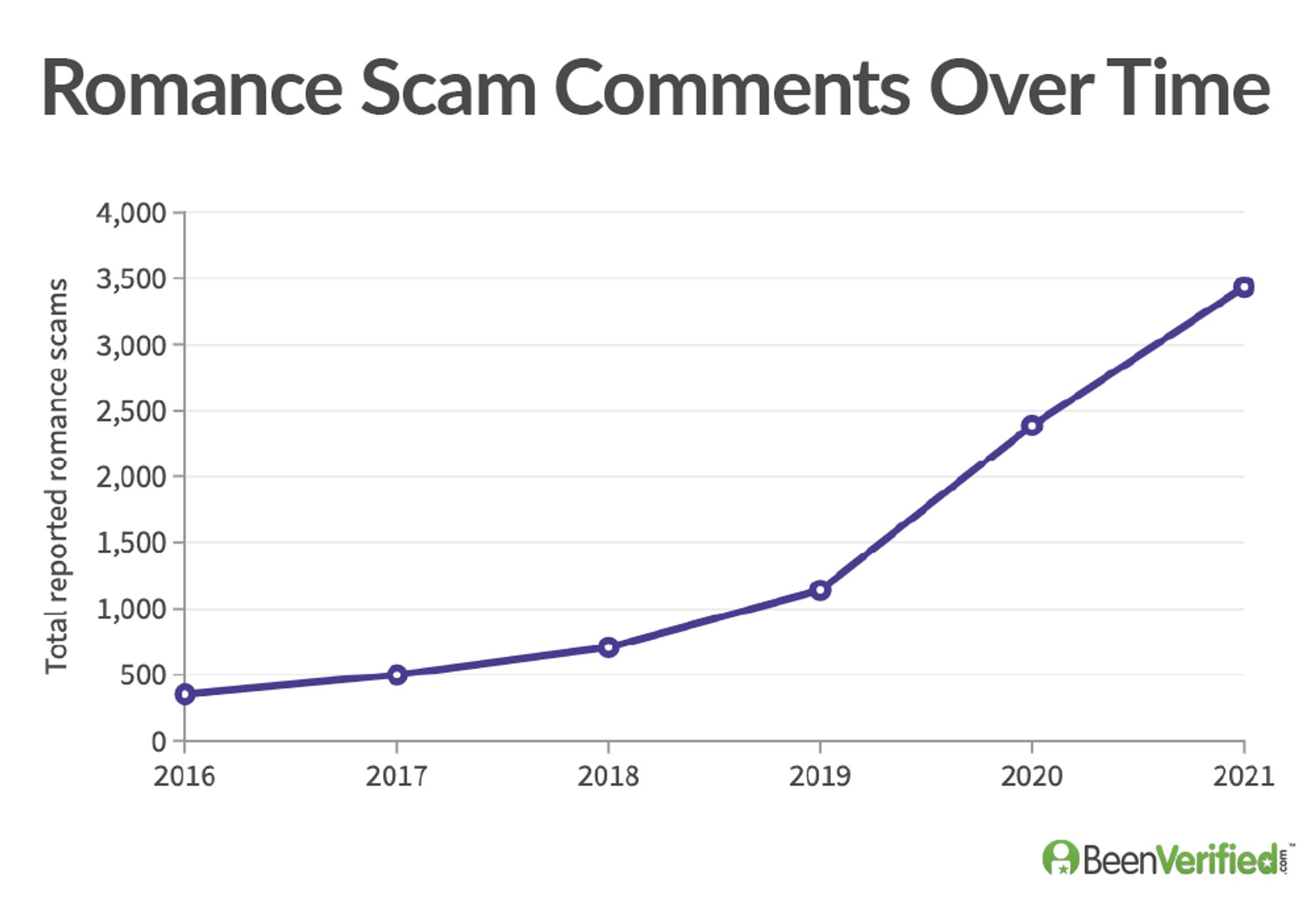 Dating sites, escort services are common lures for victims:

Tinder, Facebook are the most common apps used to entice victims:

Some common romance scams we're seeing in the past year:
Fake "wrong number" text

In this scam, victims are sent a text message claiming they chatted on a dating site and now are in town to visit a family member: Do you want to meet up? If the victim responds, the con expresses embarrassment for contacting "some random person."
***
"heyy r u Nikolai? im Liv, we texted on OkCupid before when I went to visit my grandma but we didn't meet 4 dinner. im back in the area 4 a minute if u still want 2 for sure meet up while I'm here, r u down 4 that?"
Replied "wrong #"
Then they sent a photo of a young woman and asked if I wanted to chat.
***
Shoulda searched BEFORE replying. I said wrong number, got 2nd text and selfie of woman.
Hey r u Hakeem? it's Sofia. we talked on Coffee Meets Bagel last time I went to see my mother but we didn't connect 4 coffee,, I'm back in the area for a min if ya wanted 2 truly meet up while I'm here, r ya up for that?
Whoa did I just msg a random dude? Whoa Apologies. Im such dumb sometimes…
***
Then the text quickly moves to sexting, sometimes sending pornographic images before sending a link to click—often a link to an escort service or pornographic site, users said.
That may set victims up to this next common scam:
Sextortion scam: Cartel "pimps" threaten blackmail, violence
In this scam, victims frequent a website for escort services or click on a text link for sex services. They then receive a text from a "pimp"—often claiming to be a member of a Mexican drug cartel—for "wasting time" of "his girls," asking for cash to avoid violence to self or family or threatening to send compromising messages to the victim's spouse.
To punctuate the threat, the text is often followed by grisly images of dead bodies.
Some recents comments from users on the BeenVerified Spam Call Complaint Monitor:
Threatened me and my family. I had to pay $2,000 for bothering escorts.
***
Claims that I wasted time with escorts. Sent mutilated images of dead bodies claiming they will harm my family.
***
Received this Life Threatening Extortion message, after sending text to a WHATSAPP cell #(530)563-6577, to respond to an Escort Sex advertisement . Did u receive this same message below??……
"Listen to me, My name is Armando Fernandez, The reason why I'm contacting you is because you played with the time of my girls which belong to the Cartel of Jalisco, now you and your family are in serious trouble. You only have 2 options, pay money or blood, which one do you prefer? Just tell me I have 5 of our best men on the way to the location of one of your family member, you made a mistake and they will pay for your fault with their life. you have to pay a fine of $1,500 to solve this situation and save the life of the people that you love, now tell me are you going to make the payment whether or not my guys just waiting for my call to make a bloodshed…
***
Escort service scams
Some users report approaching escort services for promises to meet, only to have their cash taken and communication cut off.
Some comments from users lured by this scam:
This girl scammed me out $1,500 selling dating service.
***
I contacted her through her personal ad claiming to be a escort and she totally wasn't even real! I got scammed out of a 150.00 apple gift card which I totally wasn't aware of how escorts didn't business at the time I thought that's how you had to pay them in order for them to come meet up!
***
Scammer. Escort that gets your money and doesn't show up.
***
Romance Scammer Escort Catfish - Beware! Do not send Cash App, or any other money.
I found an Escort that was unbelievable hot, and was duped into giving $100 for nothing. They advertised no limit sex for $300-400 and tell me that they have Pimp that needs money. Then, they ask for $25 dollars in Cab fare, then they ask for $50 for a pimp fee, so on and so on.
Catfish scams
Catfish scams—named after a 2010 documentary on the topic—occur when con artists create fake online identities to build relationships with victims before bilking them out of cash. For scams that begin on dating websites, they will quickly move the conversation outside the site and just as quickly profess their love. They often can't meet in person or claim they are serving in the military, working abroad or on offshore oil rigs.
Read more: 7 common signs of catfishing
Some users who suffered catfish attacks made these comments:
This is a scammer claiming they are [a famous porn star ]. They have robbed me over $4,000 using random numbers saying they are her.
***
This person has my husbands phone number, and what they do is send you porn pictures of different women, naked women, in exchange for GIFT cards, google cards, and so forth. My husband, who seems to believe he is talking to one of these naked women, is sending this person gift cards, up to $200.00 a week! WE are going broke, because he is supporting this big time scam artist! This person needs to be stopped, and put in prison for taking advantage of vulnerable people.
***
I met Mr. Wilde on the dating site Plenty of Fish about a year ago. He charmed his way into my heart and before I knew him two weeks he was already asking me for money. Now, $52,000 later, I am destitute. He took my entire IRA, all of my savings, and compromised 7 bank accounts of mine in an attempt to deposit fraudulent funds. He is a master at deception and disguise—his avenue of introduction is through a dating site, and he will then get you to trust him by telling you how much he loves you over and over again and how lucky he is to have met you.
Anatomy of Romance Scams: Common red flags
After meeting on a dating site, fraudsters quickly want to move the conversation off-platform to call or chat at the number provided.
The relationship often moves very fast—love is professed within a couple conversations or text messages.
Fraudsters sometimes avoid direct phone conversations, preferring text message or claiming issues with their phone, or have video chats with the camera off because of technical issues.
Sob stories are common, such as recently deceased family and loved ones, or an issue related to business or immigration difficulties.
Con artists often claim to be in the military or working a job abroad or on an offshore oil rig.
Requests for money come in the form of helping with a "crisis" or enabling a meetup.
Use of gift cards is often preferred for money requests.
You can see examples of all these points below from recent user comments:
This man will say he is a US soldier and works hard for his Country. He will profess he loves you very much and then will say he finally is able to come and meet you but then within few days is asking the woman to loan him $1,000 in transportation fees for the flight and then guess what phone is disconnected and he claims to have been in isolation. I have been told many times he would pay me back the money that he stated was a loan and each time nothing.
He conned me of $1,000 in ebay gift cards to fly here and each time he made me feel bad for him saying no one will lend him money and calling me selfish after I just sent him $500 and he kept on with his game until he got the $1,000 and I told him, "I know your a scammer" after he got so abusive and turned things around on me. No, I am glad he is gone…his loss.
***
She contacted me via the dating site Zoosk. She was very overly friendly and seemed to be very much sincerely looking for love. She proceeded very quickly. Said she couldn't talk on the phone due to a middle ear infection. She sent photos of a very attractive young woman with her breasts accentuated. She said she was traveling to Texas to inspect the goods shipped in for her textile business before she paid the balance. Sure enough within a week she needed a "LOAN" immediately. I was suspicious and disappointed that she turned out to be a scammer. We had never even met yet. It was clearly an elaborate scheme to extract money from an unsuspecting lonely man. Beware!
***
I am receiving text messages from the owner of this number. I met this person on a dating website. Then we communicated on Google Hangout. She asked me to purchase a phone for her. She asked me to send $25 Amazon gift card. She sent me photos. She could not send videos. We tried a Google Hangouts video call. I could see her but no microphone. When we spoke, she had a heavy accent. Her accent didn't match the pics I received. Scammer.
How to try to avoid romance scams
Do not respond to unprompted texts or related links. These are lures to try to eventually dupe victims out of cash.
Use reverse phone search tools. Many users who reported romance scams use the tool to see if others have noted the phone number is associated with fraudsters.
Use reverse image search and social media checks. Catfishers often use images of other people found on the internet for their fraud. People with little or no social media presence are also suspicious.
Do not send money or gift cards. Gift card requests are a big red flag that fraud is afoot.
Report bad actors to dating sites. If someone you met on a dating site has tried to grift you, let the company know so they can take further action.
Read more: How to outsmart a romance scammer
Methodology
We analyzed 8,500 call complaints and comments identified as romance scams logged on a free reverse phone lookup tool owned and operated by BeenVerified for the period of Jan. 1, 2016, through Dec. 31, 2021. The information was anonymously collected and self-reported by users. Information from the Federal Trade Commission was also used in this report.
For more information, contact Kerry Sherin, kerry@beenverified.com.
About BeenVerified
BeenVerified's mission is to help people discover, understand and use public data in their everyday lives. BeenVerified and our associated websites curate dozens of public data sources and proprietary data sets to give people easy and affordable access to billions of public records.