Move over, Social Security fraud. Capitalizing on COVID-19 pandemic precautions, the year's top cellphone text message scams entrap consumers with bogus missed delivery messages and potentially dangerous links. Such messages skyrocketed in 2020 and continue to threaten the unwary as the nation enters the holiday season.
Top takeaway
Delivery spam was the scam most often reported by consumers in 2020, according to the BeenVerified Spam Call Complaint Monitor. Nearly one in 10 of all reports received from January through mid-October were related to bogus delivery messages purporting to be from FedEx, DHL, the US Postal Service and other carriers.
"We first saw this scam explode last Christmas season, and with lockdowns, scammers found it to be a perfect playbook during the pandemic," said Evan Schlossman, a data analyst for BeenVerified.
Other key findings
The second-most common scam was Social Security calls and text messages claiming to be sent from the Social Security Administration that threaten benefit cuts unless victims call certain phone numbers or click links. A perennial threat, Social Security scams ranked first in 2019, comprising almost 9% of spam calls.
Rounding out this year's top five spam call and text complaints: credit card offers, debt-collection or consolidation schemes and insurance pitches.
Eighty-one percent of scams apparently originate from localities within the United States; area codes from California, Texas, Florida and New York show up most often.
Residents in Alaska, Delaware, Mississippi, Oregon and Wyoming receive the most spam calls per capita.
Delivery scams surge dramatically
Delivery scams are to be expected during periods of heavy consumer shopping, such as the holiday season. This year, because of COVID-19 restrictions, third-party deliveries will be a must for both personal shopping and gift-giving. Customers shopping online typically receive package-tracking details within their email receipts, but some are unaware of this information—or do not realize that shipping companies will not call them without citing a tracking number.
Social Security imposter scams still a threat
Social Security scams bilk victims out of millions of dollars per year. The most recent data puts the total at $19 million a year. In 2019, the median individual loss for Social Security-related phone scams was $1,000.
Spammers also played on money worries, dangling offers of credit cards and debt reduction as unemployment soared and Congress failed to authorize a second stimulus.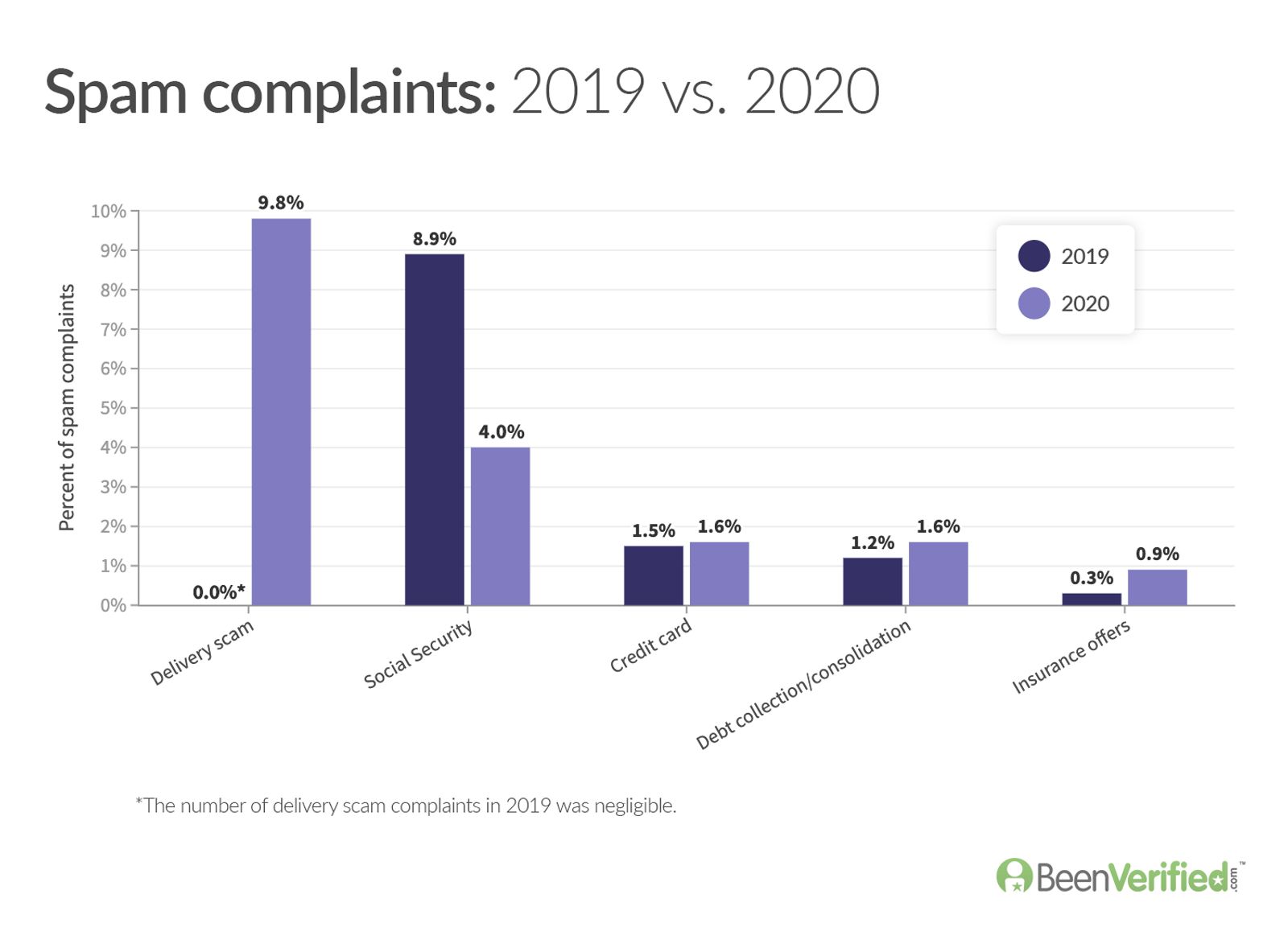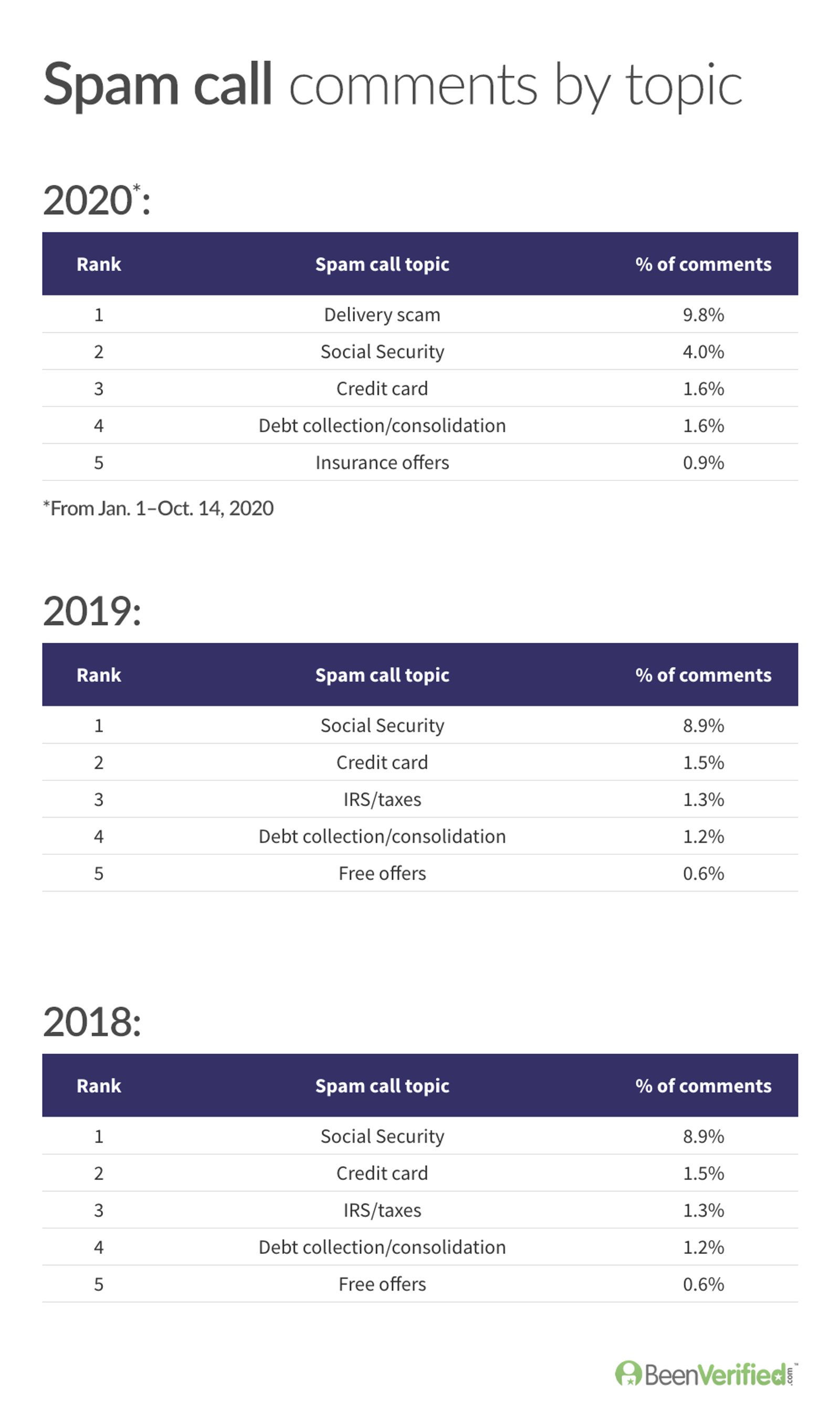 Most spam calls appear to originate within the US
Spammers will commonly mimic random phone numbers to avoid accurate identification, a trick known as spoofing. Using a fake number or area code from a target's home city or region ("neighbor spoofing") can help encourage the target to let their guard down.
More than four times out of five—81%—the caller IDs on spam calls represent local US area codes. Most of the remaining calls show toll-free codes such as 800 or 877.
Of the calls with location-based area codes, 43.9% of reported cases have codes from the four most populous states: California, Texas, Florida and New York.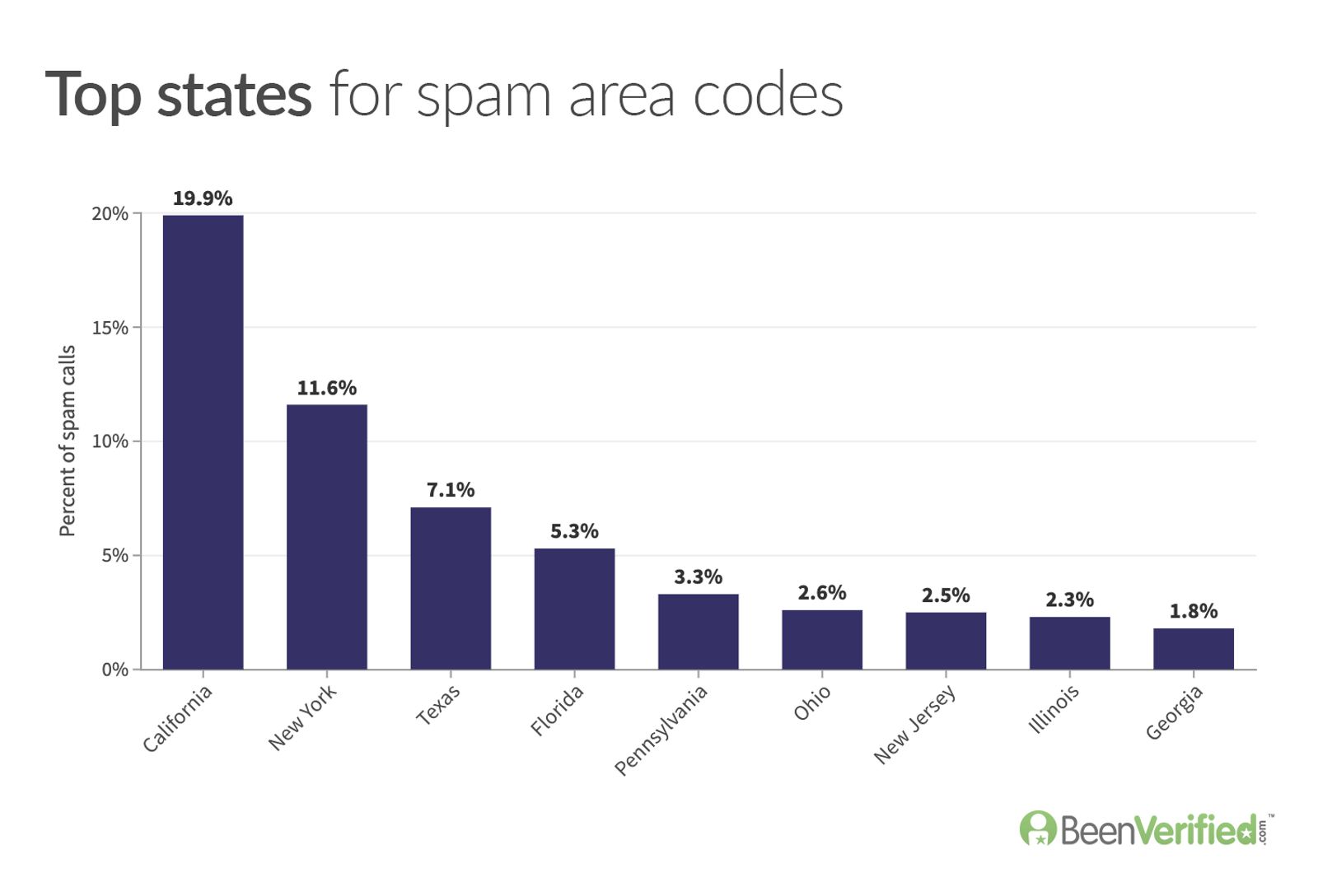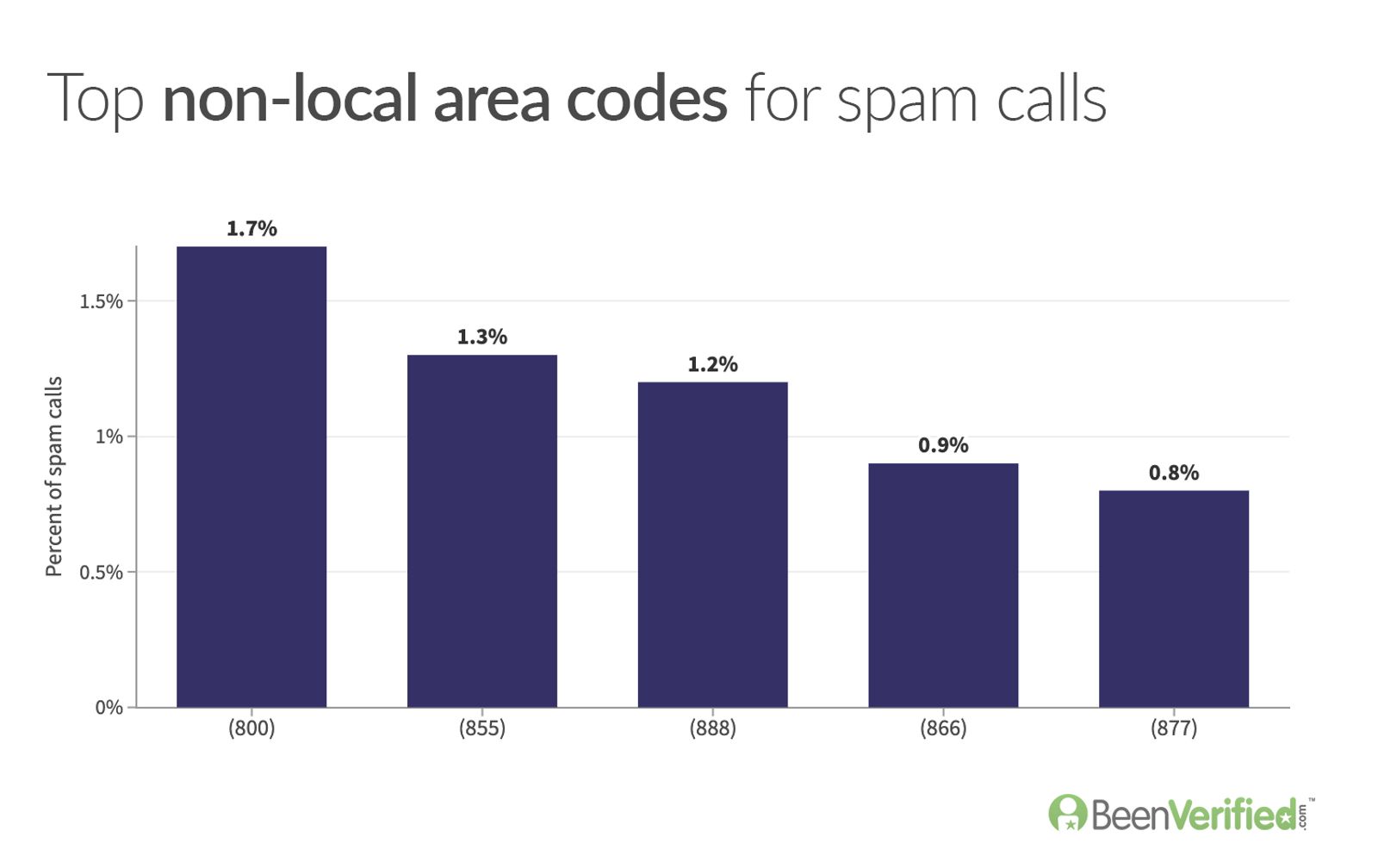 Top states receiving spam calls and texts
While California, New York and Texas are the top states of origin of spam calls, here are the top states on the receiving end of the most reported spam calls (per 100,000 residents):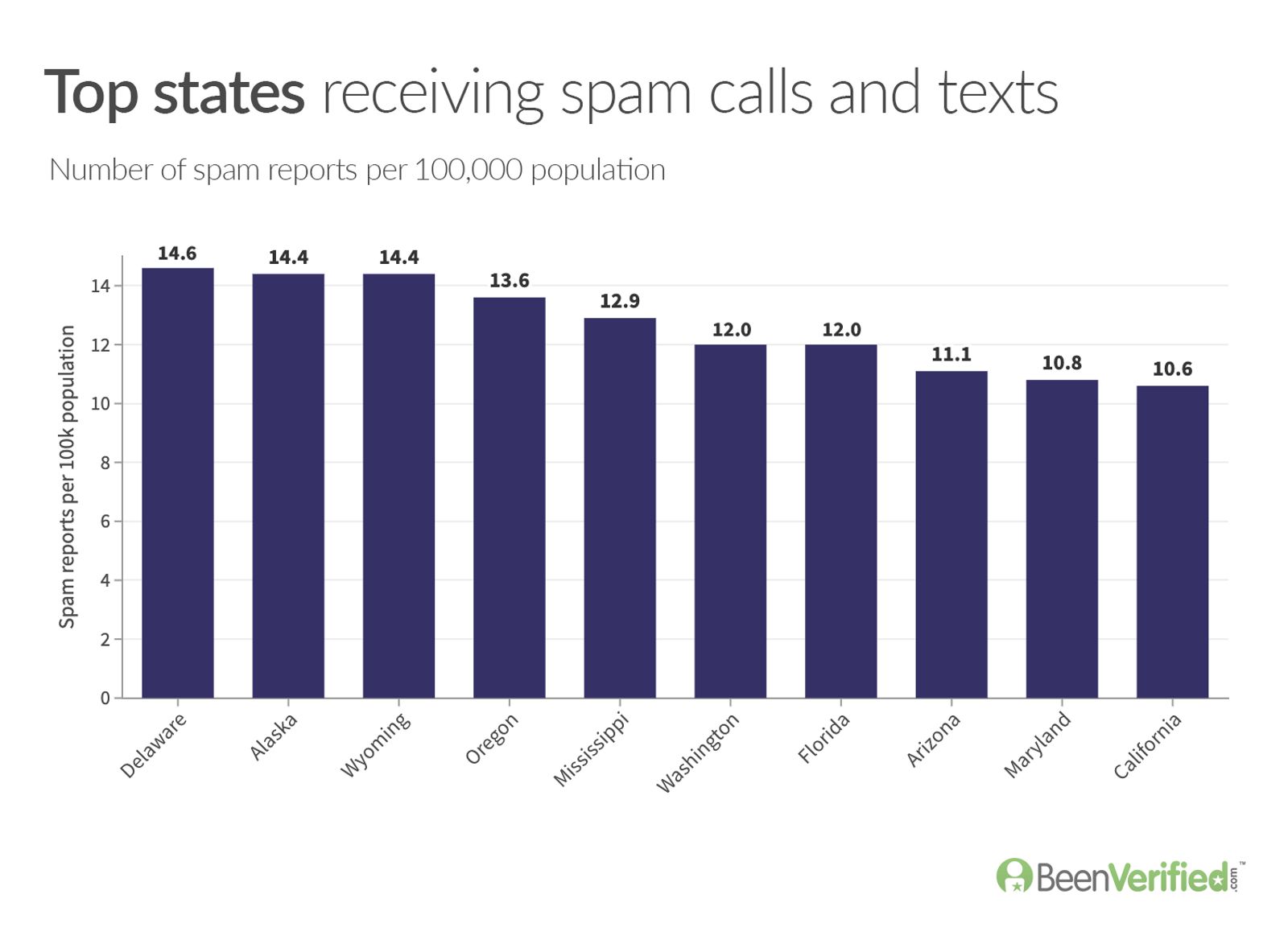 Protect yourself from phone scams
Information security experts cite some clear-cut principles for eluding fraudulent phone calls or texts. Here are the fundamentals:
Don't respond. Any response indicates to the scammer that they've successfully gotten your attention. They're likely to persist, claiming they're "trying to solve your problem."
Don't click any links. That "USPS" URL could be a trap—delivery scams often invite you to click a link in order to claim a parcel and end up asking you for a credit card number.
Don't give out any personal information. If you need information about a package or a payment, call the delivery company or government agency yourself. Never give an incoming caller identifying details about yourself—even the last four digits of your Social Security number.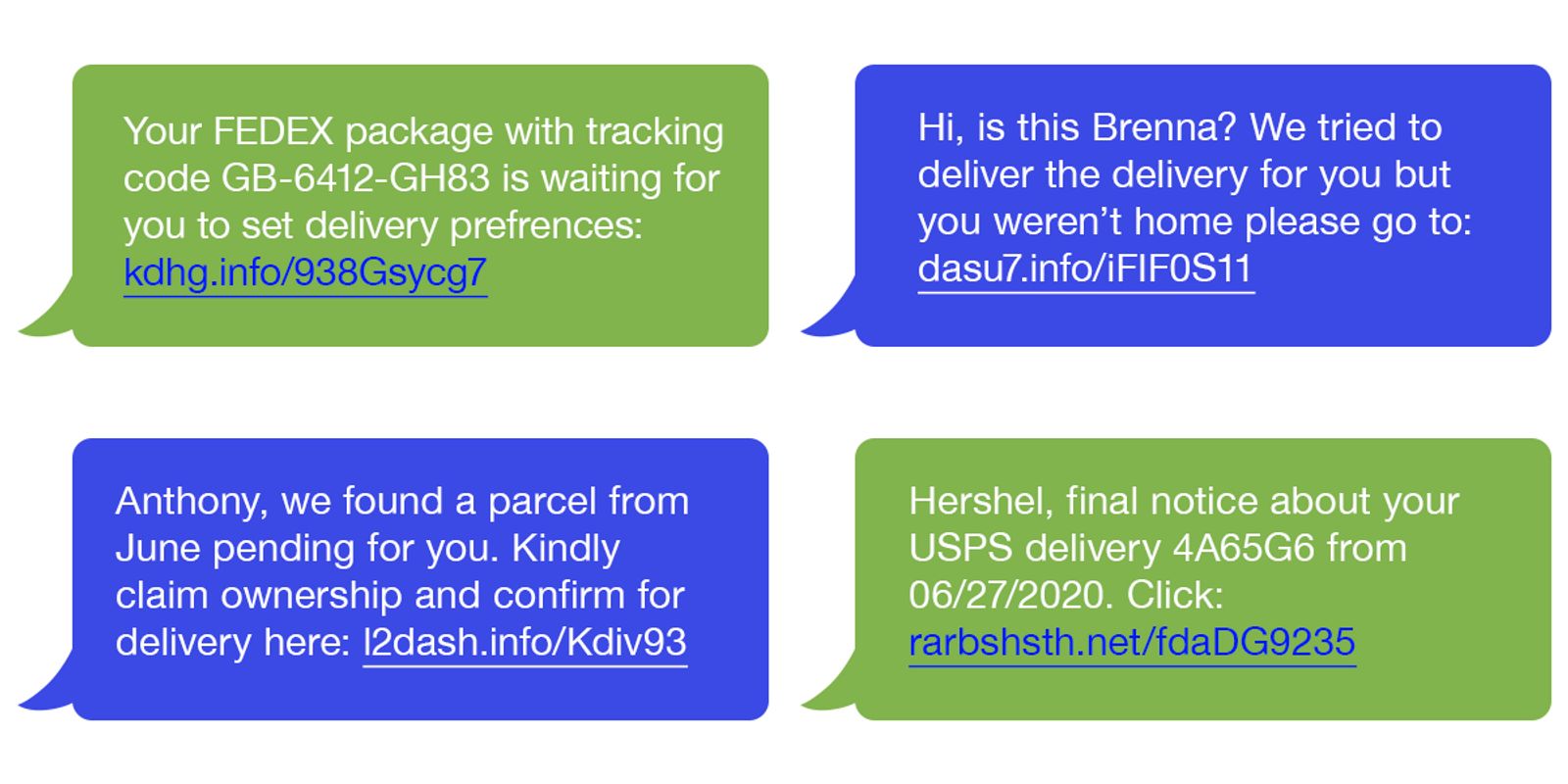 If you are targeted by scam calls related to government agencies such as the Social Security Administration or IRS), remember these facts:
The Social Security Administration or IRS would never call you on the phone to "confirm" your Social Security number.
The Social Security Administration won't call you at all unless you already dealt with them on a specific matter, such as a benefit claim.
The Social Security Administration does not "suspend" Social Security numbers.
The IRS never demands the use of a prepaid debit or gift card or a wire transfer, which is a common fraud tactic. The IRS also never elicits debit or credit card numbers over the phone.
The IRS generally initiates contact by sending a letter through the mail. After that, the agency may contact you by phone regarding overdue taxes.
Neither agency sends local police, immigration officers or other law enforcement agencies to arrest people for nonpayment.
Methodology
We analyzed call complaints logged on a free reverse phone lookup tool owned and operated by BeenVerified for the period of Jan. 1, 2018, through Oct. 14, 2020. The total number of complaints examined was 182,185 (2018: 52,824; 2019: 49,512; 2020, 79,849). Data from the Federal Trade Commission was also used in this report.
For more information or press inquiries, please contact Richard Gargan (richard@beenverified.com).
About BeenVerified
BeenVerified's mission is to help people discover, understand and use public data in their everyday lives. BeenVerified and our associated websites curate dozens of public data sources and proprietary data sets to give people easy and affordable access to billions of public records.