Scary phone calls are a staple of Hollywood horror films, but if an unknown caller claims to be a Social Security Administration agent, be very afraid. A fraudster may be on the line, trying to take your cash or your identity.
Alarming spam calls and messages from people claiming to be Social Security Administration agents skyrocketed in the first six months of 2019, according to BeenVerified's Spam Call Complaint Monitor. This rising scam unseats calls from fake IRS agents, which had been the No. 1 source of complaints during the previous three years, according to our nationwide analysis of more than 200,000 spam call reports.
Top take-away
Social Security spam calls skyrocket. Spam and robocalls from fraudsters claiming to be from the Social Security Administration accounted for nearly 10% of user complaint comments during the first six months of this year—a more than 23-fold increase in Social Security scam complaints compared to the first half of 2018.
Other key findings
IRS/tax scam spam calls have dipped. Calls initiated by people either initiating a tax scam or purporting to be IRS agents were the top source of spam complaints logged between 2016 and 2018. In the first six months of 2019, such complaints dropped to second place.
Scare tactics are common. Consumers targeted by Social Security, IRS/tax and bogus lawsuit calls report strong-armed tactics from the perpetrators, who threatened to arrest the victims, take their benefits or suspend their accounts.
Scammers tried to entice victims with prizes. When not scaring consumers, scam callers often try to attract them with promises of free goods or services. Common free offers include cruises, hotels, gift cards and iPhones.
Credit card offers are also a top complaint. Victims also commonly report robocalls about credit card offers, as well as debt consolidation and debt collections.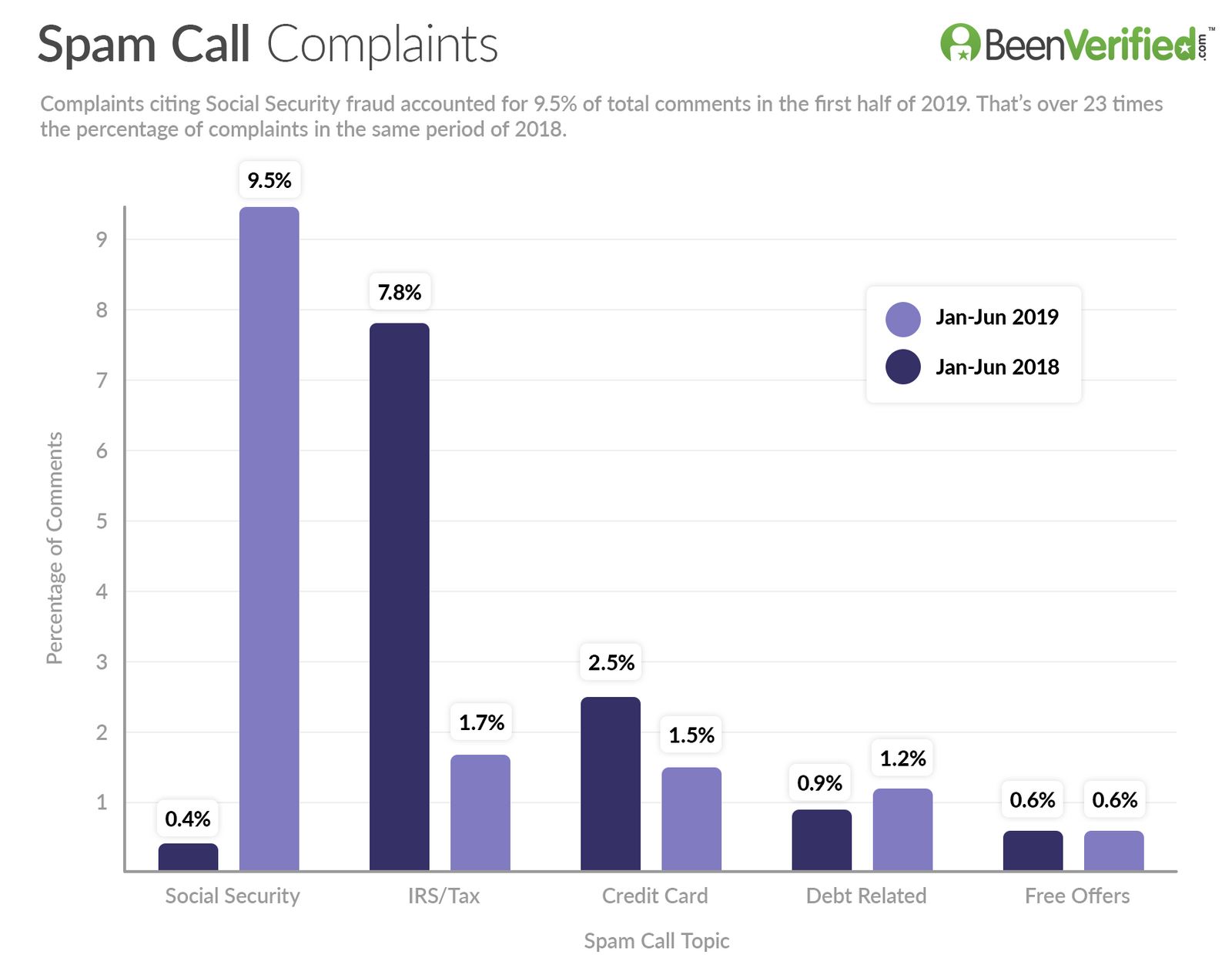 BeenVerified's Spam Call Complaint Monitor analyzed spam complaints from users who used our free reverse number lookup tool and opted to self-report details of unsolicited calls. Complaints were recorded from all 50 states from Jan. 1, 2016, through June 30, 2019.
"The Spam Complaint Monitor is a canary in the coal mine showing broad spam and robocall topic trends," said Justin Lavelle, a spokesperson with BeenVerified. "As the data is self-reported, the total numbers of complaints related to each of these spam call topics are almost certainly higher."
Our analysis found these were the top topics of call complaints among those who left comments: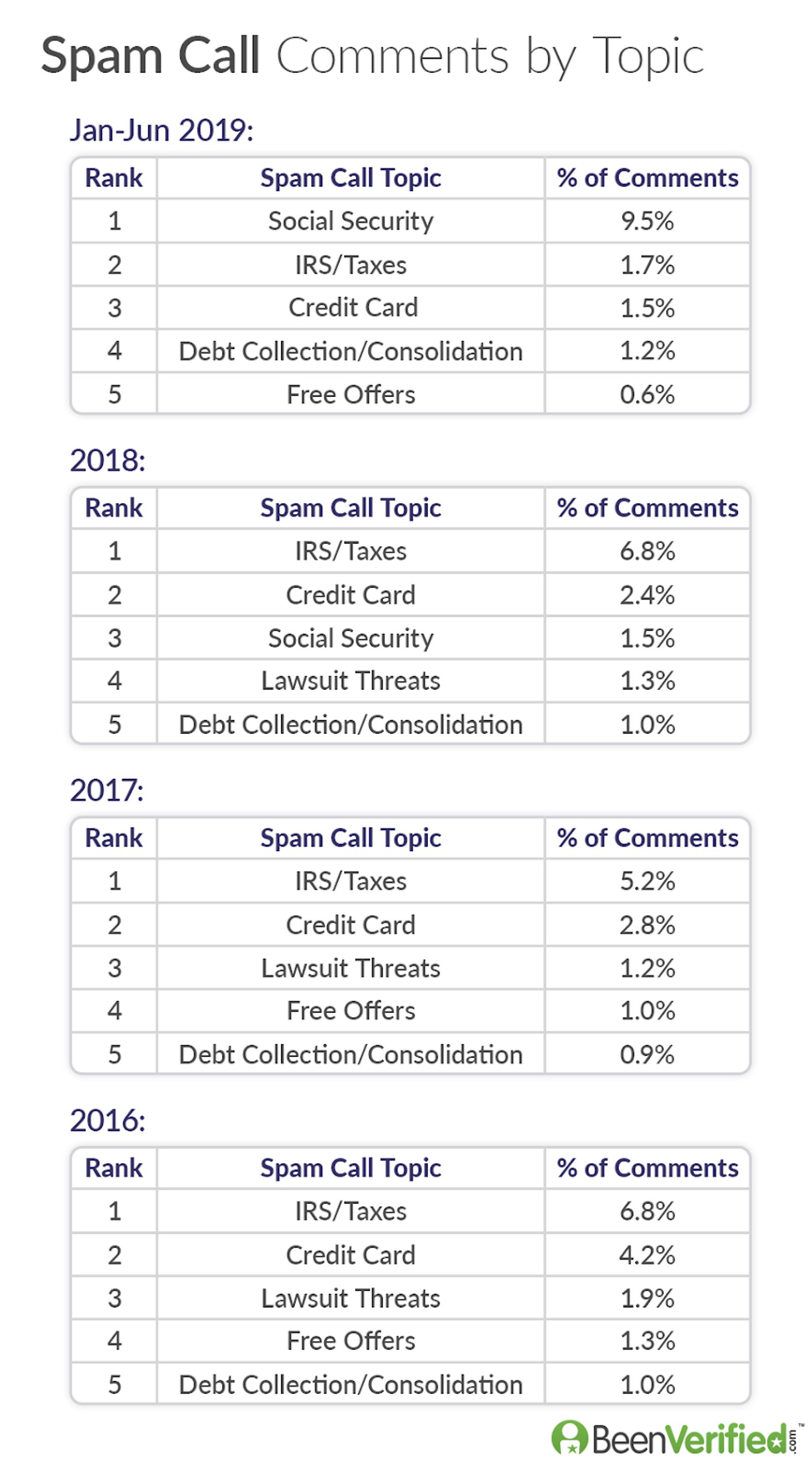 *See methodology for full details.
Some may merely be a nuisance, like robocall offers from credit card and mortgage companies. A perennial way to entice callers to respond is to promise free trips or products. Consumers report being offered free iPhones, hotel stays, cruises, vacations, gift cards, government grants, and even free solar and security systems. "Remember, if it sounds too good to be true, it probably is," Lavelle said.
But if the caller says they represent the Social Security Administration or IRS and they're looking to "verify" personal information, you'd do well to hang up—or potentially invite criminals into your life.
IRS scam complaints decline, Social Security 'calls' skyrocket
The BeenVerified Spam Call Complaint Monitor shows that one long-time scam—where callers claim to be IRS agents in order to trick victims into giving away personal information—has dropped significantly in the first six months of 2019.
Instead, scammers impersonating Social Security Administration agents—which garnered only 2.8% of complaints during the last half of 2018—more than tripled in the first half of 2019. "Scammers appear to be especially active during tax-filing season, when intended victims are more likely to be thinking about tax and Social Security issues," said Lavelle.
The results from the BeenVerified Spam Call Complaint Monitor mirror broader trends, as more than 76,000 Social Security scam calls were reported to the Federal Trade Commission in the 12-month period ending in March 2019, with losses totaling $19 million. Losses related to IRS scams peaked at $17 million for the 12 months ending in September 2016, the FTC reports.
Less than 3.5% of Social Security scam complaints to the FTC resulted in lost cash, but when victims take the bait, the losses are comparatively high. The median reported loss was $1,500 in 2018, more than four times higher than losses from all other frauds, the FTC reports. "It's clear from FTC and our data that the Social Security scam has greater potential for losses than previous IRS scams," Lavelle said.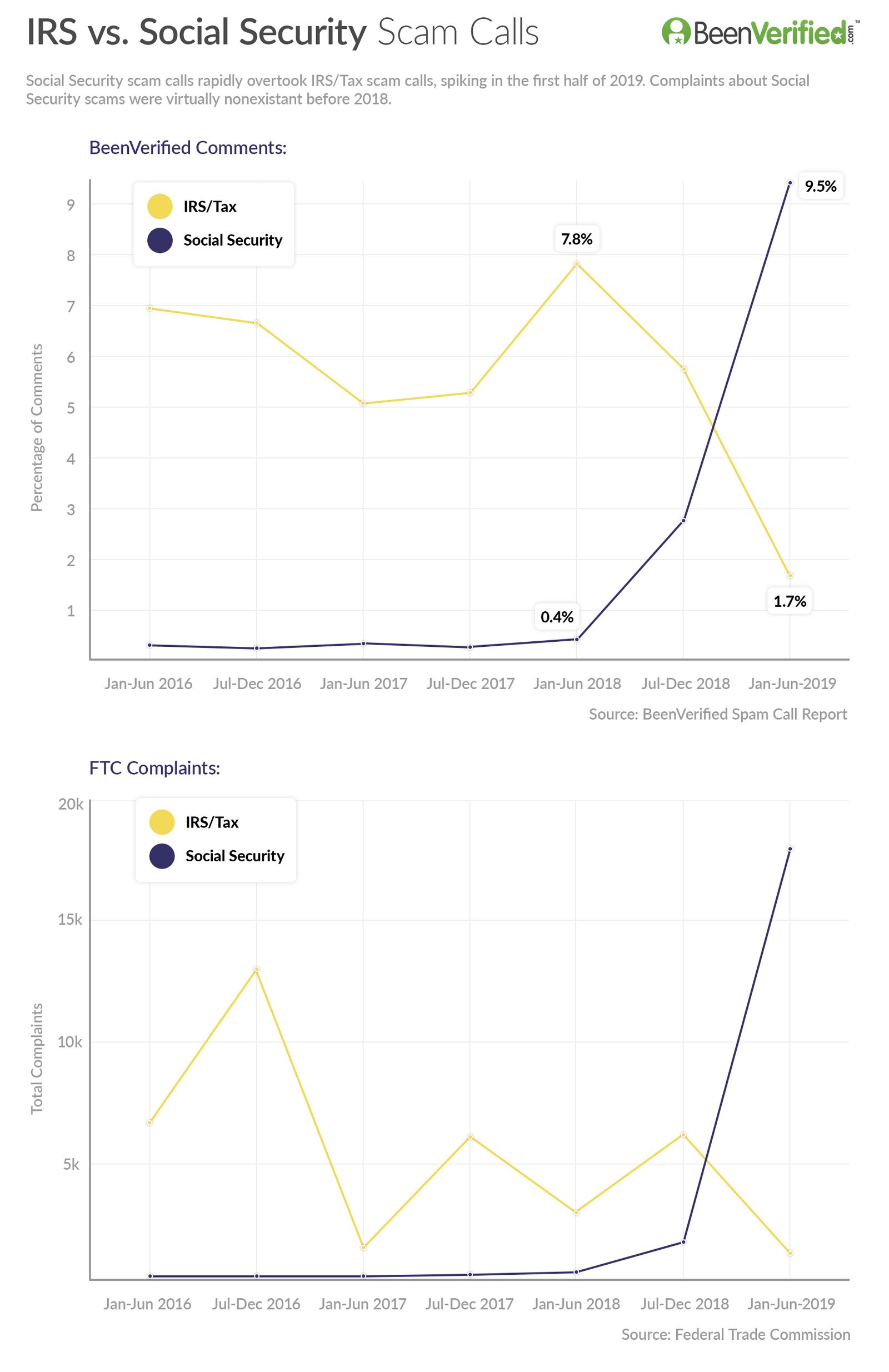 Scare tactics are common with spam calls
Fear is a prime motivator fraudsters use to try and lure victims into revealing identifying details, such as Social Security numbers and other information that could be used for stealing a person's money or identity. Users commonly report being threatened with arrests, lawsuits and accounts suspensions.
Examples of self-reported complaints from the first half of 2019:
"This number called saying he was a Texas Social Security officer and that my call was being recorded by the FBI. He wanted to know how I wanted to handle my charges of drugs and money laundering. [He was] ultimately seeking details of my bank account."
"This number called me. They threatened me if I did not contact them back, they'll suspend my bank account and my Social Security, take me to court, and arrest me."
"They threatened me with a lawsuit, and even gave a case number but would not send proof of said case and suit. Told me [that] to dismiss the case, I would need to send $500, and it would be removed from their database. If I did not pay they would take my house, vehicles, and any and all material possessions on the property."
Scammers also left threatening messages, such as:
"This message is from the legal department of the Social Security Administration. My federal badge ID is SSA 456. The purpose of this call is regarding an enforcement action, which has been executed by the U.S. Treasury against your Social Security number."
"Hello, this call is officially a final notice from IRS Internal Revenue Service. The reason of this call is to inform you that IRS is filing a lawsuit on your name because you had tried to do a fraud with the IRS Internal Revenue Service. And we are taking legal action and we are issuing an arrest warrant on your name to get more information regarding this case file. Just call us back at our department number XXX-XXX-XXXX. I will repeat it XXX-XXX-XXXX. Thank you."
"These criminals are adept at creating scenarios with just enough realistic details to instill panic and confusion, in hopes of extracting cash or personal information, such as your Social Security number," said Lavelle. "The key is to think twice before reacting to a threatening call."
Protect yourself from phone scams
Some important points to remember if you are targeted by Social Security scam calls:
The Social Security Administration would never call to "confirm" your Social Security number.
The Social Security Administration wouldn't call you, unless you've already been dealing with them on a personal business matter, such as a benefit claim.
The Social Security Administration does not "suspend" Social Security numbers.
"And we would never threaten anyone with arrest for crimes associated with their Social Security number," Tracy B. Lynge, communications director for the Social Security Administration, Office of the Inspector General, recently told BeenVerified.
To learn more, see "Social Security Scam Calls: How to Protect Yourself"
A common tactic among Social Security and IRS phone scams—as well as many other bogus calls—is spoofing, the practice of attempting to mimic legitimate government agencies or businesses by using fake phone numbers that appear to originate from Washington, D.C., or other seemingly legitimate locales.
Some important tips to guard against fraudulent phone calls, texts or emails:
Don't respond. "A response puts you in play for potential fraud," Lavelle said. "Don't take the bait."
Don't click links. Links can potentially download malicious software, such as ransomware, spyware or a computer virus.
Don't provide personal information. "Unless you have some previous dealings with the caller, be very leery of providing any information—even the last four digits of your Social Security number," Lavelle said.
To learn more, see: "What Is Spoofing? How Fraudsters 'Phish' for Cash With Fake Messages"
Methodology
We analyzed call complaints logged on a free reverse phone lookup tool owned and operated by BeenVerified from Jan. 1, 2016, through June 30, 2019. The number of complaints we examined totaled 213,106 [from 2016: 59,080; from 2017: 72,233; from 2018: 52,824; and from the first half of 2019: 28,969]. The scam topic percentages are based on the total number of complaints with categorizable comments (26,201 or 12.3% of all complaints). Data from the Federal Trade Commission was also used in this report.
For more information or press inquiries, please contact Justin Lavelle.
About BeenVerified
BeenVerified's mission is to help people discover, understand and use public data in their everyday lives. BeenVerified and our associated websites curate dozens of public data sources and proprietary datasets to give people easy and affordable access to billions of public records.