Just when consumers are getting more savvy about identifying robocalls, out comes neighbor spoofing, the latest strategy in the battle between you and the endless ring of unwanted calls. With this latest technique, a robocaller can appear on your caller ID as a number that mimics your own, right down to the area code and even the first three digits of your number. If you've been tricked into picking up, you're not alone. The number of neighbor spoofing complaints doubled in the first few months of 2018, and unwanted calls is the biggest complaint among consumers, according to the Federal Communications Commission (FCC).
With the number of nuisance calls U.S. consumers receive ballooning to nearly 4 billion per month, the FCC is pushing for the phone industry to adopt a call authentication system known as Stir/Shaken, which it believes may be the answer to combating phone spoofing.
What is Stir/Shaken?
Like James Bond's favorite drink, "Martini. Shaken, not stirred," Stir/Shaken is being touted as an elixir that will solve the collective headache of the telecom industry, the U.S. government and consumers: rampant robocalls. The catchy name is actually an acronym. "Stir" stands for Secure Telephone Identity Revisited, and "Shaken" is Secure Handling of Asserted information using toKENs.
How does Stir/Shaken work?
Stir/Shaken verifies that the number listed on the caller ID truly belongs to the person making the call. "[It] digitally validates the handoff of phone calls passing through the complex web of networks, allowing the phone company of the consumer receiving the call to verify that a call is from the person making it," said Will Wiquist, deputy press secretary for the FCC. Or, to put it another way, the telecom giants are finally working together to combat spoofed calls.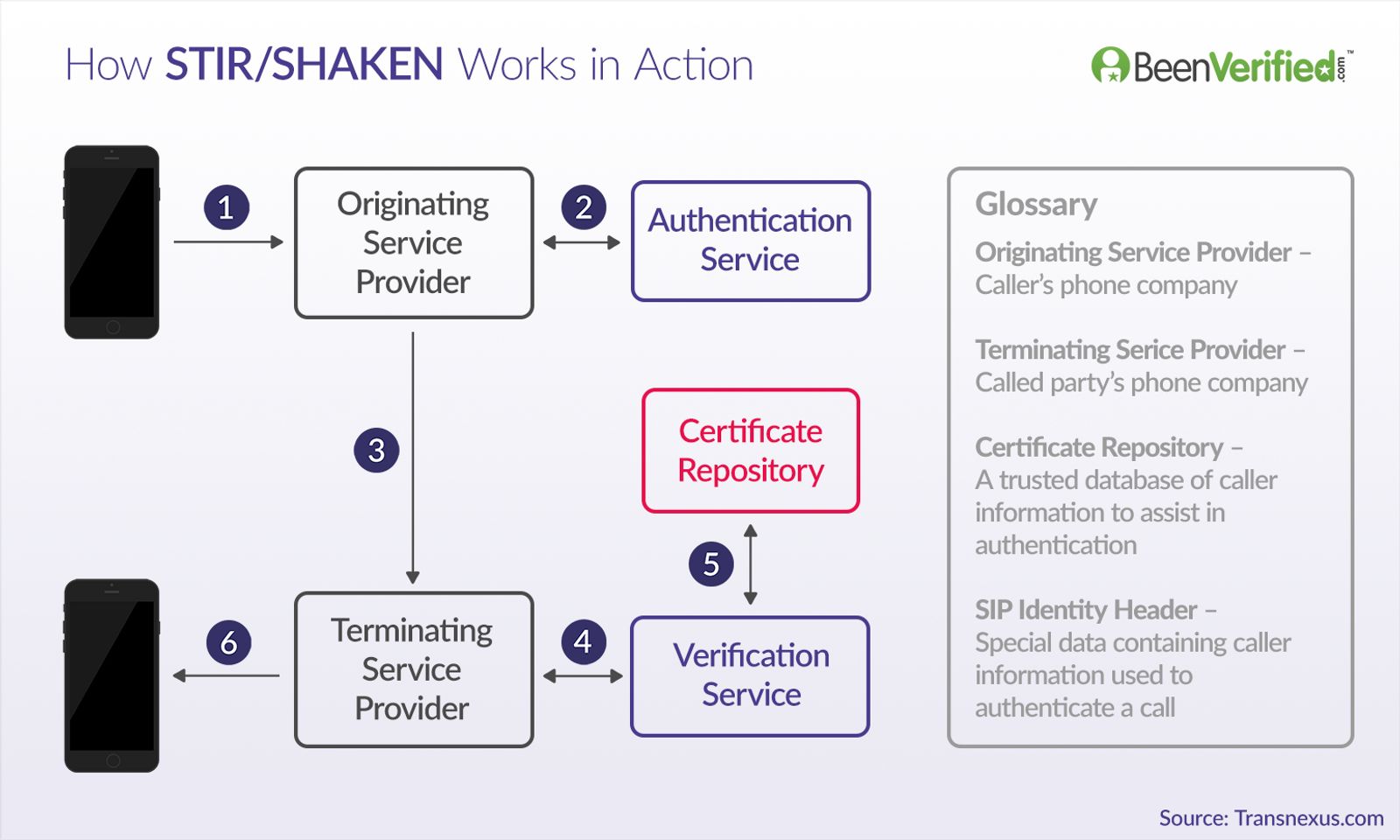 Progress is being made within the telecom industry to implement the program. In March 2019, AT&T and Comcast made history when they exchanged the first Stir/Shaken-authenticated calls. This opened the door for the duo to authenticate calls between their networks later this year. Over the coming months, other major service providers will perform similar tests. Wiquist said the FCC expects that by the end of 2019, Stir/Shaken will be implemented by the country's largest carriers, among them Verizon, T-Mobile and Sprint.
What can I do to stop robocalling?
Stir/Shaken promises to stave the onslaught of spoofed calls and robocalls, but consumers still need to be proactive. One way is to use a trusted reverse phone search to look up suspicious numbers. Also, resist the urge to call back one-ring calls, and follow the advice outlined by the FCC to avoid falling prey to phone scams:
Don't know; don't answer. Don't pick up calls from unknown numbers. If you answer such a call, hang up immediately.
Be aware. If caller ID shows a local number, it could be a real local call or just as likely be a spoofed call.
Don't press any buttons. If the caller, or a recording, asks you to hit a button to stop getting the calls, hang up. Scammers often use this trick to identify potential targets.
Say nothing. Do not respond to any questions, especially those that can be answered with "Yes."
Keep it private. Never give out personal or financial information, such as your Social Security number or bank and credit card account details, no matter who the person on the line claims to be.
Call back using an official phone number. If someone says he represents a company or a government agency, hang up and call him back using the number found on the organization's official website, not the number he provided.
Set a password for your voicemail account. A hacker could spoof your home phone number and gain access to your voicemail if you don't.
Report unwanted calls. If you use robocall-blocking technology, let the company know which numbers are producing unwanted calls so they can help block those calls for you and others.
Block telemarketing calls. Register your number on the Do Not Call Registry. If the calls keep coming, use a screening service from your provider or download a call-blocking app.
The bottom line
While the hope is that Stir/Shaken will put robocallers on notice for good, industry experts aren't so sure it will put an end to all the nuisance calls lighting up your phone. Your best bet will be to stay vigilant and use a variety of tactics to dial back the volume of spoofed and scammed calls you receive.