If you've seen a "Karen" incident that's gone viral, there's about a 1-in-4 chance the episode happened in either California or New York, a BeenVerified study finds.
"Central Park Karen" is perhaps the most infamous of these meme-making conflicts, where a white woman is shown in May calling the police on a Black man bird-watching in New York City's Central Park after he asked her to leash her dog.
Indeed, more than 1 in 10 "Karen" confrontations happen in public parks or other outdoor recreation areas, according to our examination of dozens of similar incidents across 33 states and the District of Columbia. Still, stores (20%), neighborhoods (19%) and public streets (13%) are the most common locations where these filmed conflicts occur.
BeenVerified analyzed 150 incidents over the past 2 ½ years in which white people were caught on video calling police or security on people of color for seemingly trumped-up crimes. The purpose of the analysis was to determine which states and environments these incidents are most likely to occur.
While the "Karen" meme recently morphed to describe filmed COVID-19-related outbursts regarding use of masks, we limited our analysis to episodes like "Central Park Karen" (and predecessors "BBQ Becky," "Permit Patty" and others) where white people made false or unwarranted calls to authorities, typically against Black victims.
Some of our top findings:
Top take-aways
California and New York are the epicenters of racist "Karen" incidents. Our analysis shows 17% of meme-making incidents happened in California, followed by 11% in New York. North Carolina and Georgia had the next-highest shares of viral episodes (5% in each case) followed by Florida and Ohio (4% each). In total, we found viral incidents recorded in 33 states and the District of Columbia.
Stores, neighborhoods and streets are hot spots for "Karen" calls. We found 20% of incidents happened at stores, followed by 19% in neighborhoods and 13% on city streets. Other common locations for incidents were outdoor recreation spots and restaurants (11% each), college campuses and school grounds (8%), residences (7%), and public buildings (6%).
These "Karen" callers are rarely arrested. "Central Park Karen," later identified as a 41-year-old executive at an investment management firm, was arrested on a charge of making a false police report in July. Although in some cases people have filed civil lawsuits against establishments where employees made false claims, we found only a handful of incidents in which callers were actually arrested.
No "Karens" are actually named Karen. In our examination of recent news reports, memes and viral videos, we have yet to find a "Karen" who is actually named Karen—the same goes for the Beckys, Pattys, Gails, Chads and Kens. (See "Karen: A demographic profile" below.)
'Karen' incidents by state
"Karen" emerged as a popular nickname for an entitled, hostile middle-aged white woman, an aggressive busybody with 911 on speed dial for imaginary infractions—usually against a Black person just going about their day. But before "Karen" came into the lexicon, there were "Permit Patty," "Barbecue Becky," "Golfcart Gail" and other memes that often bubbled up from the hashtag "living while black" and other related variants ("birding while black," "banking while black," "campaigning while black").
For the purpose of this study, we focused on verified news reports since 2018, where raw footage was first uploaded to Facebook, Twitter or other social media platforms, and then subsequent articles written about the videos ricocheted across the social and mainstream media landscape.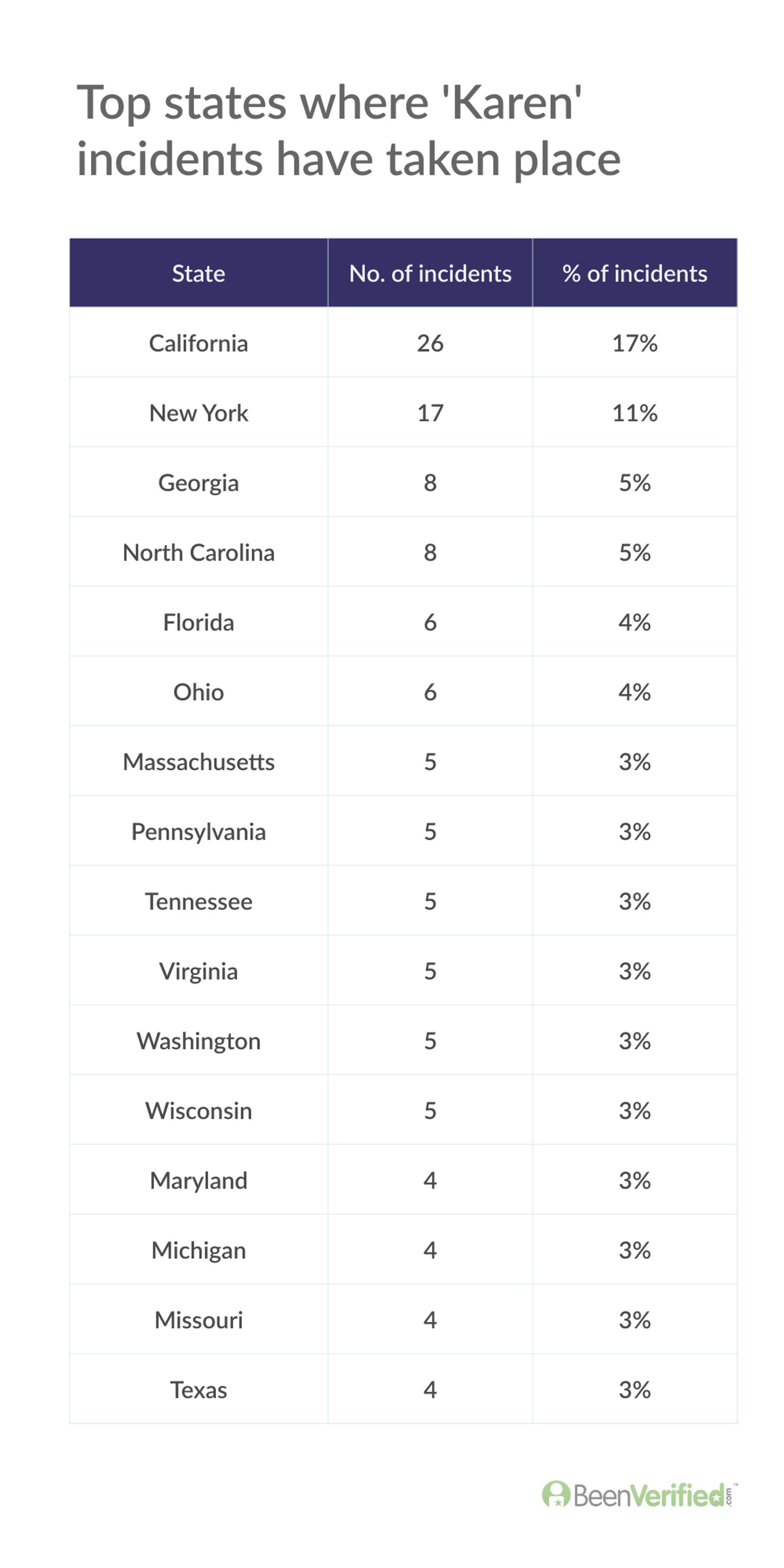 Our analysis shows that "Central Park Karen" is emblematic of where the "Karens" are: California (17%) and New York (11%) are, by far, home to the largest percentage of these types of viral events. Taken together, more than 1 in 4 incidents we analyzed happened in these states.
Other states that had five or more of these incidents since 2018 include: Georgia and North Carolina (5% each); Florida and Ohio (4% each); and Massachusetts, Pennsylvania, Tennessee, Virginia, Washington and Wisconsin (3% each).
Why are California and New York such "Karen" hotbeds? Population is one factor, but not the whole story—otherwise, we would expect Texas and Florida to have higher percentages. "Because California and New York are also both the media capitals of the nation—and perhaps home to more social media influencers—it could be incidents in these states have an outsized chance of being picked up and widely reported," said Richard Gargan, spokesman for BeenVerified.
Both states also are taking the lead in criminalizing this behavior. State lawmakers in New York passed new legislation in June against false race-based 911 calls, and lawmakers in California have recently proposed similar legislation against this type of "white caller crime"—but our analysis shows that arrests in these incidents are rare. Out of 150 incidents, there were only six related arrests.
Stores, neighborhoods and streets are 'Karen' hotspots
Our analysis of these fake threats finds there are 10 broad categories where racist "Karen" viral incidents are most likely to occur:
Stores (20%): False shoplifting complaints are most common, as well as other incidents, such as situations in which the police were called on victims for using "too many" shopping coupons.
Neighborhoods (19%): These incidents fall into a broad category that can be described as "What are you doing in my neighborhood?" and include incidents where Black delivery workers, lawn mowers and politicians canvassing constituents were subject to police calls.
Street (13%): Public streets and parking lots are also a top location where Black victims who are attempting to park or simply sitting in their cars result in 911 calls.
Outdoor recreation (11%): Like the case of "Central Park Karen," these are false 911 calls against Black victims using public parks and facilities, such as swimming pools, basketball courts and golf courses.
Restaurants (11%): Black victims are accosted in coffee shops, restaurants, fast-food drive-thrus and other eateries, often being asked to leave while sitting and waiting for others to arrive.
College campuses and school grounds (8%): Black students and professors had the police called on them while studying, eating lunch or walking across campus.
Residences (7%): Black victims had the police called on them while entering their own apartments or homes.
Public buildings (6%): Black victims were questioned and harassed while in city, state or federal public buildings.
Travel-related locations (3%): Black travelers had the police called while in airports or staying at Airbnbs.
Banks (2%): False 911 calls were made against Black customers attempting to cash a check.
"The common thread through all these incidents are people making false assumptions based on race, or taking advantage of those assumptions to make false claims to authorities," said Gargan of BeenVerified.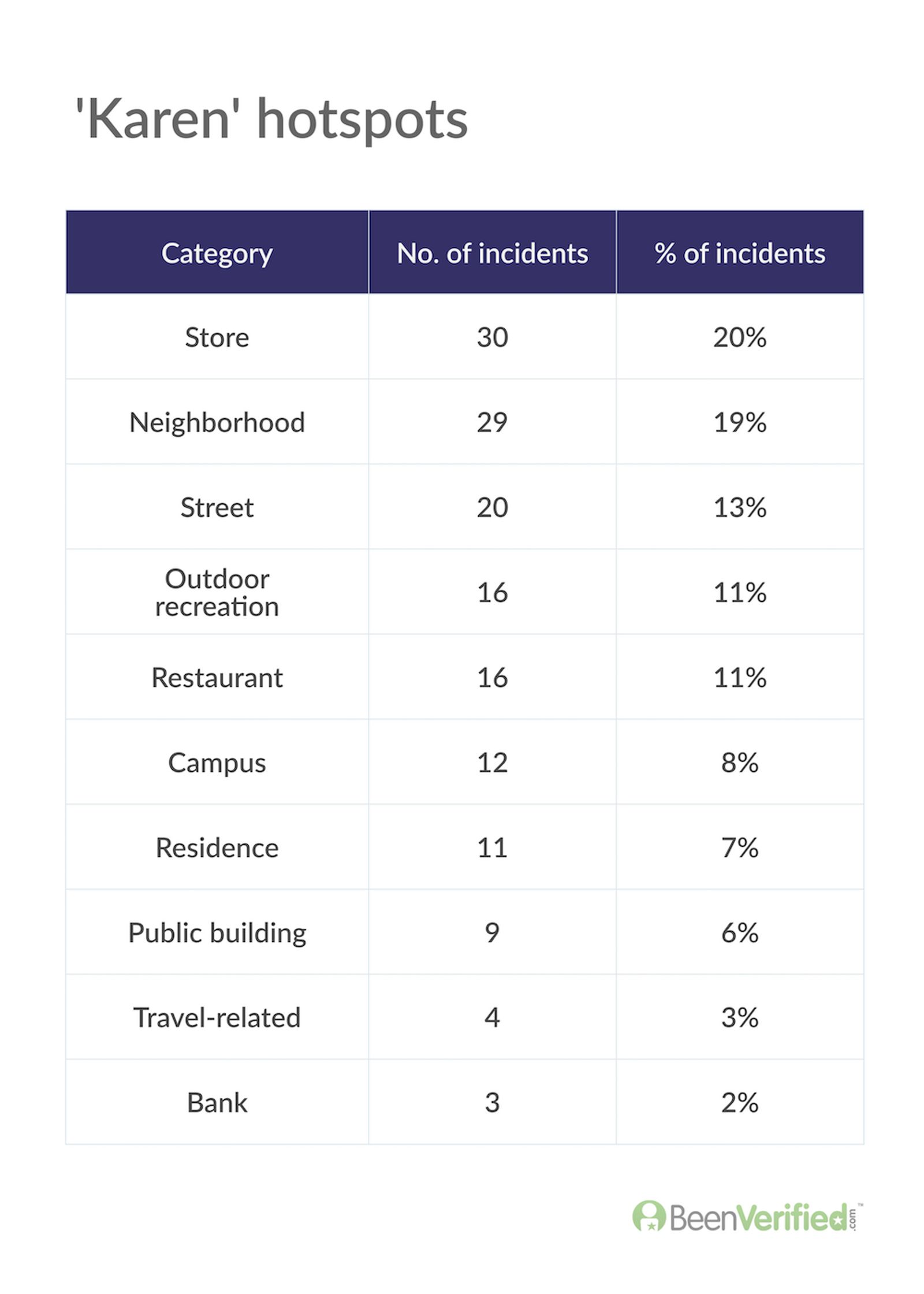 Karen: A demographic profile
All namesake Karens are right to feel they are being unfairly singled out—our examination of these incidents showed none of the perpetrators in these occurrences were actually named Karen (or Ken, Chad, Gail, Paula or Patty). But all the recent memes map to names that reached their height of popularity with the post-war baby boomer generation and early Generation X—people who indeed now are more likely to be middle-aged, as the stereotype suggests.
BeenVerified analyzed Social Security Administration records for all 50 states and Washington, D.C., going back to 1910 to look at the rise and fall of Karen as a popular baby name.
Some other Karen name facts:
The peak Karen era was 1954 to 1965. The largest cohort of Karens, numbering more than 40,500, was born in 1957. In that year, the name was fifth in popularity for baby girls. The name reached its peak of per-capita popularity in 1965 as the third-most popular baby name. In 2018, Karen was ranked No. 623 among girl baby names.
Most Karens are between ages 48 and 70. Between 1950 and 1972—the last year the number exceeded 10,000—more than 660,600 Karens were born. Those who are still alive are now between the ages of 48 and 70.
You're unlikely to meet a child named Karen. For the last 10 years on record (2009–2018), fewer than 8,000 babies were named Karen. For 2018, the SSA records show a mere 436 children were christened Karen.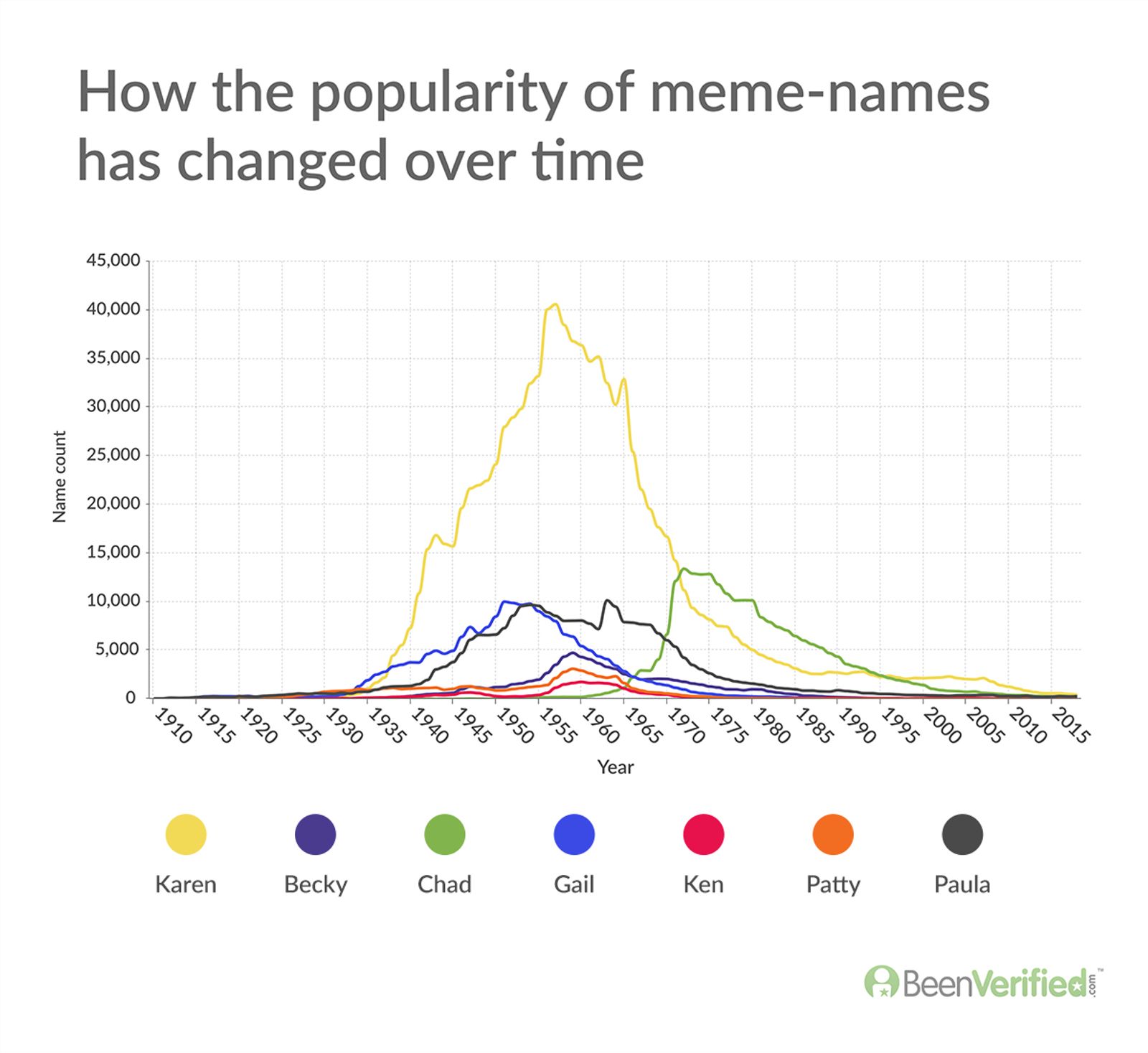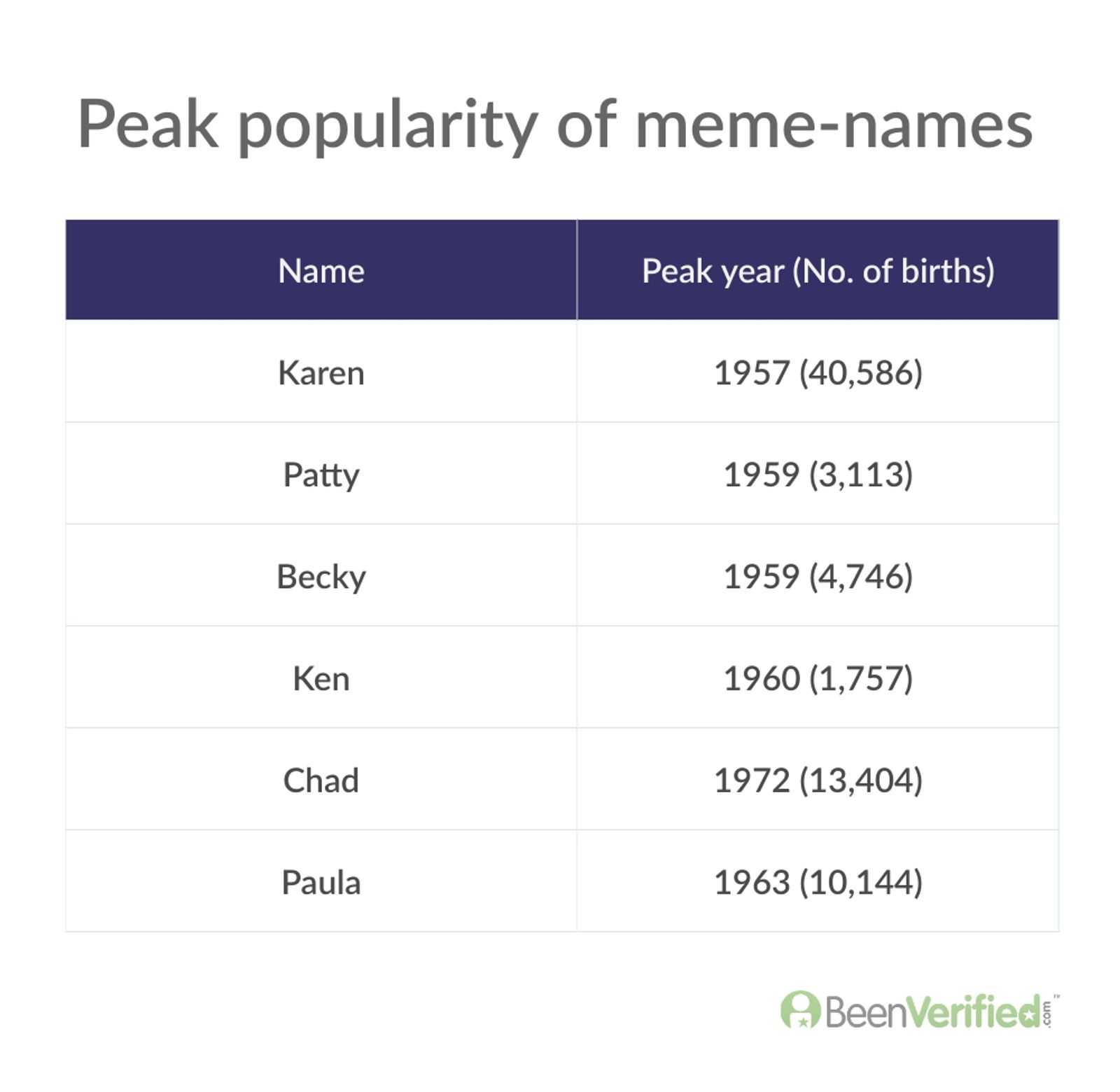 Methodology
BeenVerified combed through hundreds of press reports and social media incidents from January 2018 through July 24, 2020. The incidents were examined for the city, state and type of place where the altercations occurred. We filtered out all meme-making incidents that weren't related to false or unwarranted 911 calls or reports to private security staff.
For name trends, BeenVerified analyzed 311 million birth records from the Social Security Administration from 1910 to 2018, the last year for which records are available.
For more information or press inquiries, please contact Kerry Sherin, kerry@beenverified.com.
About BeenVerified
BeenVerified's mission is to help people discover, understand and use public data in their everyday lives through a number of services, including a people names search tool. BeenVerified curates dozens of public data sources and proprietary data sets to give people easy and affordable access to billions of public records.