What is the most common crime?
Nearly three out of every four crimes reported nationwide in 2020 fell into four groups: Theft, assault, drugs and property damage, according to an analysis of the most recent Federal Bureau of Investigation data by BeenVerified.
Fraud, burglary, motor vehicle theft, weapons violations, sex offenses and robbery round out the top 10 most common crimes in 2020, the most recent year for full-year crime statistics from the FBI.
The FBI categorizes all crimes into three broad categories: Crimes against property, crimes against persons and crimes against society. The top three US crimes for 2020 also represent the top offense in each of these categories (see below).
Here is the complete list of top reported US crimes in 2020, according to the FBI.
Most reported crimes nationwide: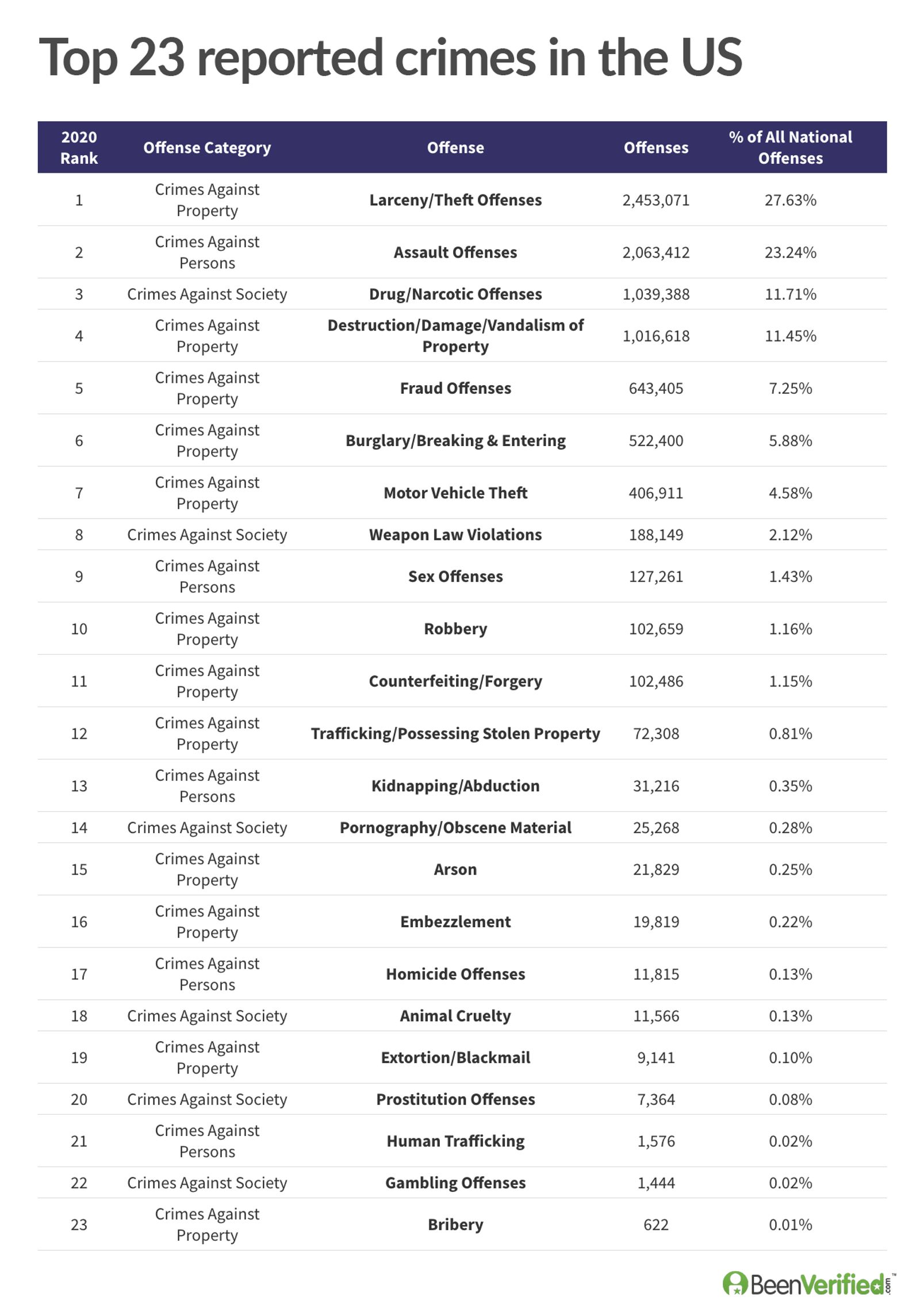 Larceny/theft No. 1 US offense: Crimes against property
The FBI's Uniform Crime Reporting Program categorizes the following crimes under larceny and theft:
Picking pockets
Purse snatching
Shoplifting
Theft from buildings
Theft from coin-operated machines
Theft from motor vehicles
Theft of motor vehicle parts and accessories
Note the FBI differentiates stealing items or parts from a motor vehicle versus theft of the entire vehicle (the seventh-most common crime in 2020, accounting for 4.6% of all criminal complaints that year).
Also, what is the difference between theft, burglary and robbery (the sixth and 10th most common crimes, respectively)?
Crimes categorized by theft and larceny above don't include forcibly entering a private home or business to steal items—that's considered burglary. But if the assailant directly confronts individuals—often with a weapon—to steal cash, wallets or other valuables, that's considered robbery.
Altogether, crimes against property are the most common type of crime, accounting for just more than six of every 10 reported crimes in 2020, according to the FBI.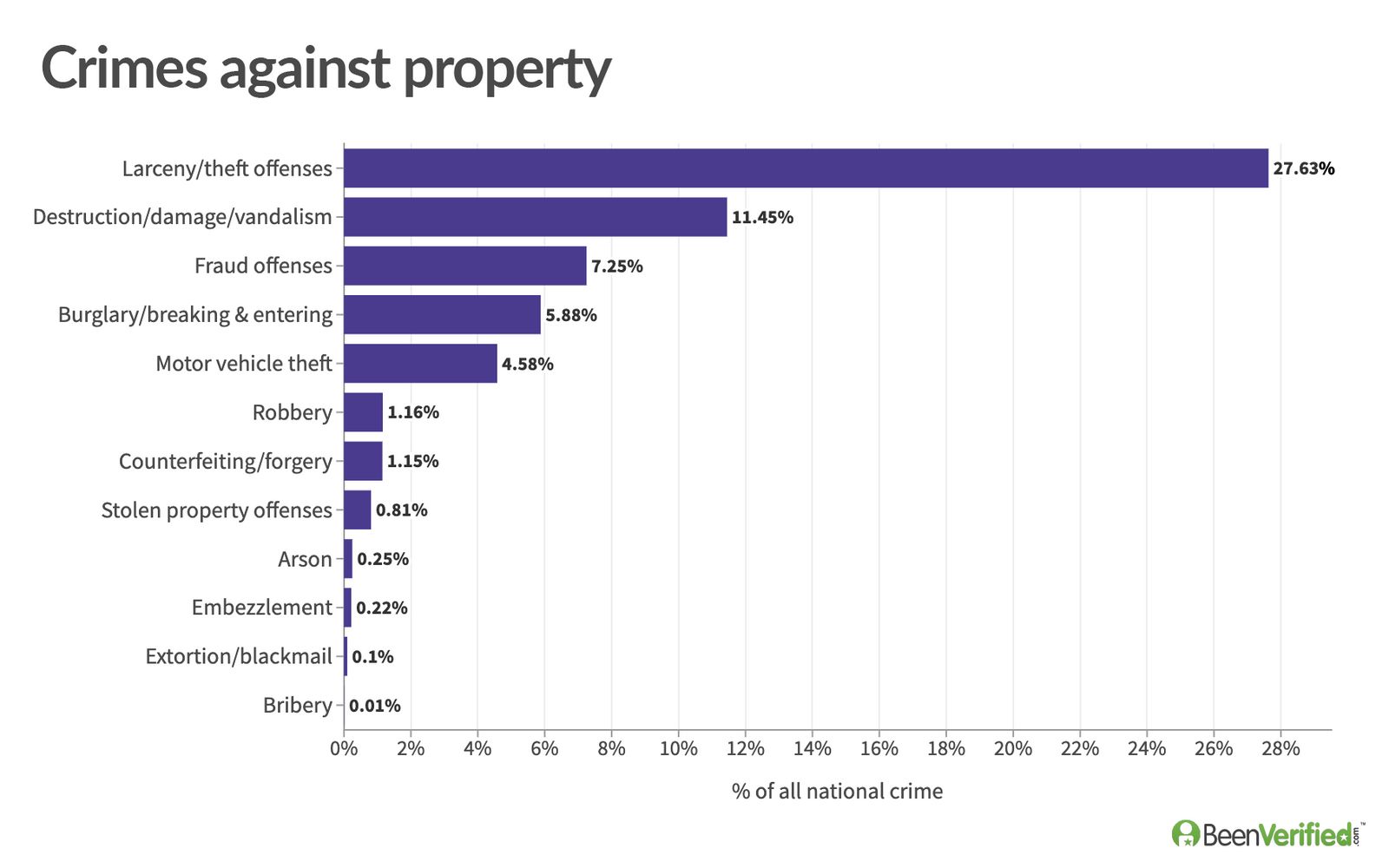 Assault No. 2 US crime: Crimes against persons
Striking other individuals—think barroom brawls or, during the pandemic, unmasked customers striking workers who note mask restrictions—was the second-largest crime in the US in 2020, accounting for 23.3% of all reported offenses, and the largest crime against persons.
Sex offenses were a distant second under the category of "crimes against persons," accounting for 1.4% of all crimes in 2020, the ninth-most common crime. While homicides may get a lot of media coverage, they (fortunately) accounted for only 0.13% of reported crimes in 2020 (No. 17).
Related: How to find out if someone is in jail
Together, crimes against persons account for just more than one-quarter of all reported US crimes.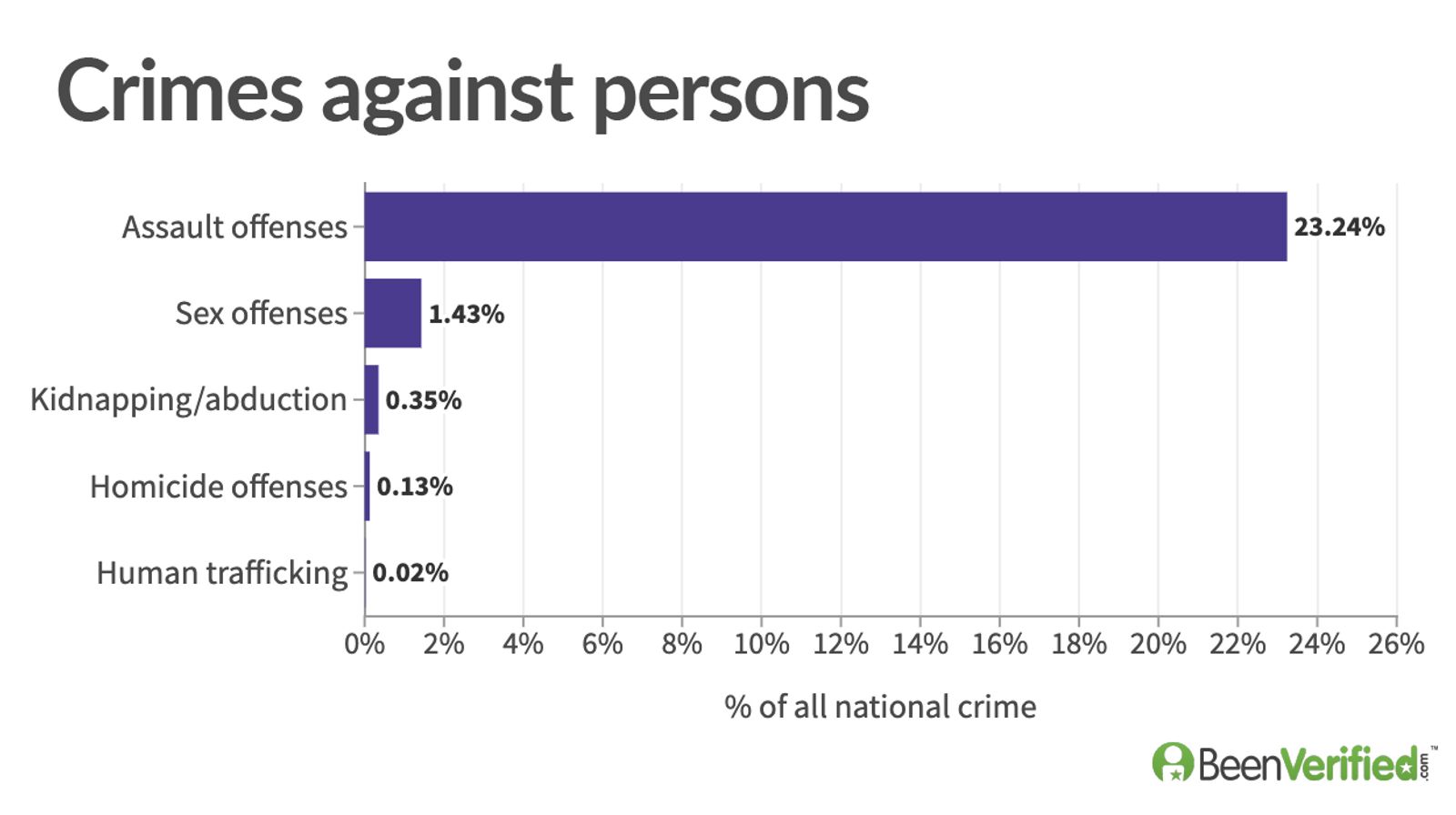 Drugs and narcotics No. 3 US crime: Crimes against society
Arrests for drugs and narcotics were a distant third for overall reported crimes in 2020, accounting for 11.7% of offenses. Unlawful weapons violations were second in this category with 2.1% of all reported US crimes in 2020 (No.8).
Animal cruelty offenses were on par with homicide rates in 2020, totalling 0.13% of all crime reports, according to the FBI.
Related: Search for arrest records
In all, these offenses against society accounted for just less than 15% of all reported crimes in 2020.