There are currently more than 2.5 billion active Android devices. Unlike iPhones, Android devices use an open source OS, meaning bad actors could potentially tap into its source code for ill intent. So if your device acts strange or runs slower than usual, it could be a sign your phone may be infected by malware.
Learning how to remove malware from an Android phone is something every Android user should know to better protect themselves from possible attacks.
How to tell if malware is infecting your Android phone
Malware is malicious software designed to damage your computer or mobile device. It can force your phone to download unwanted apps, charge you premium rates for unwelcome text messages or steal your personal information.
Malware can navigate you to web pages filled with ads designed with the intent to make cybercriminals money. It uses aggressive tactics such as displaying ads in your notification bar, creating search engine shortcuts on your home screen, and more.
Some of these apps might take your personal data and sell it to third parties. Worse yet, cybercriminals can lock your device or encrypt your personal data to extort money from you.
All this to say, the better able you can spot malware on your phone, the faster it is for you to be proactive.
Here are signs that your phone may be infected:
Poor overall performance. A phone that isn't performing well doesn't automatically mean it's infected with malware. But if your phone suddenly behaves differently—for example, it takes much longer to launch and load your apps—that could be a red flag.
Increase in data usage. Most malware relies on a constant connection to data (or to the internet). This spike in data usage means you could get a bill from your mobile company showing unusually high data usage.
Random text messages. You may receive the odd spam text message from time to time. However, if you find that you're the one "sending" the messages, especially ones with what looks like spammy links, this could be a problem. Another tip-off: your phone bill shows that your text messaging usage has gone up significantly.
Issues with call quality. Perhaps your calls get disconnected more often, even in areas where your mobile carrier offers coverage. Or, the quality of the calls is suddenly poor. These could be signs of a malware issue.
Poor battery life. When your battery drains quickly (more than usual), it could be a sign that malware is using power to attack your phone. It's customary for your battery lifespan to degrade over time, but if the battery usage is unusual, you'll want to get it checked out.
None of these signs is definitive that malware is on your phone. To make sure, you may want to run an antivirus scan on your phone.
How to remove malware from your Android phone
If you know or strongly suspect that your phone has been infected with malware, there are a few things you can do.
First you can try to remove malware using antivirus software. There are both paid and free apps that can help. You can start with Android's Google Play Project, though detractors say it's not as effective as it claims to be. Each antivirus software will have its own instructions on how to remove malware. In general, most softwares will scan your phone, let you know of any possible issues and offer to remove them.
Otherwise, here's how you can remove malware manually:
Switch to Safe Mode. Switching to "Safe" or "Emergency Mode" can help to limit the damage malware can do to your cell phone. Although each Android model is different, with most devices you can switch to "Safe Mode" by holding down the power button for a few seconds when your phone's on. Then you'll want to tap or hold on to the power off button. You should then see a few options, including one to restart in "Safe Mode." Otherwise, switch your phone to "Airplane Mode" to limit the malware from doing any more damage.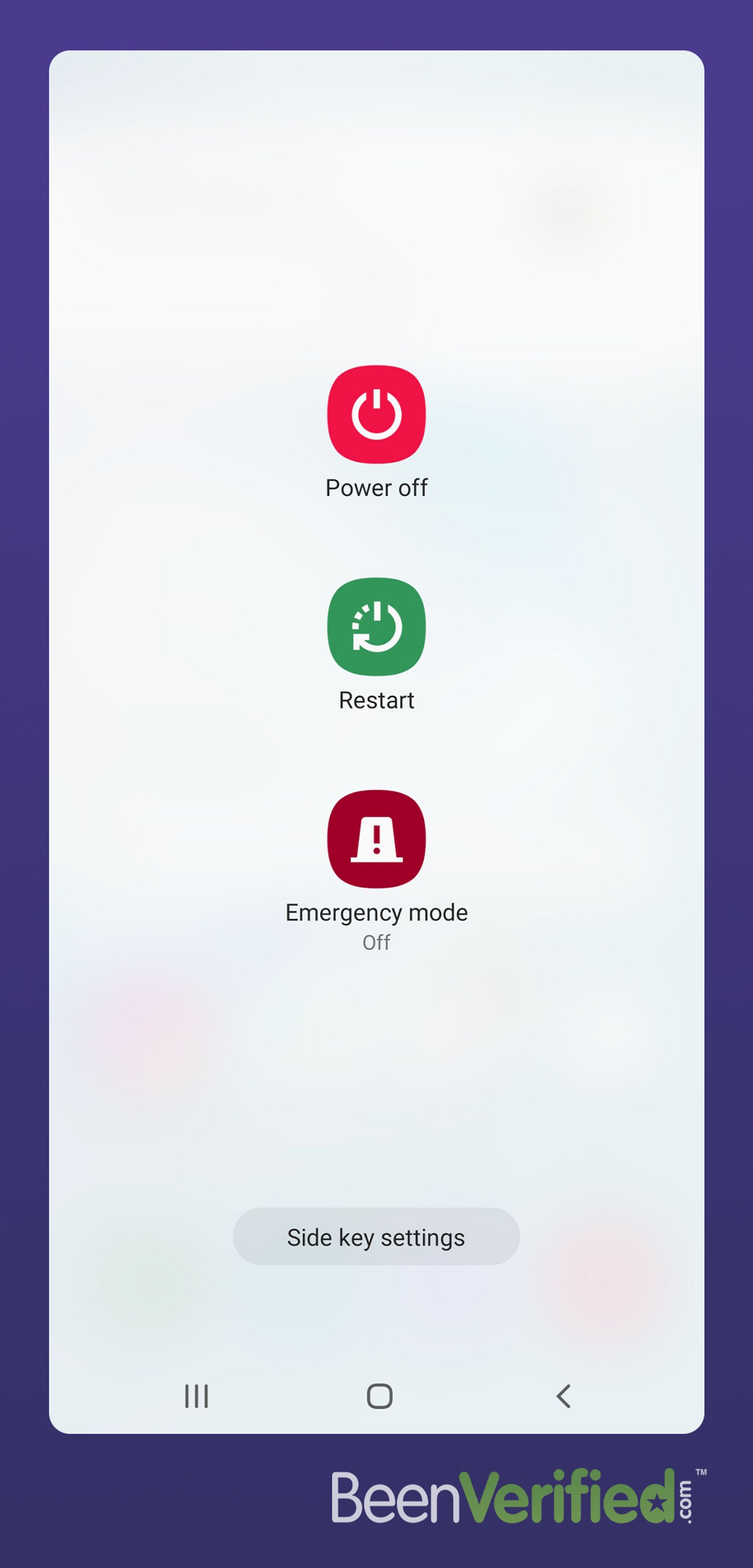 Find the malicious app. Head over to the apps section (usually in "Settings") once your phone is in "Safe Mode." You should see a list of installed apps. Find the one that has the virus. If you're not sure which one it is, you can take it to a professional or start with apps you've recently installed. After your phone restarts, navigate to "Settings" then "Apps."
Uninstall the app. Choose the app you want removed from your phone. You should see a button that says "Uninstall." Click on it to remove the offending app.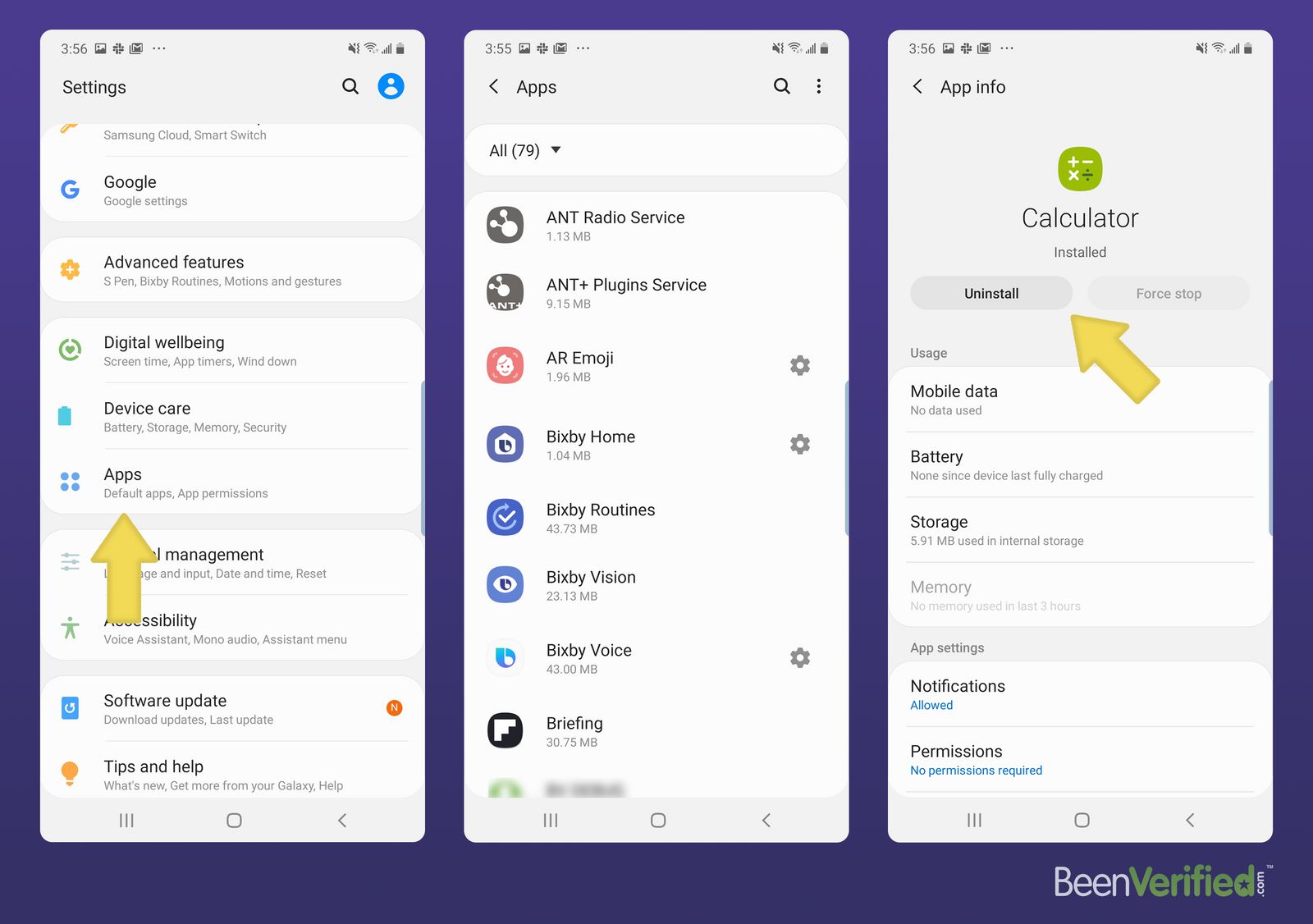 Remove administrative settings. In some cases, you may not be able to uninstall the app (you might see the uninstall button is grayed out), which could mean the app may have administrator access to your phone. To remove access, you'll need to head to your phone's settings and tap "Security." Click on "Device Administrators," or its equivalent, and see which apps have access. Remove access for the offending app by tapping "Deactivate." Now you can go back to uninstall it by using the previous step.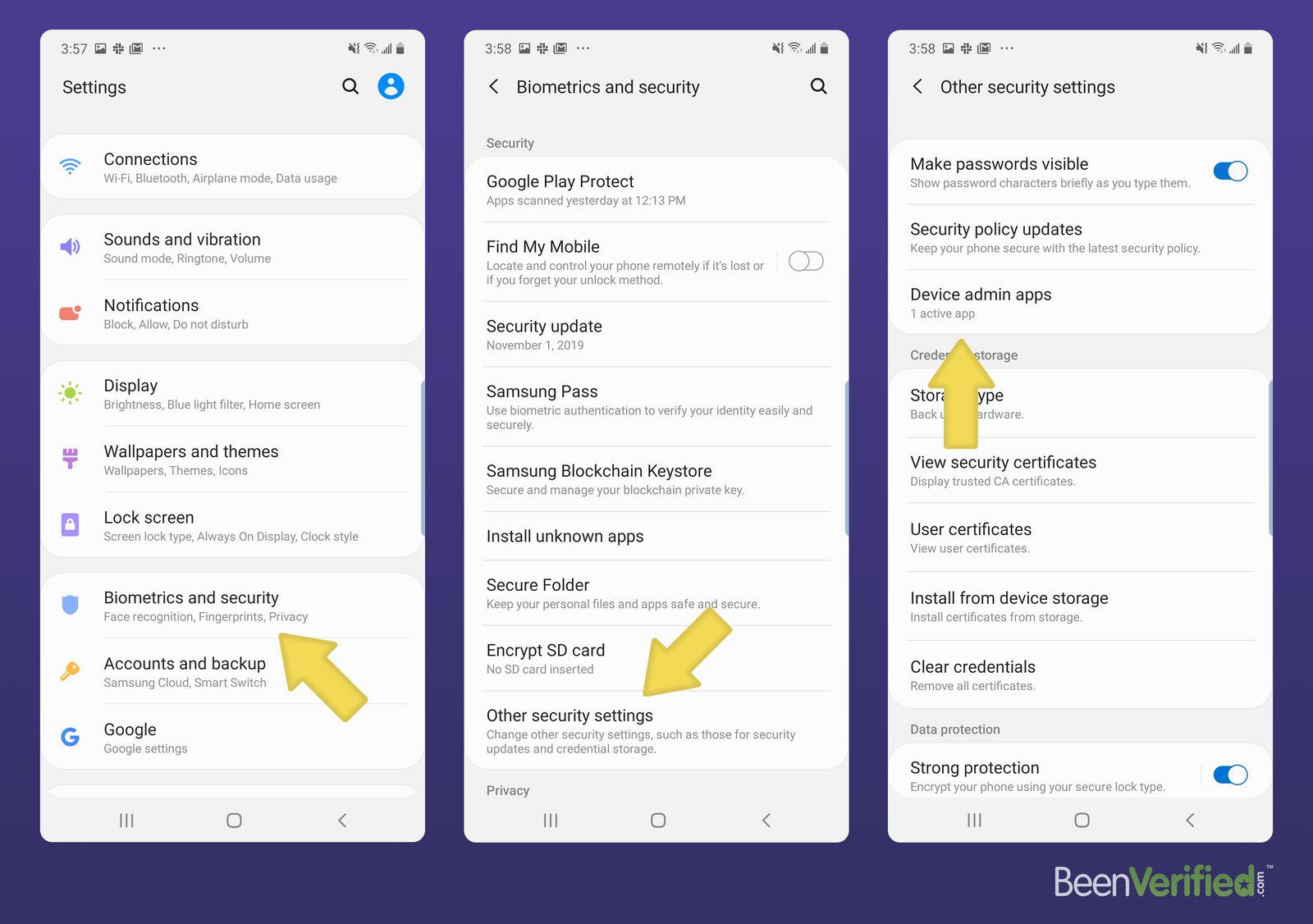 Other malware protections to consider
It sounds obvious, but one of the best ways to minimize the risk of malware taking over your Android phone is to install a reputable antivirus software. It also means remaining vigilant about the types of apps you install onto your phone.
Always be on alert for suspicious communications you receive, such as unwanted text messages and emails. Consider using a reverse phone or email search lookup before clicking on any suspicious links that may wreak havoc on your device.