Poshmark has become one of the most popular ways to sell clothing, shoes, accessories and more using its online marketplace app—especially as people look to earn extra cash ahead of the holidays.
There's a sale made every second on Poshmark, which processes more than $1 billion in payments every year from its 80 million registered users in the US, Canada and Australia, according to the company. But this combination of high sales volume and vast community also makes the platform a target for Poshmark scams.
Here are ways buyers and sellers alike can keep privacy and safety top of mind while using the app.
What are Poshmark scams?
Scammers are increasingly using social media sites as a way to target victims, and Poshmark is no different. The most common Poshmark scams happen when fraudulent buyers create fake accounts and use them to fool sellers into sending money or revealing their personal information.
While it's tough to pin down how much money is lost to Poshmark scams, there's plenty of evidence that people are filing complaints. Hundreds of Poshmark users have reported scams and other issues through YouTube videos, Better Business Bureau complaints and on Sitejabber.com, a site developed in part by the National Science Foundation, where users can review business websites. Here are some common themes:
Poshmark buyer scams
A scammer will create a fake account and start commenting on your listed item, usually offering way more than the asking price. The buyer offers to send a check or money order and asks that you email or call them outside the Poshmark platform. Once you ship the item, however, you either receive a fake check or nothing at all—and the buyer has disappeared.
Misrepresented merchandise
Fraudulent sellers have used eye-catching product images and misleading descriptions to lure a buyer into purchasing an item. When the item arrives, it's a knockoff of a luxury brand or much different from what the buyer expected.
Taking the purchase offline
Sometimes Poshmark scammers suggest taking the purchase off Poshmark, promising a discount and giving an alternative contact to continue the transaction. If something goes wrong, the company won't be able to refund the purchase. The company suggests contacting Poshmark Support immediately if someone offers to take the transaction offline
Risk of account takeover
Some Poshmark watchers have cautioned against letting money accrue in your Poshmark account. Like any financial account, there's potential for someone to hack into your Poshmark account and drain the balance. In a 2019 Poshmark data breach, hackers stole information that included encrypted account passwords. While no financial details were taken in the attack, dozens of other data breaches prove that no account is immune to this type of risk.
Fake check scam
In one variation of this scam, a Poshmark buyer purchases something from you and sends a larger-than-expected payment. The buyer will give you some reason for this and ask you to send the extra money back as soon as possible. But once you do, the buyer will cancel the original payment—so you're out the payment, the extra money you sent and the item you sold. This is more likely to happen if you accept a payment outside of the Poshmark site.
I got scammed on Poshmark—what should I do?
Keep this in mind: Poshmark doesn't protect you during offline transactions—which is one reason scammers try to lure you to send money outside the app. "It's important to keep all communications within the Poshmark platform so that our team can ensure that both parties fulfill their side of the transaction," said a Poshmark spokesperson via email.
If you've sent payment to a suspected scammer, whether through PayPal, Venmo or a check, first call your financial institution and try to cancel or dispute the transaction. It may not be possible, but it's worth a try. You may also want to report the fraud to the police (which could help support your claim with your bank) and report it also to the Federal Trade Commission's (FTC) Complaint Assistant page.
Buyers can use the "Report Listing" button for listings that violate Poshmark's policies and guidelines within the app. This button is in the upper right-hand corner of the screen; in a browser, this appears under the listing's image.
Poshmark also lets you return items (and get a refund) if they're counterfeit, damaged, misrepresented or never shipped. There's a tight window, though: You have three days to open a return request or a claim with Poshmark customer service. Unfortunately, you can't return items that simply don't fit or because you've changed your mind. Before buying or selling on the marketplace, it'll help if you understand Poshmark's terms of service and Posh Protect return policy. Poshmark also helps users authenticate luxury items with Posh Authenticate.
To open a claim on the app:
Go to "My Purchases."
Select your order.
Select "Problems/order inquiry."
Follow the prompt to open a case.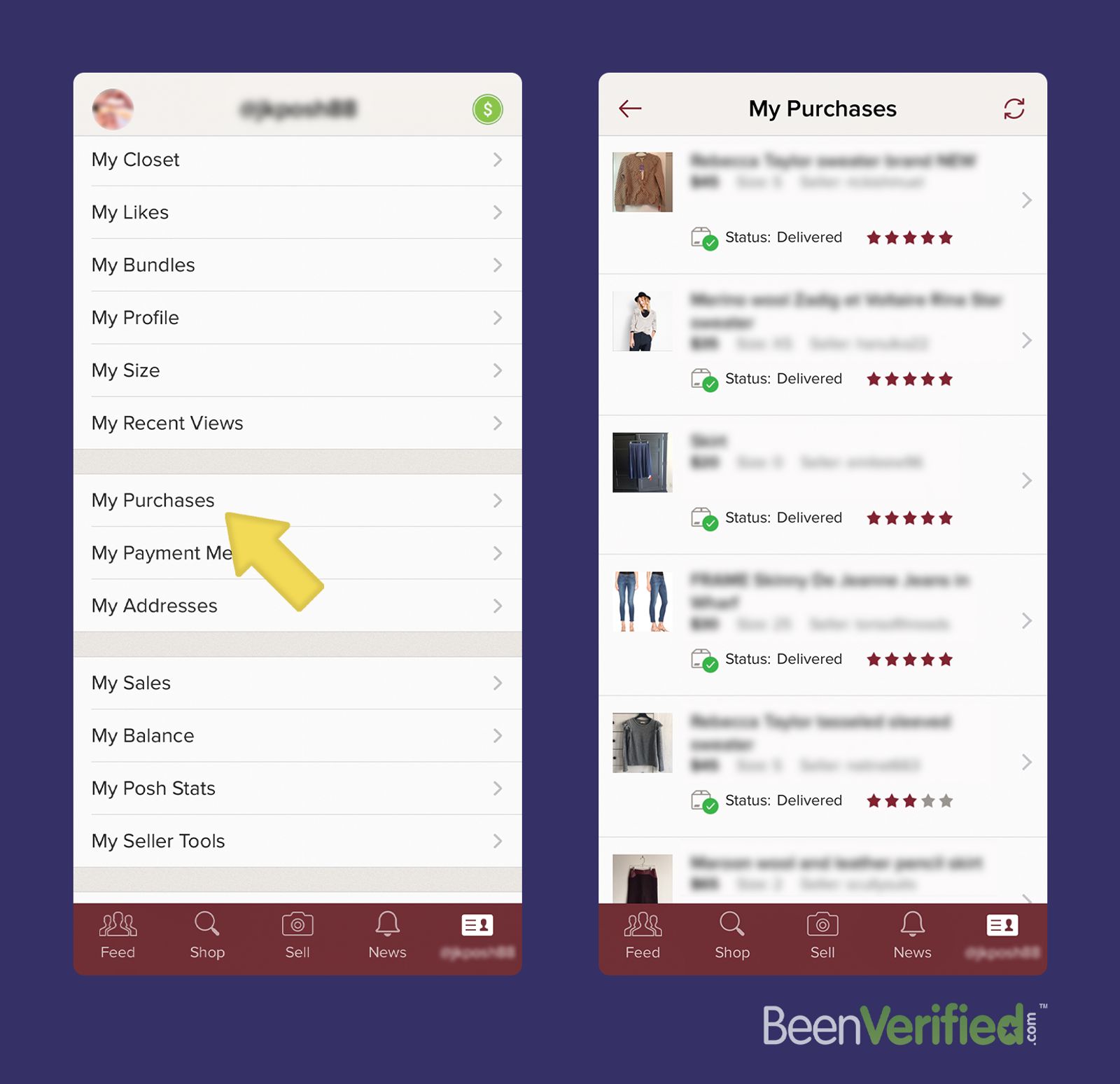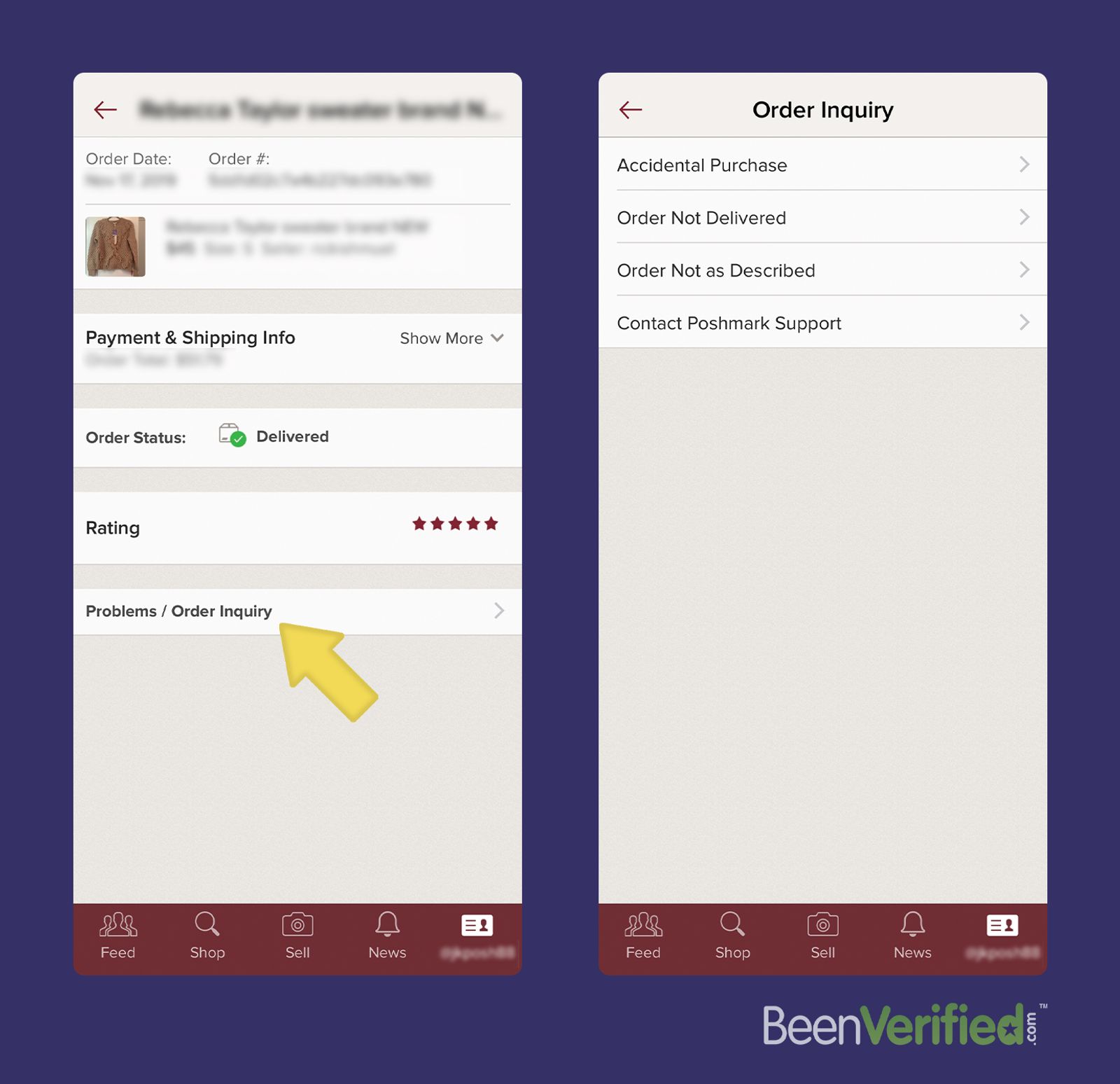 To open a claim on the webpage:
Select "My purchases" on the drop-down menu.
Select the order.
Select "Problems/order inquiry" on the drop-down menu.
Select the claim you'd like to submit. If the order wasn't as described, you'll need to include photos of the problem area and enter a description.
How to not get scammed on Poshmark
Avoiding online fraud usually boils down to using common sense, but it helps to know the red flags. Here are tips to help you spot potential Poshmark scams:
Research the buyer or seller. If you're unsure about a transaction, a people search tool may help you find information on a potential buyer or seller. You can also do a reverse image search to assess the seller's profile picture.
Look into the listing. A Poshmark seller should include enough details about the condition of the listed item, measurements and any other relevant details. If the photos are from the retailer's website or a stock website, ask for pictures of the original item. If the seller refuses, that's a red flag.
Ask questions. The seller should respond to your comments and answer your questions. It's another warning sign if they omit a lot of information.
Don't give out your personal info. It could be a scam if a buyer asks you for personal information, says they want to meet in person to pick up the item, suggests an alternative payment method or tries to chat outside the app.
Don't trust offers way higher than the asking price. A fraudulent buyer may also make an offer that's too good to be true and ask you to take down the listing.
Pay using PayPal and a credit card. This affords you the highest protections against fraud. That's because you're only responsible for up to $50 in fraudulent charges made to your credit card account, thanks to the Fair Credit Billing Act.
Don't let your account balance grow. Always forward your Poshmark balance to your bank account as soon as possible.
Report a message or a user. Use the "Report Listing" button if something doesn't feel right. Poshmark will investigate.