It seems like every business has a website these days and to use it effectively, you need to set up an online account. When you do set up that account, a frequent requirement is that your phone number and email be included. Some sites use it for identification and security purposes; others use it for marketing-related reasons. All too often, however, you only need the account briefly and quickly forget you ever signed up.
With security breaches generally on the rise (and expected to continue), you may want to know how to find accounts linked to your email or phone number to cancel any accounts you no longer need. Your privacy and security is worth the time it takes to track them all down.
Can you find accounts linked to your phone number?
Unfortunately, there is no single database listing all your accounts simply by entering your phone number. Using a subscription service like BeenVerified is the closest you'll probably get to finding all the accounts associated with your phone number. And there will still be plenty of legwork and sleuthing to do on your end.
A word of caution: Even though a site might require your phone number and email address, it's rare any site will suddenly contact you out of the blue about your account. If you receive an alarming text or email message from a company you know you visit, don't just automatically trust it and click the link.
These types of messages are far too frequently a phishing scam of some sort; contact the company using verified phone or email information from its site instead.
How to find accounts linked to your email address
Tracking accounts linked to your email is an easier ask. One way to search for any online accounts you might have set up and forgotten is to check for any that use your email address. Because different types of online accounts use different processes, you might have to try a few different tactics. Try the following approaches to find accounts associated with a phone number you use.
Search your inbox for account verification emails
An easy approach is to search your own email account for clues. Many online providers send out a verification email confirming the phone number and email address used to set up the account is active and belongs to you.
These types of emails land in your inbox with subject lines such as "complete your registration," "confirm your email address," or "verify your account information." Use your email provider's search option to scour your account for these and similar phrases.
When you find one you no longer want, go to that site or app and follow its instructions for deleting your account. This information is typically located under the "Settings" section but can differ from site to site or app to app. Use the "Help" section if you're not sure how to remove the account.
Check account settings in your email platform
You can use your email provider to check for any accounts linked to your email address. Each provider manages this a little differently; follow the steps for your email provider to check for accounts linked to your address.
How to find accounts linked to Gmail
Open your Gmail account, then:
Click your profile picture in the top right of the screen.

In the pop-up window, click Manage your Google Account.

In the right-hand navigation menu, click Security.

Scroll down to Signing in to other sites.

Review the Signing in with Google and Linked Accounts sections for any sites that you sign into using your Google Account as well as any linked accounts you might have given access to.
If you want to unlink any accounts, select them and click Unlink. To remove any third-party apps with account access, click Remove Access.

If you're having trouble unlinking a third-party account, you need to go to that external account's Settings page and unlink your Google account from there.
How to find accounts linked to Yahoo!
Open your Yahoo! account, then:
Click your profile picture.

Click Account Info.

Click Manage App and Website Connections.
Select the app or website you don't want to use anymore.
Click Remove.
How to find accounts linked to Outlook
Using the web version of Outlook, follow these steps:
Open your account and click Settings.

At the bottom of the Settings window, click View all Outlook settings.
In the new window, click Sync email in the center column.

Click Manage your connected accounts.
Depending on what you want to do with these accounts, select Edit, Remove, or Refresh.
Check account settings in Facebook, Instagram
If you have linked a social media account to an app or website, you might be able to see those accounts and take action from within the social media platform. Each app will have its own process for viewing and managing these apps; steps for Facebook and Instagram are shown here.
Follow these steps for Facebook:
Click your profile icon to open your account.

Click Settings & Privacy.

Click Settings.

In the left-hand navigation pane, scroll down to Apps and Websites.

In the window that appears, select the app or site you wish to remove.

Click Remove.
In the pop-up window, review the prompts and make your selections. Then click Remove to permanently delete the item.
Tip: Did you know you can search Facebook using a phone number? As long as the person's profile includes the number, it is stored in their account settings and can usually be tracked down.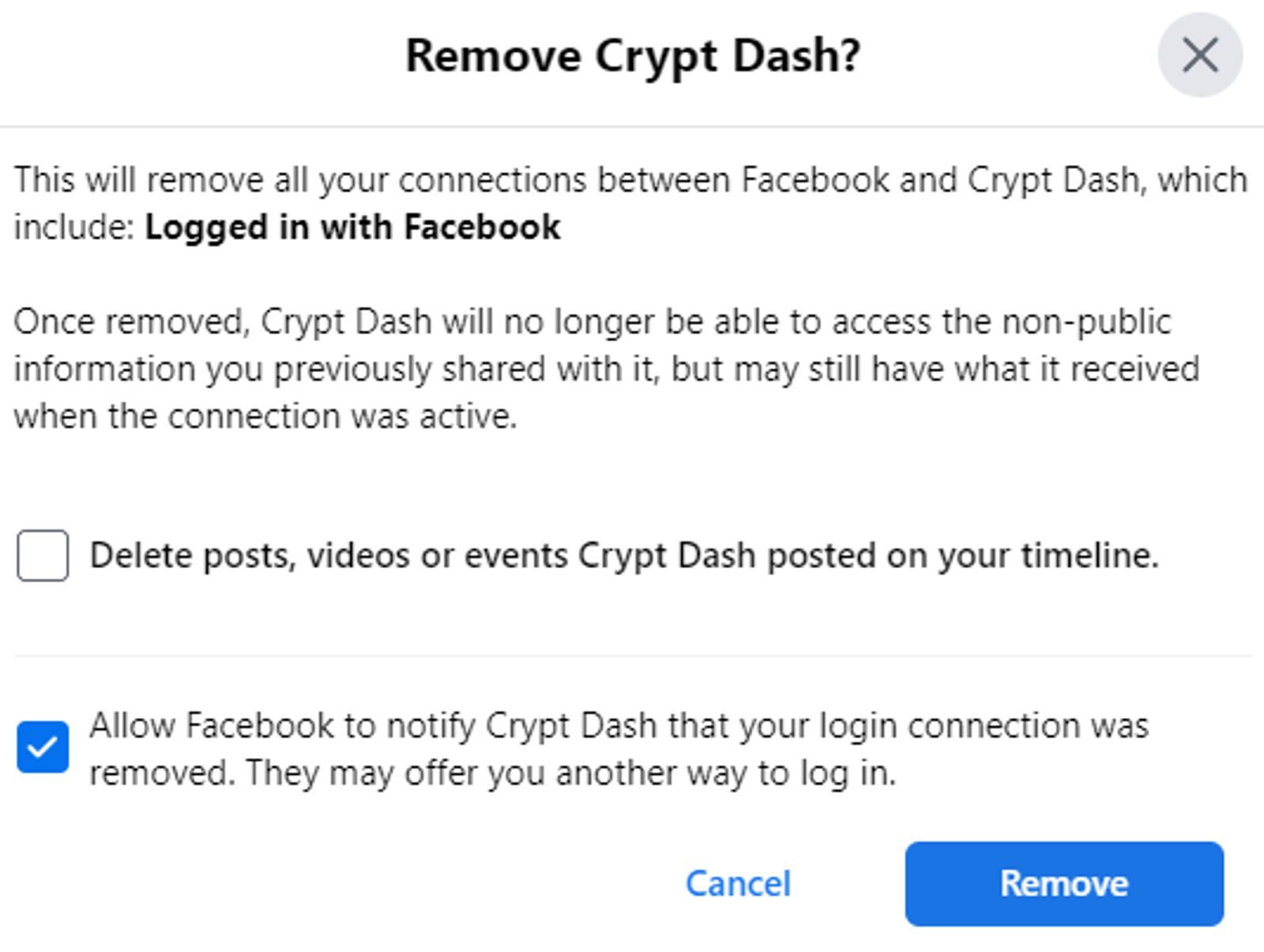 NOTE: Even though the connection is removed, the app or site will probably still retain your information. To see what they might still retain and use, you need to contact the app or site in question.
How to find accounts linked to Instagram
To remove third-party apps from Instagram, follow these steps:
Open the Instagram app.
Tap your profile picture.

Tap the hamburger menu, then tap Settings.

Tap Security.

Tap Apps and Websites.
This section of the app will show you active, expired and removed apps. Click each tab to check whether or not you have any connected apps. If you do, simply revoke access to the ones you don't want.
Check your browser's saved passwords
Regardless of the browser you use, every time you save login information for a site it will record it and use it the next time you attempt to log onto a site. The browser then saves the information in a specific location, which you should be able to easily access.
In Chrome, for example, go to Settings -> Autofill -> Password Manager, and you'll find the list of websites you're accessing via saved passwords.

This list can show dozens of sites; click the three-dot More Actions menu to find options to copy, edit, or remove passwords. While you can't delete the sites or apps themselves from here, at least you will have a good look at the list of places you visit. Go to each one individually to delete the account if you no longer want it.
If you use a different type of password manager not associated with your browser, you can also use it in the same way: See where you go and decide if you want to keep that association.
Use a subscription search site
If you don't want to check every app or website you're worried about, you can use a search tool like those available on BeenVerified. These tools can help you search for online accounts associated with a phone number or even an email address.
The beauty of subscription searches is that they reduce the amount of work you need to do and consolidate the information into a single report for convenience. If you don't have a lot of time, this approach could be a smart one for you. Take the information and go to the sites BeenVerified locates, and delete the accounts following instructions from each one.
Staying safe online means keeping good track of the accounts you have set up on the web. Using several of these approaches together might help set you on the right security path so you can rest a bit easier at night.