These days, incoming calls aren't just from friends and family. Most of us can't seem to escape an ever-growing network of tenacious telemarketers, robocall scammers, and other mysterious or unwanted calls that light up our phones.
Fortunately, you can learn how to block a number on iPhone, which can help reduce the volume of nuisance calls and texts you don't want to receive.
How to block calls on iPhone
If you have a post-2013 device and you're running iOS 7 or higher, follow these steps to block a number on your iPhone:
Open the green Phone app, typically located in your favorite bar at the bottom of the screen.
Find the "Recent" icon (it looks like the face of a clock) and tap it to display your list of recent calls.
Look for the number you want to block, and tap the blue info icon to the right of the number.
Scroll down and tap "Block this Caller."
When the pop-up menu appears, tap "Block contact" to confirm you don't want to receive calls or texts from this number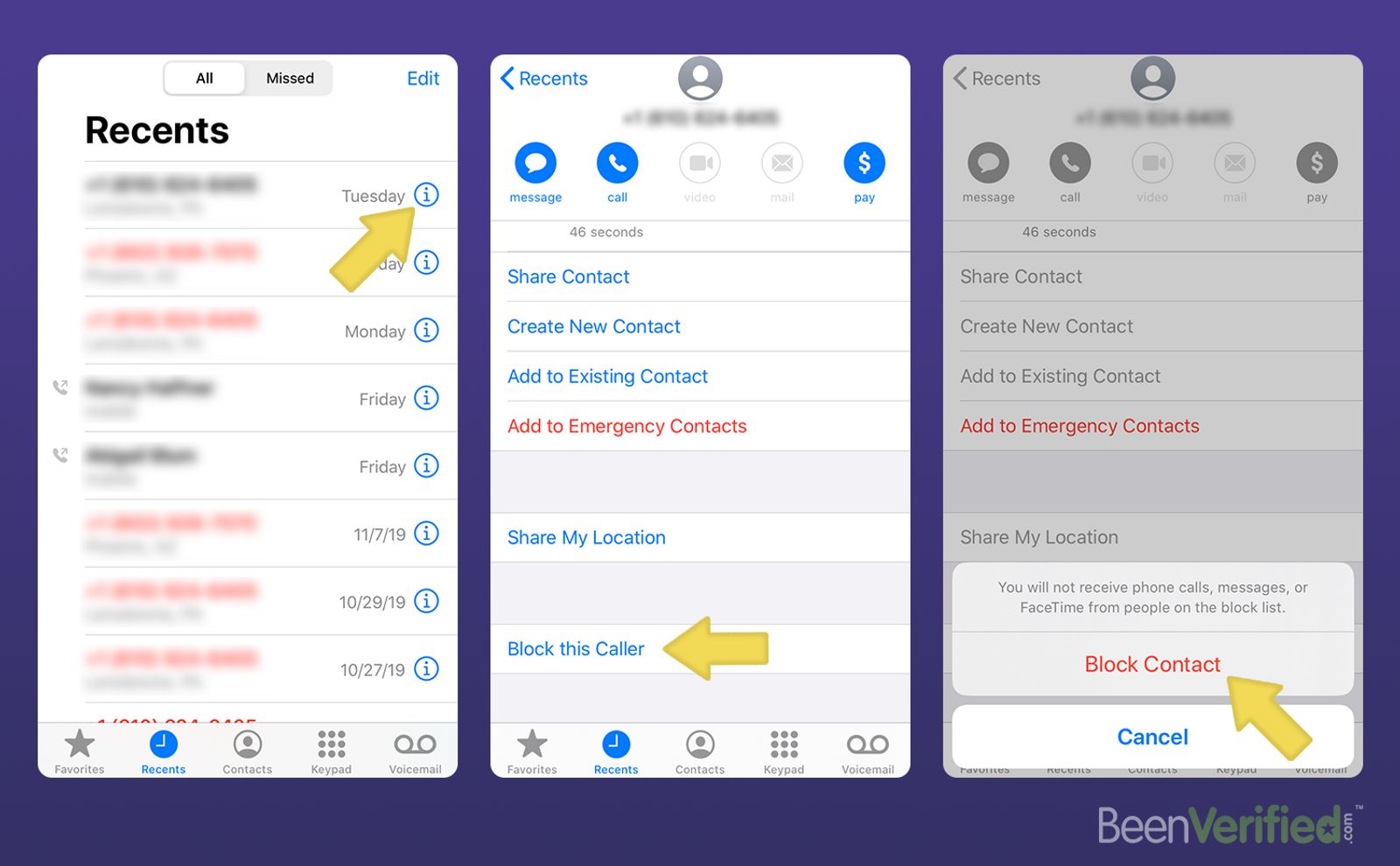 You know you've successfully blocked the call when you see the words "Unblock this Caller" at the bottom of the info screen.
To reverse the block, follow these steps:
Open the Settings app.
Tap the "Phone" icon.
Tap "Blocked Contacts."
Choose the number you want to unblock, then tap "Edit" in the upper right corner.
Tap the red circle, then tap "Unblock" to confirm.
If you want to know how to block a number on iPhone when the caller is one of your contacts, the process is even easier. Tap the "Contacts" icon from the phone menu, open the offender's contact page and tap "Block this Caller" at the bottom of the screen.
Don't worry, your contact won't know they have been blocked; everything functions exactly the same on the caller's end. Blocked calls automatically roll over to voicemail and are stored in a special voicemail folder for blocked calls. You don't get a notification and you can delete them without ever listening to them.
Blocking is a one-way street, so you can still call or text blocked numbers without taking any additional steps or reversing the block. The blocked person won't be able to call or text back. That's a potential key feature if you ever need to get in touch with a blocked contact, but you're not ready to restore the person's calling and texting privileges.
Blocking unknown numbers on iPhone
Unfortunately, you can only block specific phone numbers using the steps above. If you're plagued by blocked or restricted calls, you need to take a different approach.
In most cases, you have two options to block anonymous callers. Depending on your carrier, you may be able to activate anonymous call blocking through your account page or app or by contacting customer service. Both Verizon and AT&T offer this optional feature, although you may have to pay extra for it, depending on your plan.
The other option is to purchase or download a free call-blocking app. Most call-blocking apps maintain extensive databases of known spam numbers and automatically shut down incoming calls before they reach your phone. If your iPhone is constantly beset by robocalls and spam, call-blocking apps can dramatically reduce your daily interruptions.
Related: How to Block a Number on Android
The bottom line
By one estimate, 50% of cellphone calls will be spam in 2019. Learning how to block a number on iPhone can eliminate some of them, but it won't solve the problem completely. Call blocking on iPhone will, however, put an end to unwanted calls from people on your contact list.
If you're called persistently by a number you don't recognize, a reverse phone lookup may help reveal useful information about the caller's identity so you can take appropriate steps to put an end to these calls.