With 1 billion monthly users, Instagram is the second-largest social media platform after Facebook and No. 1 among millennials. It's one of the most popular apps to share photos, videos and stories with followers.
It's also a way to keep up with family members and friends, but only if you know how to find out if someone is on Instagram. Fortunately, Instagram makes it easy to search for a friend's account and even find new friends to follow.
How to find someone on Instagram
@Kevin was the first person to use Instagram on July 16, 2010—he posted a great picture of his dog (of course). Today, Instagrammers upload 100 million photos and videos a day generating 4.2 billion "likes." Since nearly 40% of Americans use Instagram—and over 70% of millennials—chances are good many people you know have an Instagram account.
How to find someone on Instagram using your contacts
The easiest way to connect with friends on Instagram is to sync the platform with your contact list:
Open the Instagram app and tap your profile picture on the bottom right of your screen to open your profile page.
Tap the menu icon on the top right of your screen (three horizontal lines) and click on "Discover People" near the bottom of the drop-down menu.
Follow the prompt to allow Instagram to access your contact list.
Click "follow" next to the name of the contacts you want to follow on Instagram.
Instagram also adds a list of suggested accounts you may also want to follow; just click the button next to the name to add them.
Depending on which version of the app you use, you may add your Facebook friends by tapping the "connect" button next to the Facebook prompt at the top of your "Discover People" screen. Newer versions, however, no longer support this function.
How to find someone on Instagram not on your contact list
It is possible to search for people by name, username or phone number, but the results aren't always reliable. Most users don't list their phone number in their profile, except for business accounts, and there could be hundreds or even thousands of Instagram users with the same given name in a pool of one billion accounts.
Using Instagram's search feature to find friends
Tap the magnifying glass at the bottom of your screen.
Type the name, phone number or username you want to search.
Tap the profile icon for the account that matches your search.
Click the follow button on the profile page.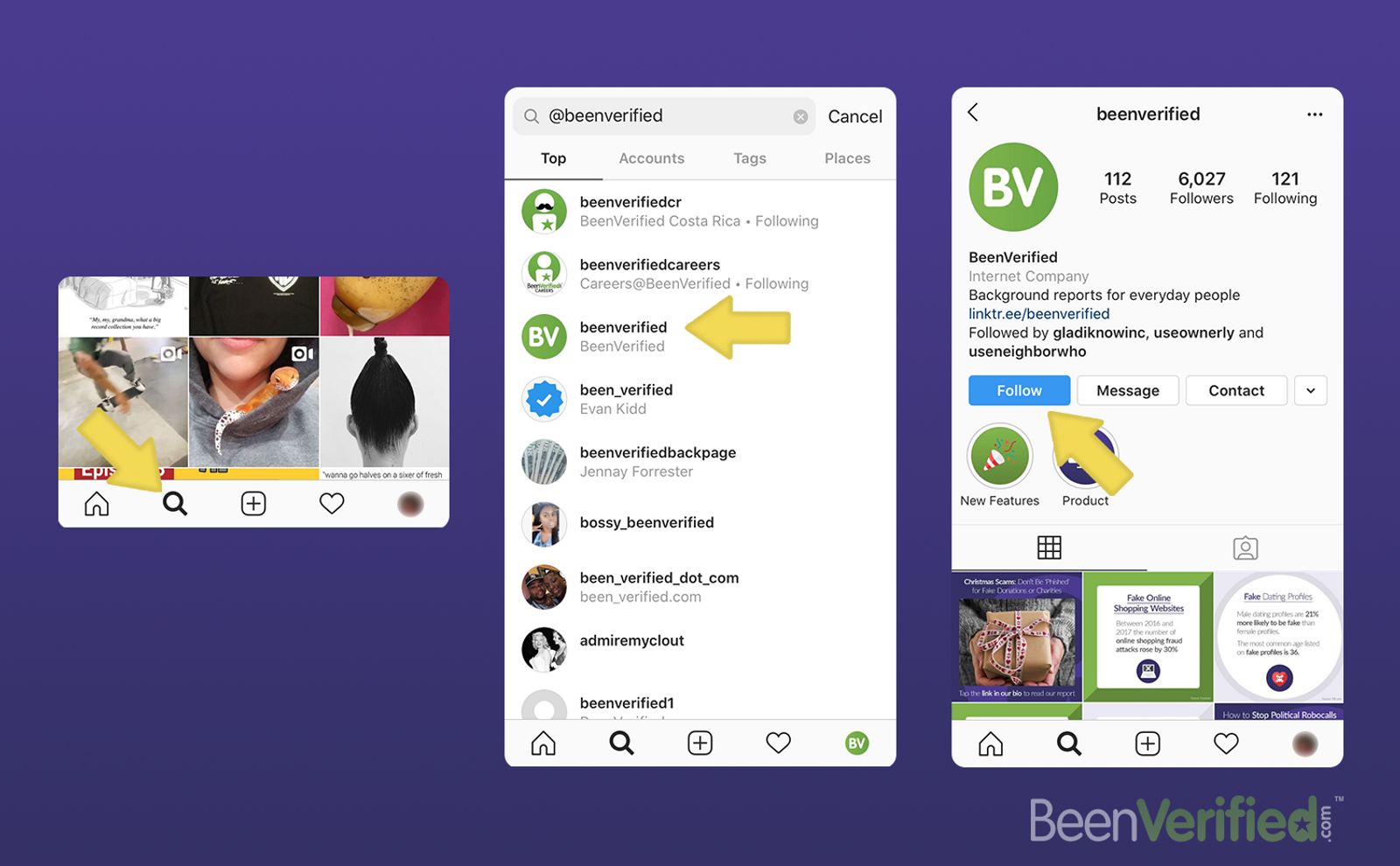 Keep in mind, some Instagram accounts are private and you can't follow them without permission from the user. If someone you want to follow has a private account, you must tap the "request" button. You'll be connected once the user approves your follow request.
How to find someone on Instagram if you don't have an account
You don't necessarily need an Instagram account to see someone's posts on Instagram—as long as you're only viewing a few. A simple Google search may uncover an Instagram profile; just enter the person's name and the words "Instagram account" in your search query and hit enter. You may have to click on several accounts to find the right one, especially for common names.
If you're searching for a celebrity or other public figure, it's a good idea to search "official Instagram account of [person's name]" so you don't get fan pages or parody accounts.
Other ways to find someone online
You may be able to get someone's contact information through an internet search, but it's often hit or miss. You may have better luck searching other social networks to find someone online. Nearly 70% of Americans are on Facebook; if you have an account, try searching through your Facebook app. LinkedIn is a good place to search for a business or professional colleague.
A people search is another reliable tool to try to find someone online. Most times, you can find current contact information, social media accounts, employment and business associations and other helpful data to help you connect with the person you're looking for. You can also search by email address or use a reverse phone lookup if you have a contact number.