Americans love email. There are more than 250 million regular email users in the U.S., with Gmail being the most popular email service. The Google-owned email provider dominates 53% of the email market, perhaps because it's easy to open an account with your mobile number.
But what if you don't have a mobile number or you don't want to share it with Google? After all, the company has had privacy issues in the past involving mobile phones, which could be compromised should your email account get hacked.
As it turns out, it is possible to get a new email account without giving up your phone number, as long as you have another way to verify your email address. These are the steps on how to create a Gmail account without a phone number.
How to set up a Gmail account without phone number verification
Google requires users to verify a new Gmail account before it can be used. You can provide a different email address or a phone number for verification purposes. If you have a mobile phone, using it to verify your account can give you an extra level of protection against hackers by enabling two-factor authentication on your account.
If you are age 15 or under, Gmail automatically bypasses the phone number verification process because it assumes most teens don't have their own phone number. Setting your birthdate to be under the cutoff age is the easiest—if somewhat dishonest—way of bypassing the phone number verification requirement.
If you are over age 15 and don't have a mobile phone—or don't want to share the number with Google—there are three ways to create and verify a new Gmail account without phone verification.
How to use your mobile phone to create a Gmail account
This sounds counterintuitive, but you can set up a Gmail account from your phone's Settings menu without entering and verifying your phone number. This system works with both Android and iOS devices.
Open your phone's Settings app and look for the accounts menu. On Android, this menu is usually called Cloud and Accounts; on iPhone, it's called Passwords & Accounts.
Tap "Add Account" and select "Google."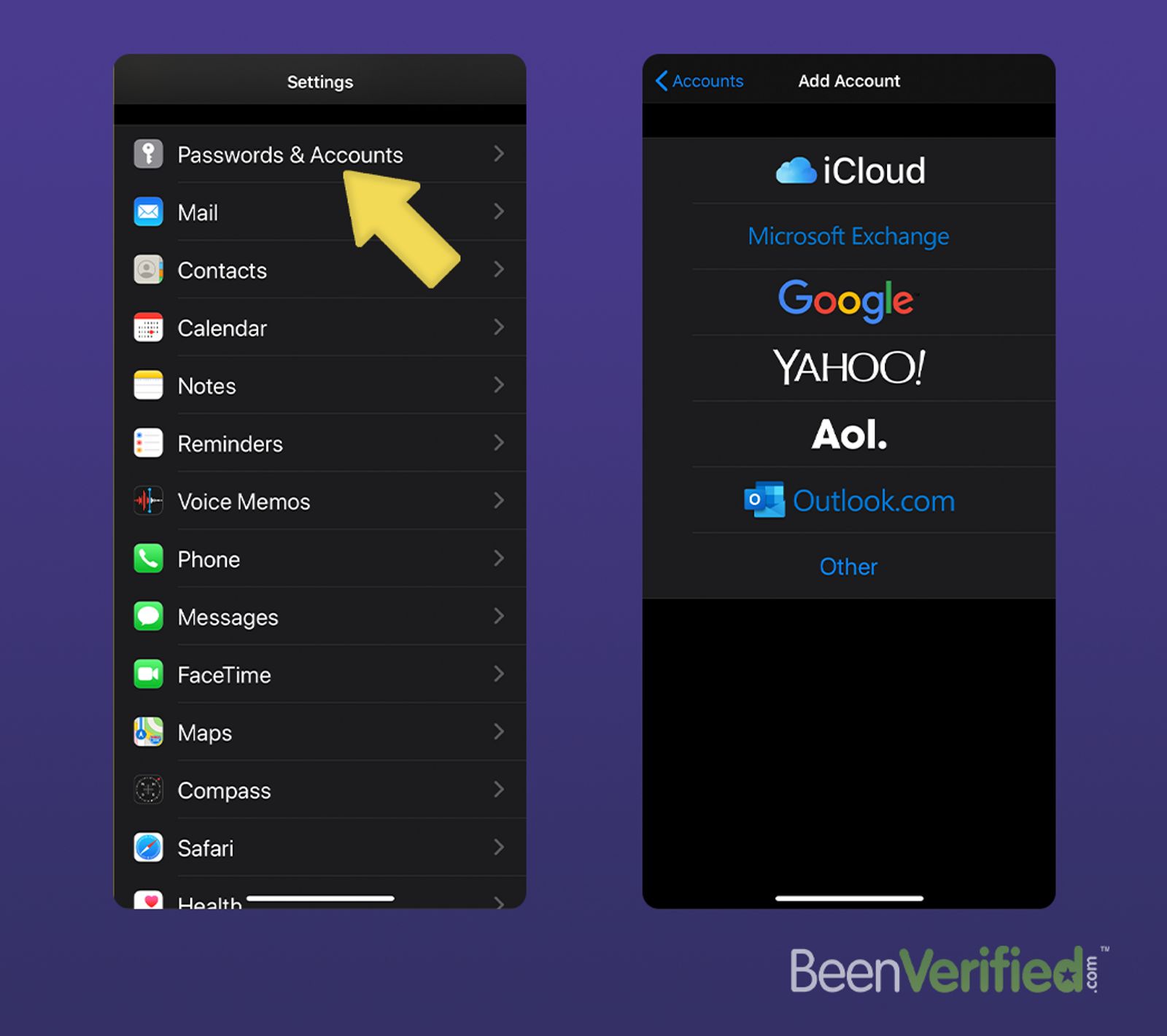 If you have a Google account, don't sign in here; click "Create account."
You'll move through a series of screens prompting you to enter your first and last name, date of birth and gender. Then you'll choose your Gmail address and password. Finally, you're given the option to add a phone number. Don't enter your phone number, scroll to the bottom and tap "Skip."
Review your account information and if everything is correct, click "Next" and accept the terms of service.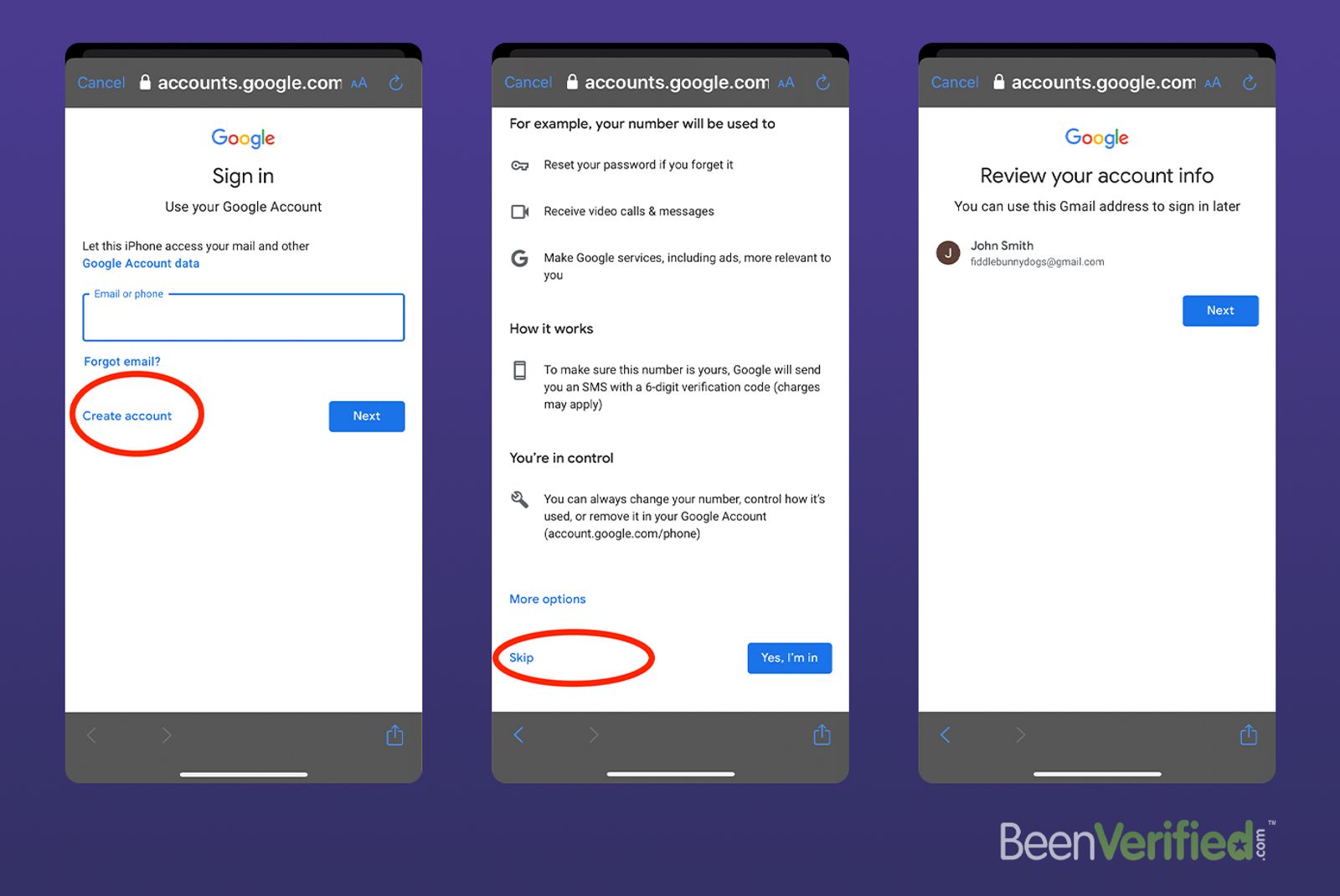 You just created a new Gmail account without phone verification. If you don't want to use your phone for this Gmail account, you can use your new credentials to sign in from any web browser and remove the account from your phone.
How to use an alternate email address to set up a Gmail account
With this method, you verify your new Gmail account by entering an alternate email address for your verification code.
Enter mail.google.com in your browser. On the Gmail sign-in page, click "Create account."
You'll be asked to choose whether it's a personal or business account before you can create a new Gmail account. Enter your first and last name, choose a Gmail address and password, and click "Next."
You'll be asked to enter either your phone number or an alternate email address for verification purposes. Enter the email address you want to use, your birthdate and gender. Then click "Next."

Click through and accept the terms of service. You can view or skip the Gmail tutorial. Once you've clicked all the boxes, your new Gmail account is ready to use and you're taken to the Gmail homepage to finish setting up your account.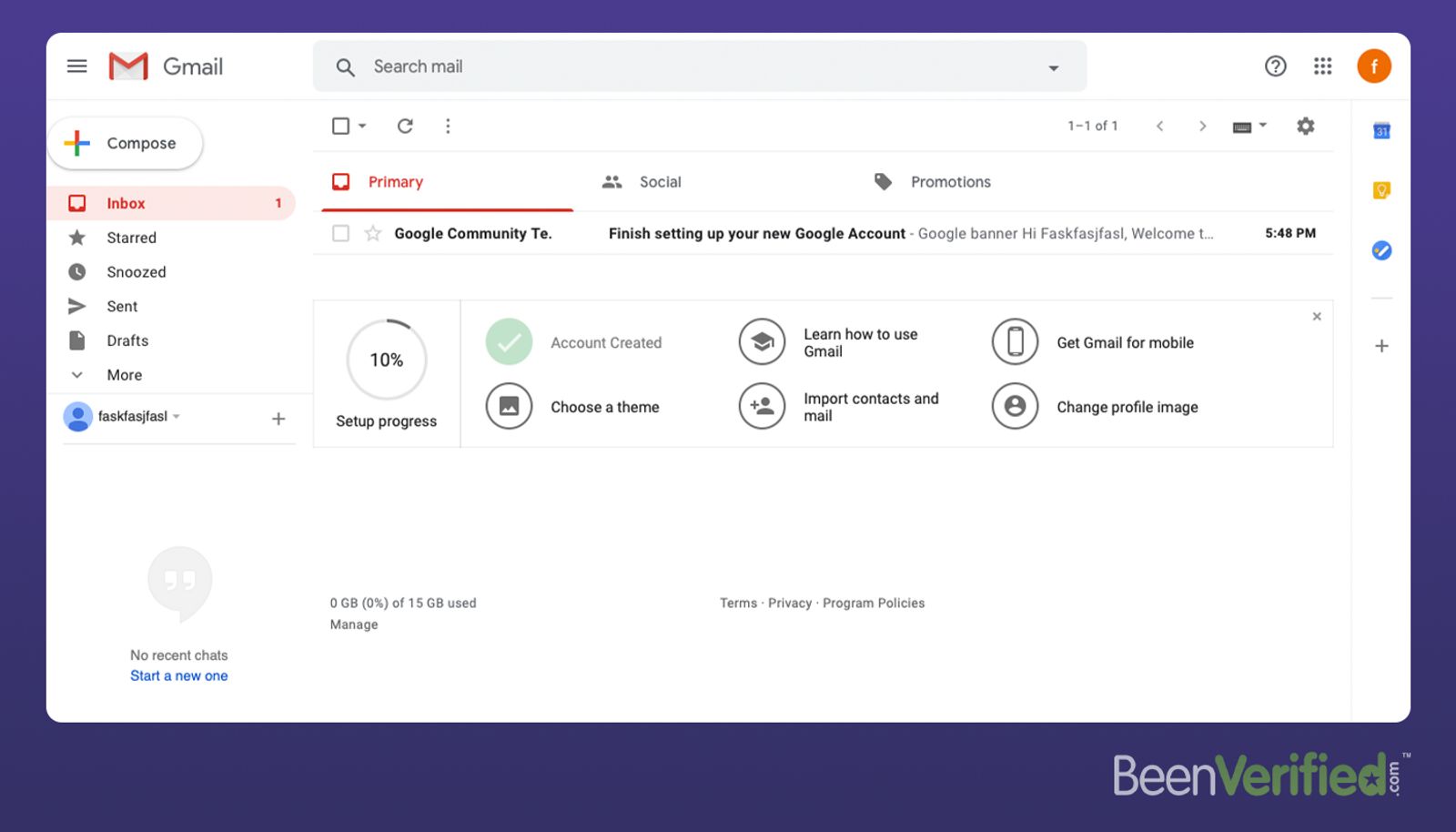 How to create a Gmail account with a dummy number
If you don't have an alternate email account or a phone number, you can still set up a Gmail account using a dummy number. A dummy number is a one-time-use number provided by online services that can receive an SMS verification text.
To use the dummy number, follow the steps above to set up a new account with a web browser. Instead of entering an alternate email address, enter the dummy number in the phone number field. Follow the provider's instructions for retrieving your SMS text message, and enter the verification code on the Gmail screen when prompted.
The important thing to remember is that you can only use these numbers once, so if you set the dummy number as your recovery number, you could lose access to your account permanently.
Some temporary-number providers are more reliable than others; users have reported that certain numbers don't work with Google's verification system. If that happens to you, try another number or another provider.
Using Gmail safely
Overall, Gmail has strong virus and malware filters. Infected messages and attachments are usually flagged and blocked so you won't be able to open them. Gmail also has an aggressive spam filter that's effective at capturing unwanted emails.
What Gmail can't do is protect you against phishing attacks and certain other types of email schemes. Here are some tips to use your new Gmail account safely:
Use a strong, unique password for your Gmail account.
Check and personalize your privacy and security settings as soon as you open a new Gmail account. You can set your preferences on the "My Account" page when you sign in. Pay attention to your connected devices and account permissions. This is where you can monitor which apps and devices have access to your Gmail account.
Log out of your Gmail account when you're finished using it, especially if you're on a shared computer.
Even though Gmail automatically scans for viruses, you should still be cautious about opening attachments, especially if you don't know the sender. You can also run an email search to try and find out more about the sender before clicking any links or attachments..
Legitimate businesses won't ask you to verify your account information or update your login credentials by clicking on a link in an email. If you get an email like this, it may be a phishing attack.
Don't send personal or financial information in an email. If you need to discuss a financial matter with your bank or credit card company, use the phone instead.
Make sure the virus protection is up-to-date on the computer or device you use to check your Gmail.
Remember, your Google account is connected to your Gmail account. Even if you only use Gmail, your Google account settings affect the information shared and collected in your Gmail account. It's a good idea to go over your main Google account settings to make sure your privacy and personal information are protected.