Scammers phoning with urgent warnings that your Social Security number is at risk—a ruse aimed at tricking you into revealing your Social Security number or other vital personal data—was the top scam reported by consumers in 2019, according to the BeenVerified Spam Call Complaint Monitor.
Top take-away
Imposter scams are flourishing. Calls purporting to be from the Social Security Administration was the No. 1 threat of the past year. A similar imposter scam where fraudsters pretend to be from the IRS dropped to No. 3 last year, after topping the list each of the previous three years.
Meanwhile, the new year has seen an explosion in complaints related to a fake Walmart, Amazon and FedEx text message scam, which asks customers to fill out a short survey to unlock an expensive free gift.
Other key findings:
Top spam call complaint topics in 2019: Social Security scams, credit card offers, fake IRS/tax scam calls, debt consolidation and "free" offers topped the list. Other perennial topics involving spam call complaints: fake lawsuit calls and spam calls related to mortgage refinance, health insurance and pharmacy deals.
Rising smartphone text scam: In December 2019 and January 2020, the Spam Call Complaint Monitor saw a dramatic spike in reports about text message scams. About 22% of complaints the first month of the year were related to text messages. While claiming to be from a variety of sources—including Walmart, Amazon and FedEx—our analysis suggests all are the work of the same group of scammers.
Cons feed on consumer fears and hopes: While becoming more high-tech, con artists are ultimately manipulating basic human fears and desires to reach their payday.
BeenVerified's Spam Call Complaint Monitor analyzed spam complaints from users who used our free reverse number lookup tool and opted to self-report details of unsolicited calls. Complaints were recorded from all 50 states and Washington, D.C., from Jan. 1, 2016, through Jan. 31, 2020.
"As the data is self-reported and volume of comments can ebb and flow, the Spam Call Complaint Monitor is more of a barometer showing which way the wind is blowing for phone-based scams," said Justin Lavelle, spokesperson for BeenVerified. "As most reports don't leave comments, the volume of scams are certainly much higher."
Some spam calls may merely be a nuisance, like robocall offers from credit card and mortgage companies. A perennial way to entice callers to respond is to promise free trips or products. Consumers report being offered free iPhones, hotel stays, cruises, vacations, gift cards, government grants, and solar and security systems.
But other calls are from cybercriminals actively looking to defraud victims or steal their identities to set up fraudulent accounts in their name.
Imposter scams still a threat
Our analysis found these were the top topics of call complaints among those who left comments: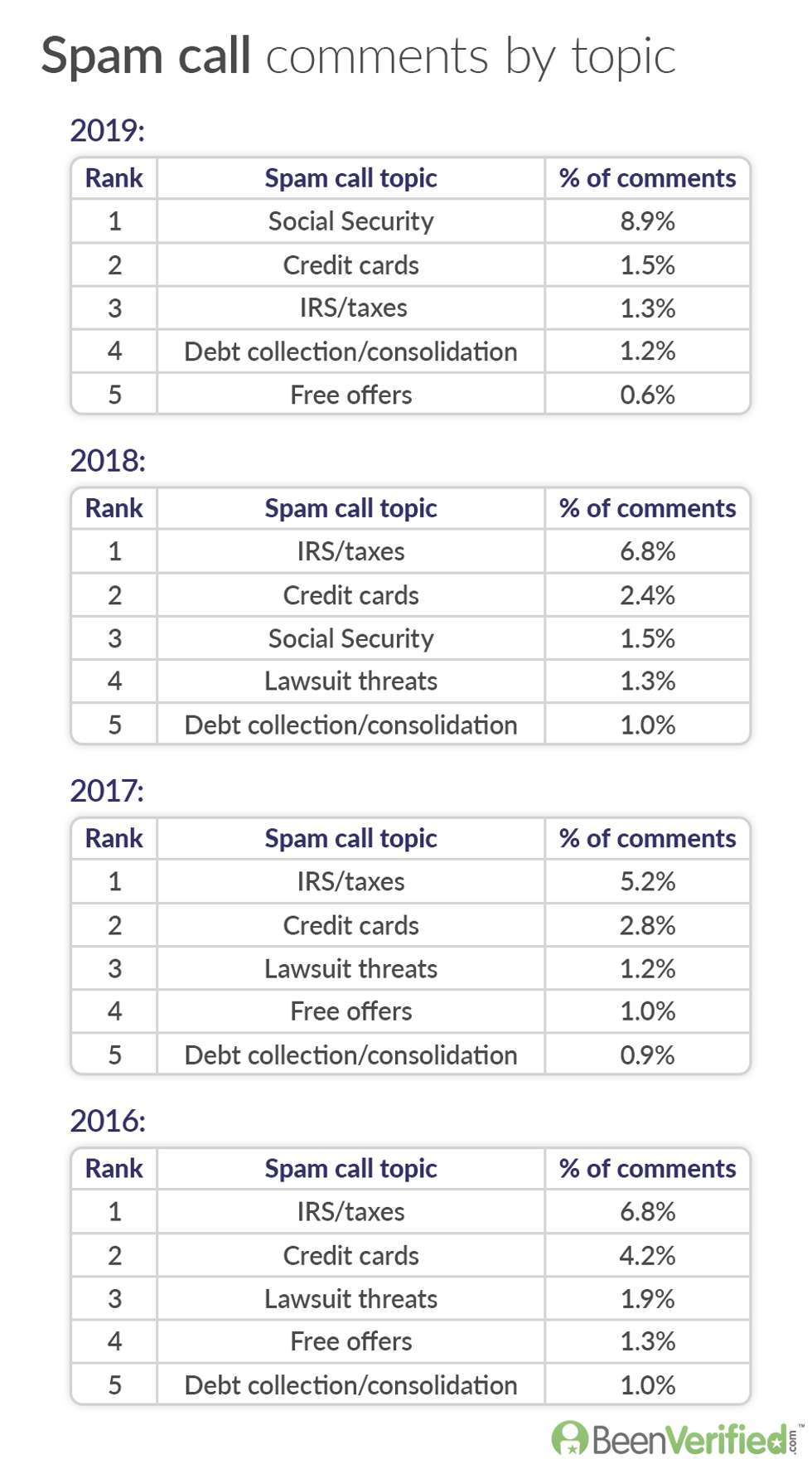 *See methodology for full details.
In 2019, scammers impersonating Social Security Administration agents skyrocketed. Nearly 9% of identifiable commenters complained about calls claiming their Social Security number had been compromised, urging callers to confirm some personal information or potentially lose benefits. In 2018, only 1.5% of commenters complained about the scam.
"It's clear scammers, after years of impersonating IRS agents, pivoted hard to this new strategy in 2019," Lavelle notes. Complaints last year on IRS and tax scams dropped to 1.3%—the lowest level in four years.
"As tax season heats up, we anticipate a seasonal rise in these imposter scams, as consumers are more likely to be thinking about tax and Social Security issues," Lavelle said.
Constant iteration: Rise of a new text message scam
In the last month of 2019 into the new year, we saw a rise in a scam that leveraged the name recognition of three well-known brands—Walmart, Amazon and FedEx—to try to trick users into filling out a survey and earning an expensive free gift. The catch: To receive the "free gift," users needed to provide a credit card number to pay for shipping.
"That's where they get you—instead of being charged for only shipping and handling, your card is charged nearly $99 a month," Lavelle said.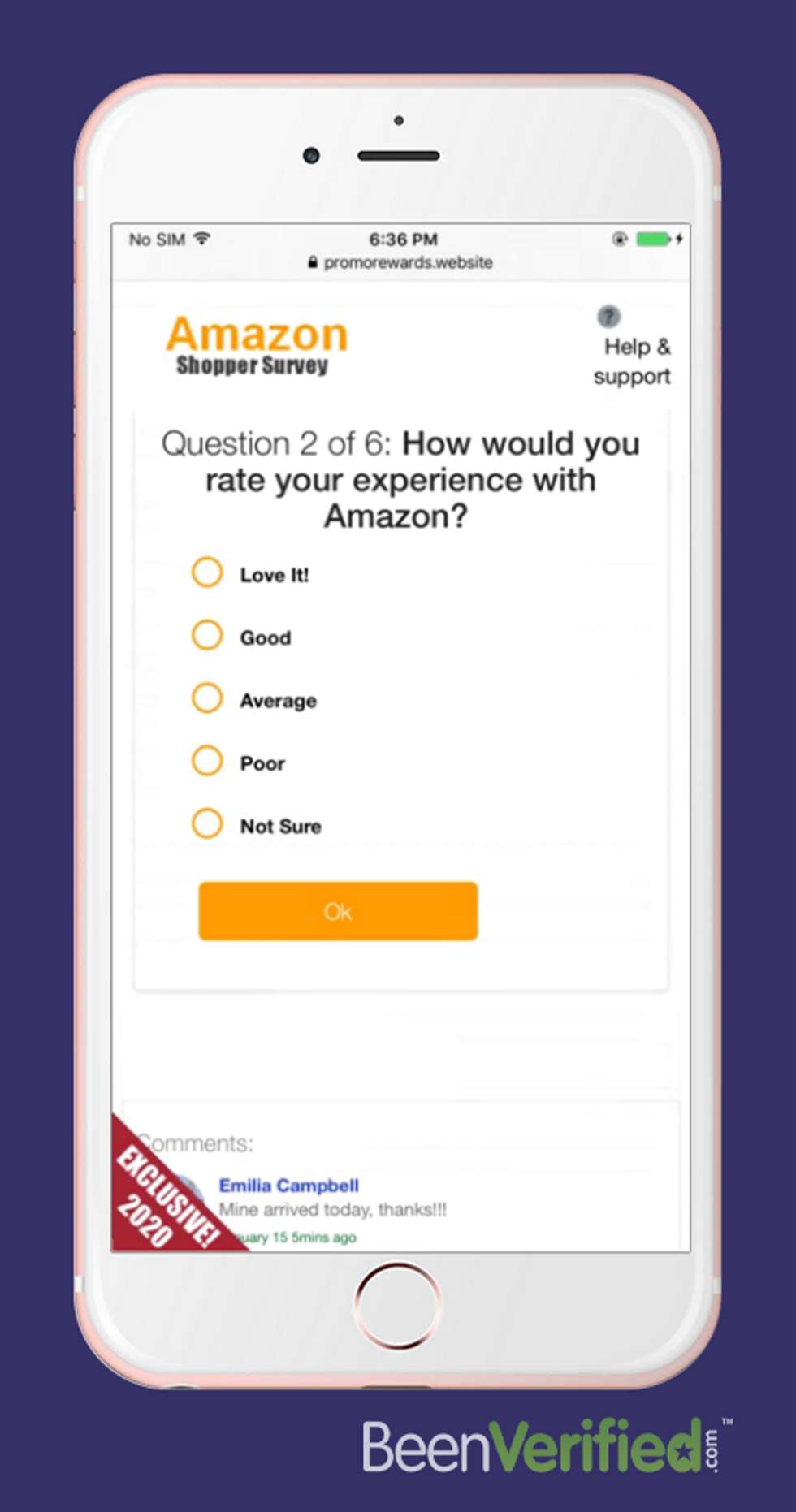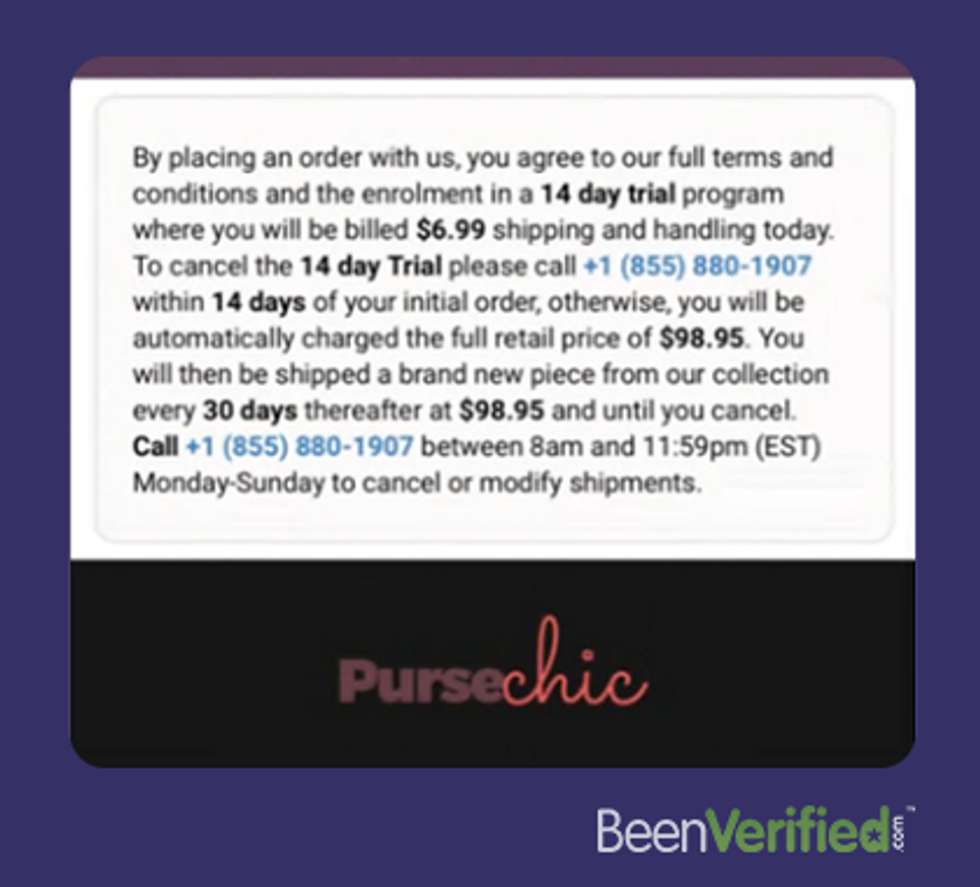 The fraudsters used the holiday season and New Year's to try to entice users to click through:
In December, in the midst of the holiday shopping season, the text message read: "Congrats (NAME)! Your code F4T-C6M8 printed on your last receipt is among 7 we randomly picked for $1000 Walmart gift card promotion."
In early January, the scam pivoted to Amazon with messages that said, "Amazon 2020 resolutions 1) not be so greedy 2) care more about the customers, so you'll get $130 freebies for a survey."
In mid-January, the scammers pivoted to their biggest push using FedEx: "Hello, your FEDEX package with tracking code GB-6412-GH83 is waiting for you to set delivery preferences."
"The December variant of the scam used Walmart receipts—as there was a higher likelihood during the Christmas shopping to land on a user who may have recently shopped at Walmart," Lavelle said. Then in the early weeks of the new year, the scammers pivoted to "Amazon 2020 resolutions," and finally made a big mid-January push claiming a FedEx package was on the way.
"In each of the scams, the link opens up to a fake Amazon survey," Lavelle said.
Interestingly, when FedEx tweeted a warning about the scam on Jan. 22 (which was followed by a number of network news stories on the threat), the Spam Call Complaint Monitor shows the fraudsters dropped the FedEx variant of the con and pivoted back to Amazon and Walmart.
"It seems clear fraudsters watch the news, but they didn't miss a beat—instead, they pivoted back to old tactics," Lavelle said. "This illustrates how scammers are constantly on the move, creating a frustrating game of whack-a-mole for consumers."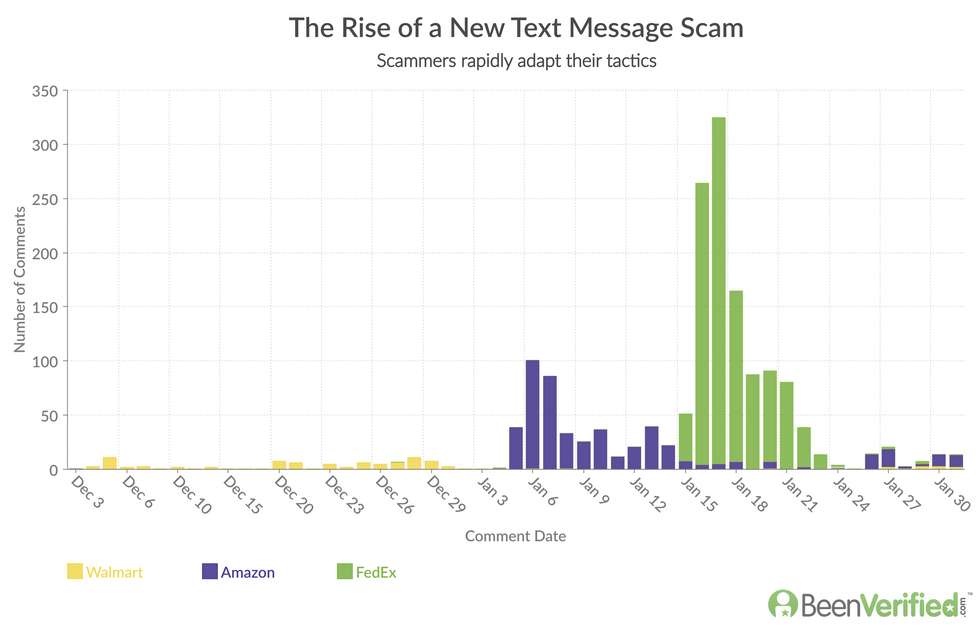 Con artists prey on human fears and desires
While employing more sophisticated technology in their cons, such as text-based smishing campaigns and tech-support scams, fraudsters use principles of social engineering to ultimately reach their payday: harnessing human hopes and fears to prompt consumers to drop their guard and reveal compromising data.
Some recent examples from the Spam Call Complaint Monitor that illustrate common tactics include:
Using famous brands, among them Amazon, Walmart and FedEx, in text message scams to try and extract sensitive personal information from users:
"I got this text saying my Netflix account is being canceled for nonpayment. I don't have Netflix and I didn't click on the link."
"Claims I owe an unpaid balance on my Chase credit card. He does not know I do not have and never have had a Chase (or a JPMorgan Chase) credit card."
Leaving messages or texts of a sexual nature to try to lure victims to respond:
"I've had between six and 10 missed calls from this number. In a sexy robot voice, they leave a voicemail with their phone number and a request to call them back."
"Hey Jon, this is Ash from New Jersey. We talked the last time I came to St. George to visit my sister but we never actually met. I'm back in this area again til Sunday night if you wanted to get together?"
Threatening an arrest for some unpaid debt:
"Demanded immediate payment of some alleged debt or he would send the police to arrest me. Became loud and verbally abusive."
"They called my job telling me I will be served legal papers today!" wrote another user. "The local police said it was a scam!"
Perhaps most worrying is a spate of extortion texts that send graphic images and threaten violence unless payment is met:
"This is a very evil and crazy scam artist who threatens to kill and harm targets and their families. The message includes photos of dismembered bodies and threatens to do the same to the target if money is not sent ($1,500)."
"Got a text saying he was Juan Ricardo Machena from the Zetas cartel threatening to cut my head off along with my family. Wants me to pay a fine and then proceeded to send bloody images of dead people. Texted me from a 732 area code."
"The most important thing for people to know about social engineering is that no hardware or software can completely protect you," Mason Wilder, research specialist at the Association of Certified Fraud Examiners, recently told BeenVerified. "These attacks succeed because they target human vulnerabilities rather than systems or networks."
Related: Read BeenVerified's 2019 Spam Call Complaint Monitor
Try and protect yourself from phone scams
Some important tips to help better guard against fraudulent phone calls, texts or emails:
Don't respond. A response, even a request to "take you off the call list," can draw attention from scammers who will attempt to convince you there's a "problem."
Don't click links. Links can potentially download malicious software, such as ransomware, spyware or a computer virus.
Don't provide personal information. Unless you have some previous dealings with the caller, be leery of providing any information—even the last four digits of your Social Security number.
Some important points to remember if you are targeted by Social Security or IRS scam calls:
The Social Security Administration and IRS would never call to "confirm" your Social Security number.
The Social Security Administration wouldn't call you, unless you've already been dealing with them on a personal business matter, such as a benefit claim.
The Social Security Administration does not "suspend" Social Security numbers.
The IRS doesn't demand that people use a specific payment method, such as a prepaid debit card, gift card or wire transfer (a common fraud tactic). The IRS will not ask for debit or credit card numbers over the phone.
The IRS typically initiates contact via mail, and may contact you by phone if you have an overdue tax bill.
Neither the IRS nor the Social Security Administration would ever threaten to bring in local police, immigration officers or other law enforcement agencies to arrest people for nonpayment.
Methodology
We analyzed call complaints logged on a free reverse phone lookup tool owned and operated by BeenVerified from Jan. 1, 2016, through Jan. 31, 2020. The total number of complaints examined was 240,303 [2016 totals: 59,080; 2017: 72,233; 2018: 52,824; 2019: 49,512; January 2020, 6,654]. Scam topic percentages are based on the total numbers of complaints with categorizable comments (32,206 or 13% of all complaints).
For more information or press inquiries, please contact Justin Lavelle (justin@beenverified.com).
About BeenVerified
BeenVerified's mission is to help people discover, understand and use public data in their everyday lives. BeenVerified and our associated websites curate dozens of public data sources and proprietary data sets to give people easy and affordable access to billions of public records.