The theft of catalytic converters made headlines in 2020, as police departments nationwide and car insurance companies reported a record surge of criminals stealing the part, which is laden with precious metals that help clean car exhaust.
An analysis by BeenVerified found thefts through the first nine months of 2021 have more than doubled all catalytic converter thefts in 2020—and we predict the trend is on pace to more than triple by the end of this year.
Looking at the number of reported thefts in 2019 and 2020, BeenVerified compared state and national statistics of associated Google searches on "catalytic converter theft" during the same time frame and found that search traffic on the term reliably follows a pattern: For every 10 searches, there is on average one reported catalytic converter theft.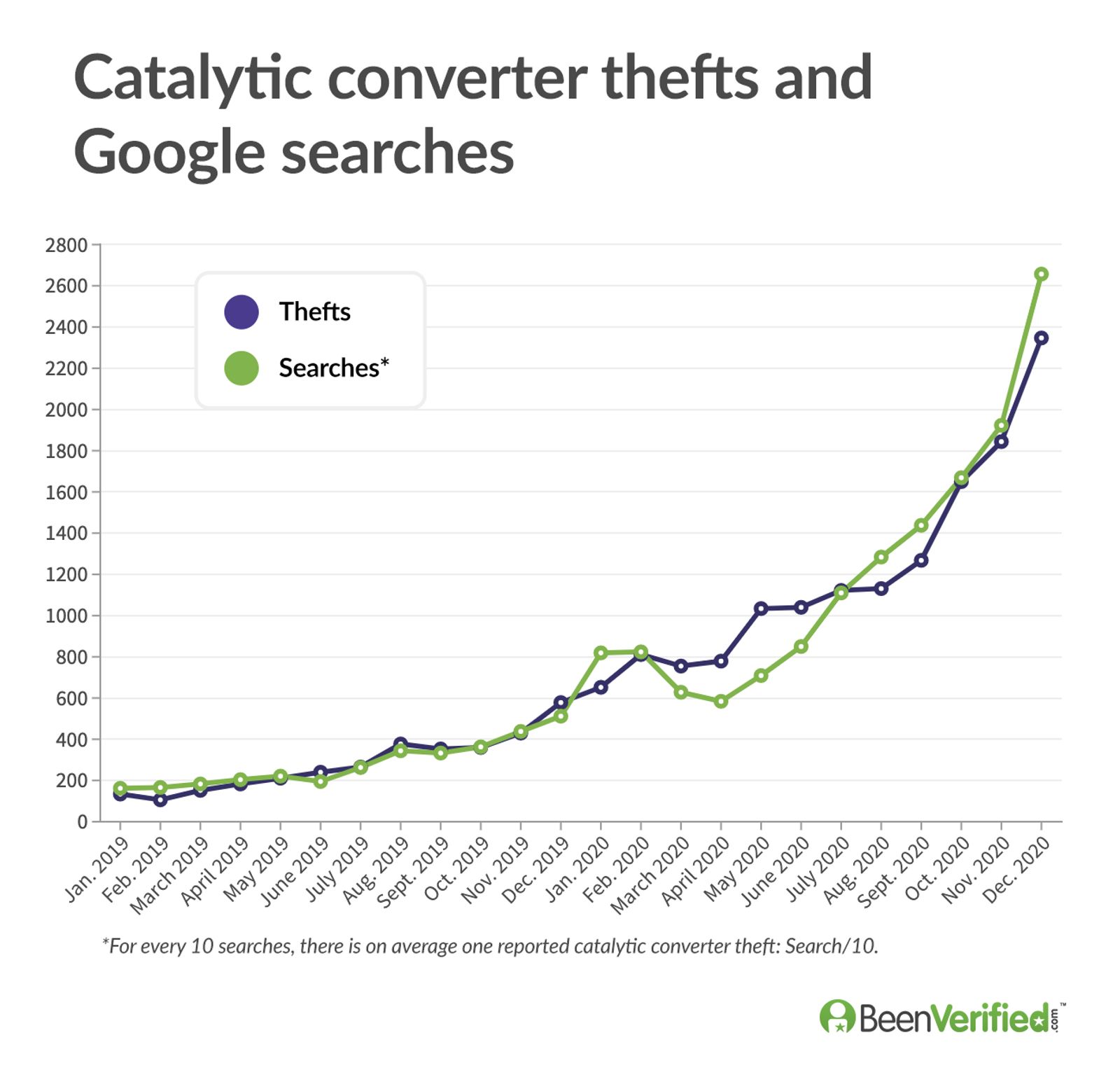 Key takeaways
Catalytic converter thefts have more than doubled so far this year. By the end of September, we estimate there were 35,178 thefts nationwide—a 244% increase from all reported thefts of catalytic converters in 2020, a previous record year for these thefts.
2021 is on track to more than triple catalytic converter thefts. We estimate the number of thefts by year end will approach 50,000, compared to the 14,433 reported stolen in 2020. By comparison, only 3,389 thefts were reported in 2019, according to the National Insurance Crime Bureau (NICB).
California, Texas and Washington are top states for theft. The top states for theft through September 30 this year are California (14,112 thefts), Texas (6,105), Washington (3,379), Minnesota (2,025) and Colorado (1,840).
Colorado, Arizona and Connecticut see the biggest 2021 spike. The largest year-over-year increase are in Colorado (1,254%), Arizona (956%), Connecticut (807%), Texas (610%) and New Jersey (512%).
Top states per 100,000 vehicles are Washington, Minnesota and Colorado. Washington state has averaged 117 catalytic converter thefts per 100,000 registered vehicles, followed by Minnesota (111), Colorado (107), Oregon (104) and California (96).
Toyota, Honda and Lexus vehicles are top targets. The most popular cars by make and model targeted by catalytic converter thieves in 2020 were the Toyota Prius, Honda Element, Toyota 4Runner, Toyota Tacoma and Honda Accord.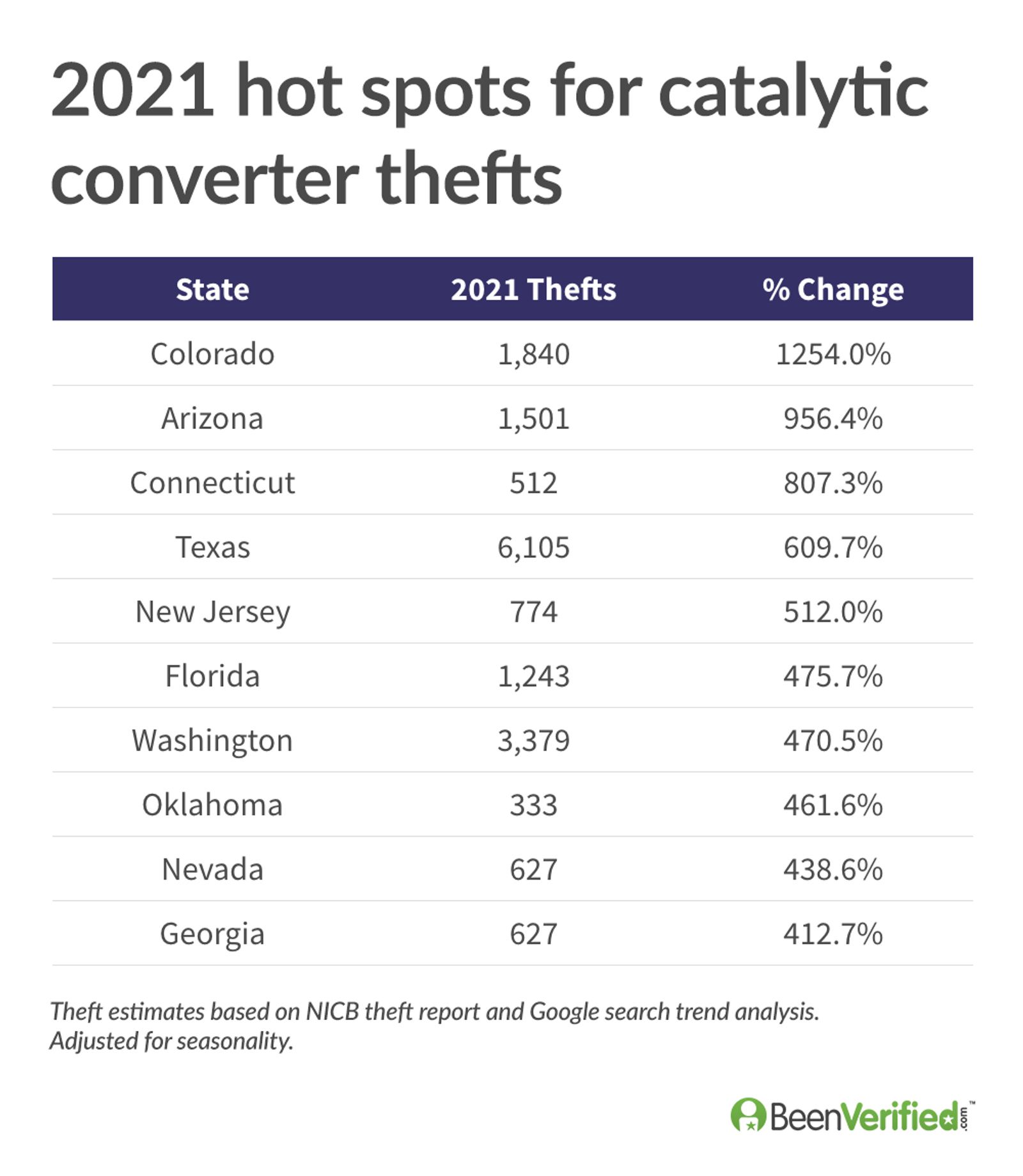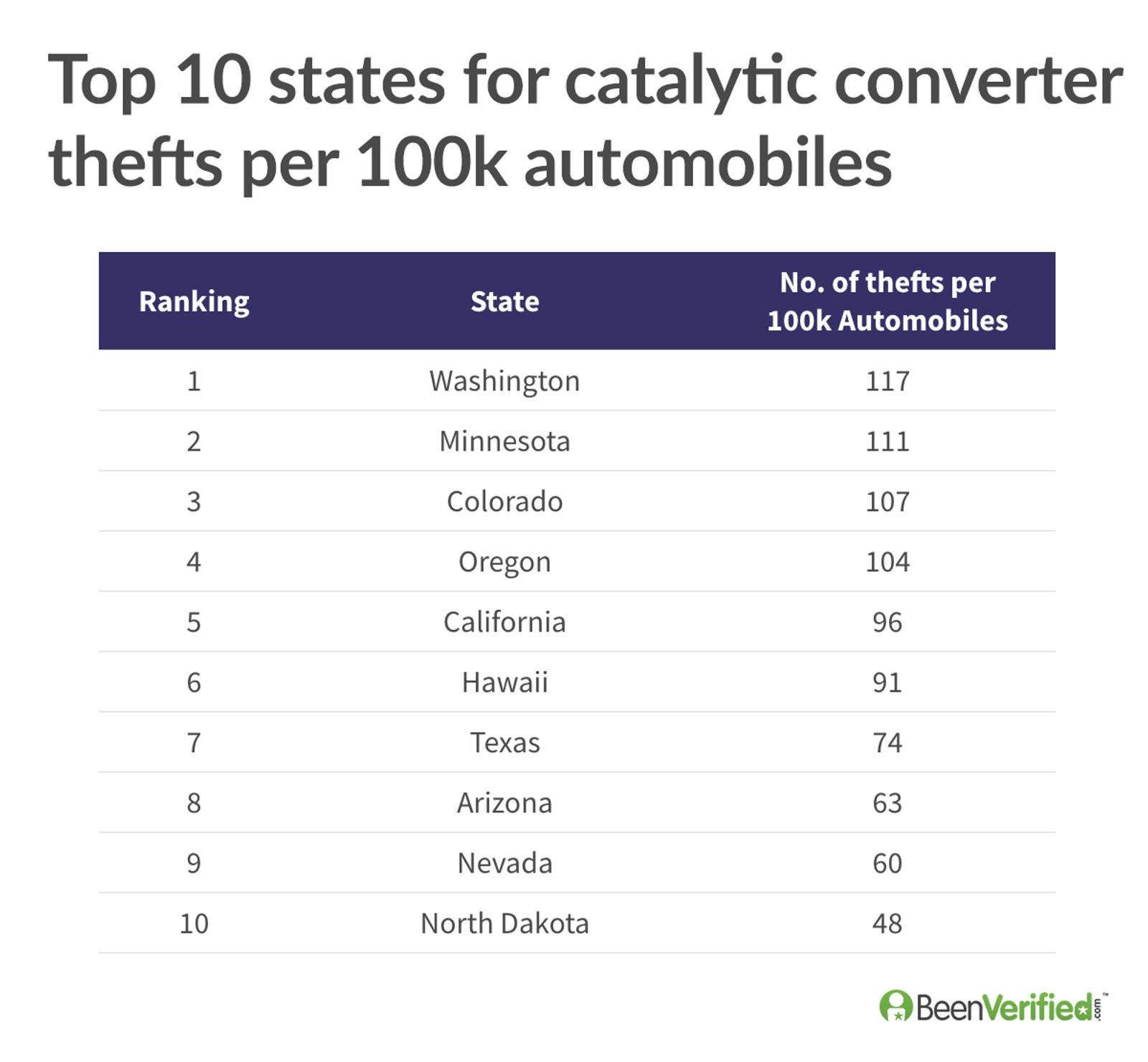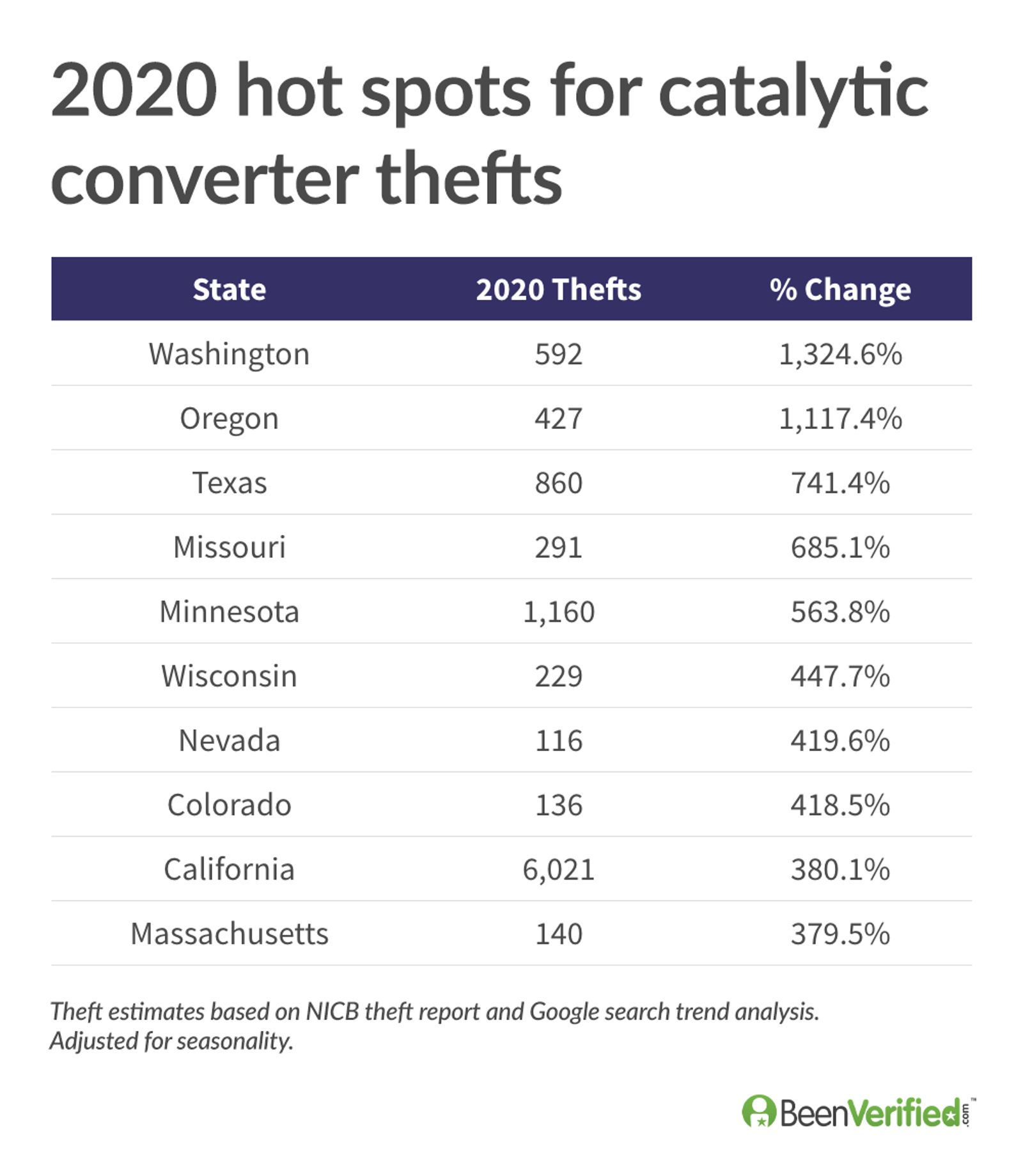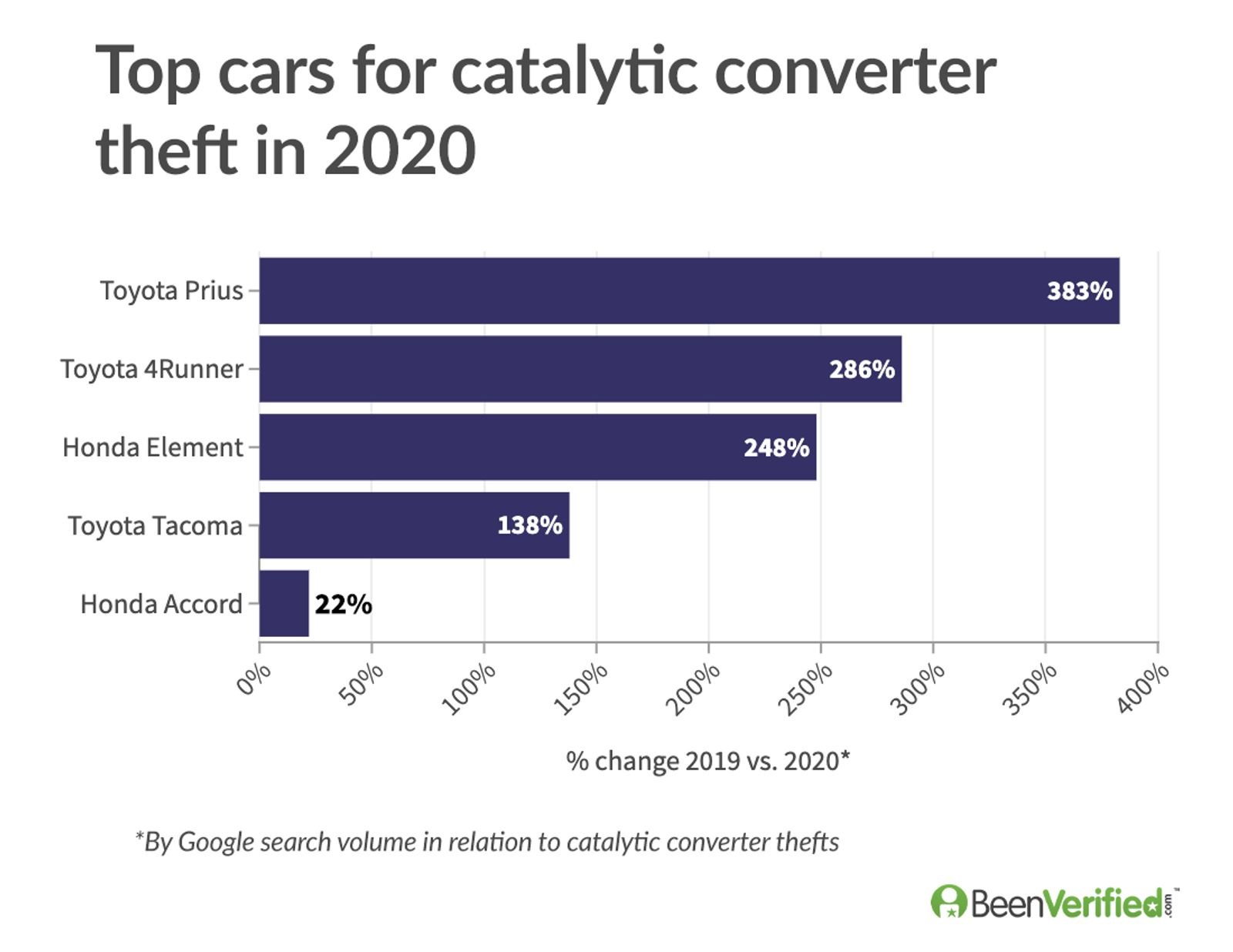 Catalytic converter thefts by state
Catalytic converters contain platinum, palladium or rhodium, precious metals that have seen their value skyrocket over the past two years. The theft of a catalytic converter can be done in minutes by culprits, who then resell to recyclers for between $50 and $250 per part. The cost to repair is between $1,000 and $3,000, according to the National Insurance Crime Bureau.
Tips to prevent catalytic converter theft
Suggestions from experts to try and deter catalytic converter theft include:
Consider installing a catalytic converter anti-theft device in your vehicle.
When possible, park your car in a locked garage.
If not possible, make sure it's parked in a well-lit area or install motion-activated lights and security cameras.
In public parking garages and lots, park near the front of the building entrance or other areas where pedestrian traffic is high.
Engrave your vehicle VIN and phone number into your catalytic converter.
Methodology
BeenVerified analyzed 2019 and 2020 catalytic converter theft data from the National Insurance Crime Bureau and January 2019 through May 2021 search data from Google Trends to make its findings. We found searches and thefts have a strong positive correlation (r(22)=.98, p < .01).
For more information, contact Kerry Sherin, kerry@beenverifiedmedia.com, or Richard Gargan, richard@beenverifiedmedia.com.
About BeenVerified
BeenVerified's mission is to help people discover, understand and use public data in their everyday lives. BeenVerified and our associated websites curate dozens of public data sources and proprietary data sets to give people easy and affordable access to billions of public records, including a VIN number lookup tool to research vehicle history.